Commentary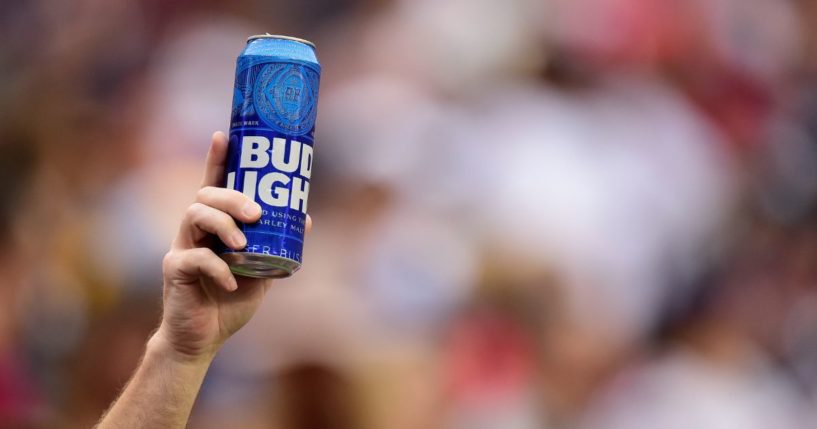 Commentary
'Mistake': Stunning Details Emerge in What Led to Bud Light's Trans Marketing Partnership - Report
A new report claims high-level Anheuser-Busch executives had no idea Bud Light had made the disastrous business decision to partner with transgender influencer Dylan Mulvaney and subsequently tank the brand's reputation.
If the report is accurate, this underlines the importance of companies prioritizing the competence and values of the people they hire.
College graduates are shipped out of universities each year with diplomas and many go on to land jobs representing iconic brands they don't understand and don't appreciate.
Advertisement - story continues below
If it were not for corrupt values, many of these wayward individuals would have no values at all.
Case in chief: Bud Light.
In the case of Anheuser-Busch versus middle America, The Daily Wire reported it spoke to two people it granted anonymity to in order to get to the bottom of how a beer that represented the working class cratered to a laughingstock in a matter of weeks.
"No one at a senior level was aware this was happening," a source in the company told the outlet.
Advertisement - story continues below
The person added, "Some low-level marketing staffer who helps manage the hundreds of influencer engagements they do must have thought it was no big deal. Obviously it was, and it's a shame because they have a well-earned reputation for just being America's beer — not a political company. It was a mistake."
This person's usage of the word "mistake" is the understatement of the year. Bud Light's indulgence of Mulvaney's fantasies is an unprecedented quagmire.
Do you think Bud Light will end its trans partnership?
A second source told the Wire the company will likely institute a more "robust" process for who it decides to partner with.
That might or might not be too late for the "King" of beers. Any chance at Anheuser-Busch redeeming itself starts with a public mea culpa and some internal housecleaning.
As was mentioned above, Anheuser-Busch's issues stem not just from validating Mulvaney's claims of "womanhood," but arguably from the hiring process that led to such a terrible business decision.
Advertisement - story continues below
Too many companies place a premium on either nepotism or paper credentials. The latter was likely the animal that bit a once-proud American company now owned by a Belgian conglomerate.
Social media teams, advertisers and marketing departments are always eager to hire the college graduate, which is understandable.
A completed university experience shows a prospective employer that an applicant can complete arduous tasks.
College is actually great in general for people who can navigate it without having their brains warped by "woke" teachers and their rabidly leftist peers.
Advertisement - story continues below
But many, many students are shipped off to school by parents and wiped clean of their values and transformed into mindless shills for left-wing social causes.
Once they enter the workforce, such people can do a lot of damage to those who hire them.
The situation is akin to a homeowner inviting termites to live inside their walls because the termites adequately portrayed themselves as a positive addition to the home.
The above-reported "low-level marketing staffer" almost certainly began their journey to killing an iconic brand in a classroom surrounded by screeching people with blue hair.
Advertisement - story continues below
In any event, the brand is in major trouble and has lost billions in market value. According to the Wire, it all started with a junior-level employee who probably had no business in the building to begin with.
Bud Light stepped in it and only time will tell if the company can mend any fences.
In the meantime, Anheuser-Busch has earned every single lost sale and every bit of the backlash it courted when it printed the face of delusion on a can of Bud Light.
Who exactly made that decision is irrelevant, as Anheuser-Busch should have instituted a "robust" hiring process.
CORRECTION, April 17, 2023: Anheuser-Busch is not an American company. It was purchased by Belgium's InBev in 2008. An earlier version of this article said otherwise.
Conversation