News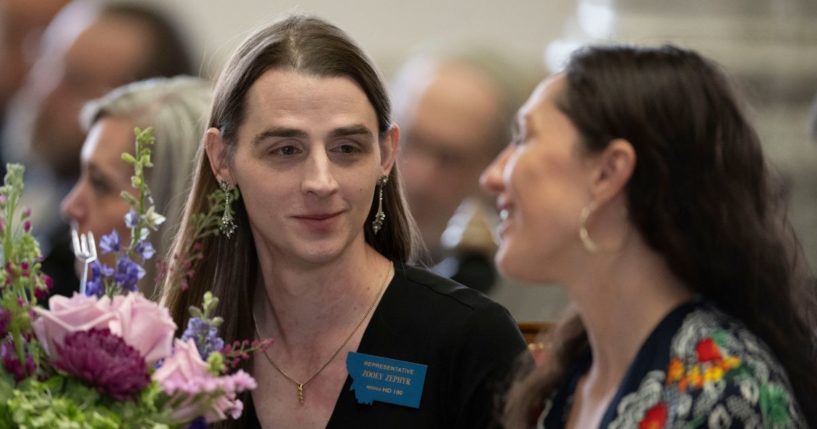 Transgender Lawmaker Expelled in Overwhelming Vote After What He Did to Aid Mob on House Floor
The Montana House of Representatives has voted by a two-thirds majority to suspend a transgender lawmaker who previously accused colleagues of "torture" for attempting to ban gender-affirming care in the state.
Democratic State Rep. Zooey Zephyr of the 100th District was suspended from the chamber Wednesday, with 68 voting in favor and 32 voting against. Zephyr will not be able to enter the chamber or speak on the floor for the remainder of the current session, which ends in May, instead only being able to vote on bills remotely.
The Montana 'Trans' legislator has been suspended https://t.co/C017tbVfsI

— Daily Caller (@DailyCaller) April 26, 2023
Advertisement - story continues below
Zephyr attracted staunch criticism from colleagues for his opposition to Senate Bill 009 or the "Youth Health Protection Act," which would ban all transgender medical procedures in the state for minors.
Zephyr told Republican members in support of the bill that they would have "blood on their hands" if they voted to pass it and compared its provision to "torture," refusing to apologize after being reprimanded.
For his refusal, Zephyr was denied recognition by the Speaker to make remarks on the bill during a general debate.
Advertisement - story continues below
Protesters in opposition to the bill later stormed the galleries of the house, shouting "Let her speak!" in relation to Zephyr, leading to several being arrested.
BREAKING: The Montana House of Reps has been shut down by left-wing protesters who are there protesting the censure of transgender Democrat Rep. Zooey Zephyr, that was led by the @MTFreedomCaucus, for telling his Republican colleagues they have "blood on their hands" for passing… pic.twitter.com/MnOyO4FhlN

— Greg Price (@greg_price11) April 24, 2023
Zephyr released a statement in support of the protesters.
Zephyr was then informed that a disciplinary vote regarding his conduct would be held Wednesday under Article V (10) of the Montana Constitution, which empowers the house to punish its members with a two-thirds majority vote.
The notice issued to Zephyr, which he posted on Twitter, cited his alleged violation of the "collective rights, safety, dignity, integrity [and] decorum of the House of Representatives."
Advertisement - story continues below
The suspension is the highest penalty the House may issue short of expulsion, which also requires a two-thirds vote.
Zephyr remains a member of the House, serving the first year of a two-year term.
On March 30, three Tennessee state representatives were expelled by the GOP-majority House of Representatives for encouraging a protest in support of gun control in the galleries of the house, following a shooting at a school in Nashville.
These representatives, later reinstated by local boards, have since been championed by Democrats for their progressive advocacy.
Advertisement - story continues below
On Monday, President Joe Biden hosted the lawmakers, known as the Tennessee Three, at the White House.
Do you agree with the Montana's decision to expel?
Zephyr and the Speaker of the Montana House of Representatives have been contacted for a comment.
Conversation