News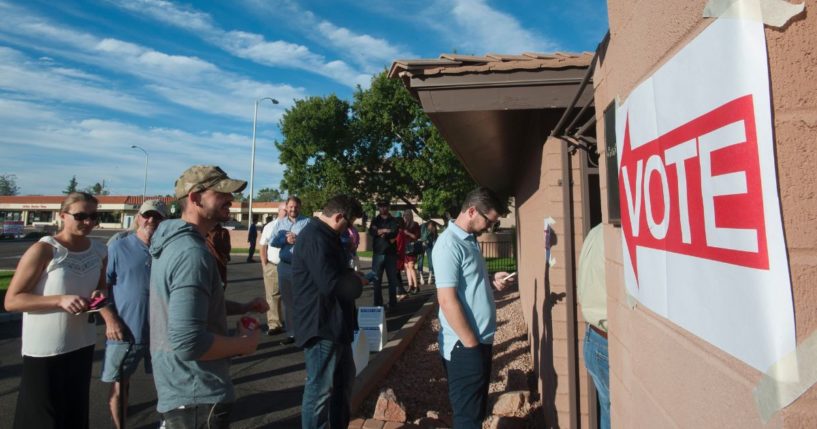 New Third Party Awarded 2024 Ballot Spot in Battleground State, Angering Democrats and Anti-Trump Republicans
No Labels, which has pledged to create a pathway for an alternative candidate to run against the Republican and Democratic presidential nominees in 2024, will get a spot on the ballot in Arizona.
The presidential battleground state joins Colorado in recognizing No Labels as a political party.
The group's push for ballot access has angered Democrats and anti-Donald Trump Republicans, who worry a No Labels candidate couldn't win but would tip the scales in favor of Trump or a Trump-like Republican.
Advertisement - story continues below
No Labels says it is seeking ballot access in many states and will run a bipartisan "unity ticket" for president "if the two parties select unreasonably divisive presidential nominees."
Arizona Secretary of State Adrian Fontes, a Democrat, notified the group on Tuesday that it turned in enough valid signatures to qualify as a political party under state law.
He said in a statement he'd work with county election officials to implement the change.
Even a small number of voters backing the No Labels candidate could be significant. President Joe Biden won three states by less than 1 percentage point in 2020.
Advertisement - story continues below
The self-proclaimed "center-left" think tank Third Way warned in a memo Tuesday, first reported by Politico, that the No Labels effort could set the stage for Trump's return to the White House.
It said Biden won voters who didn't like either major party candidate by 15 points over Trump in 2020, while Democrat Hillary Clinton lost those voters by 17 points in the 2016 race that Trump won.
Should states place No Labels on election ballots?
"Rather than producing a third-party ticket that would defy the overwhelming odds and win, No Labels is on track to field a spoiler who would re-elect Trump or a Trump-like Republican," the group said.
No Labels says it would draw equally from both major parties.
The party has emerged during a period of partisan polarization, with a rising bloc of independent voters dissatisfied with both major parties.
Advertisement - story continues below
While No Labels has focused its attention on the 2024 presidential election, it will have a guaranteed line on the ballot for every state and federal race in Arizona.
That has prompted speculation that the group could provide a vehicle to support Arizona independent Sen. Kyrsten Sinema, who left the Democratic Party last year and faces a tough re-election fight if she decides to run for a second term in a three-way race.
A spokeswoman for Sinema declined to comment.
No Labels becomes Arizona's fourth recognized party, joining the Democratic, Republican and Libertarian parties.
Advertisement - story continues below
The state stopped recognizing the Green Party after the 2018 election, when it failed to get at least 5 percent of the vote in the election for governor and didn't collect enough signatures to maintain its status.
The Western Journal has reviewed this Associated Press story and may have altered it prior to publication to ensure that it meets our editorial standards.
Conversation