Commentary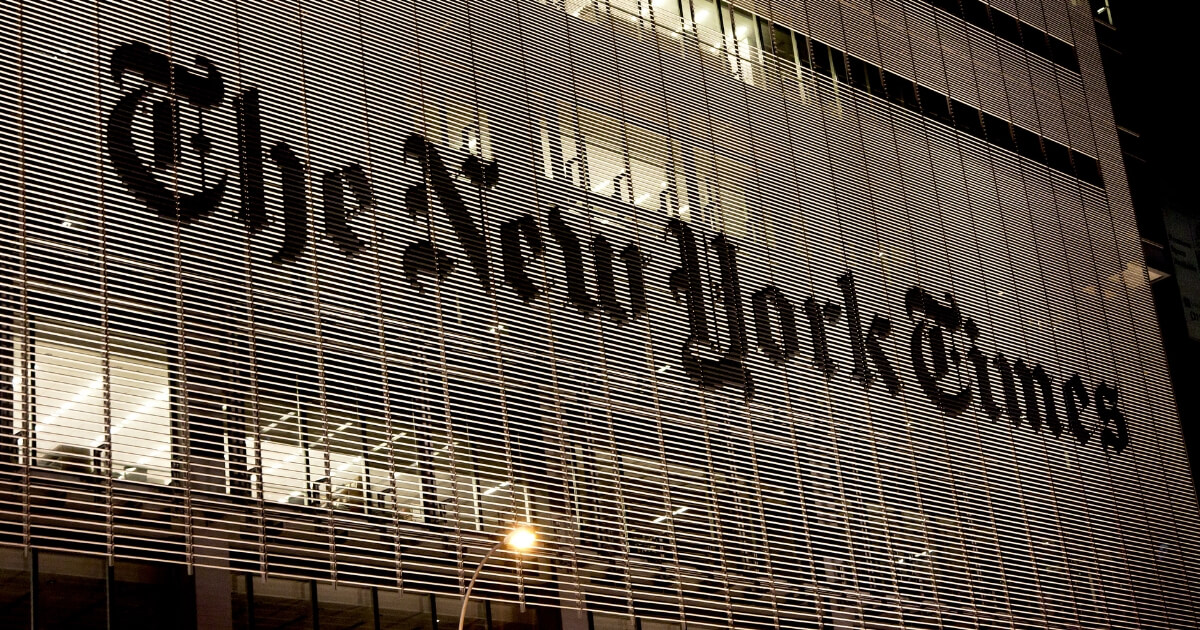 NYT Misleads Again - The US Did Not 'Lose' 1,500 Children
It's a shocking revelation that casts a dark shadow on the Trump administration.
The troubling headline in Tuesday's edition of The New York Times reads, "U.S. Loses Track of Another 1,500 Migrant Children, Investigators Find."
The opening paragraph paints a picture of an incompetent and uncaring government. "The Trump administration is unable to account for the whereabouts of nearly 1,500 migrant children who illegally entered the United States alone this year and were placed with sponsors after leaving federal shelters, according to congressional findings released on Tuesday," the story reads.
Advertisement - story continues below
This latest pronouncement comes after months of President Donald Trump and his administration being bashed over its immigration policies and the treatment of illegal aliens, children in particular. Immigration and Customs Enforcement and detention facilities have received a tremendous amount of scrutiny and criticism in recent months.
So this report from The Times would seem to paint Trump and ICE in a negative light. Until you consider that it is what Trump would refer to as "fake news."
The U.S. did not lose 1,500 children.
Interestingly, the author of the piece made this clarification on social media, similar to something mentioned much later in the article itself. It is significantly different from the claim made in the headline and the first paragraph of the article, however.
Advertisement - story continues below
3/ HHS says the children aren't "lost" nor do they "track" them. The agency says once it hands the children over to sponsors its responsibility ends. HHS believe the law only requires them to care for the children in their custody, but once they are placed, the agency role ends.

— nixonron (@nixonron) September 19, 2018
Ironically, an article The Times published in May of this year debunked earlier claims made about "lost children."
Do you trust the reporting of The New York Times?
"Did the Trump administration separate nearly 1,500 immigrant children from their parents at the border, and then lose track of them? No," the May article reported. "The government did realize last year that it lost track of 1,475 migrant children it had placed with sponsors in the United States, according to testimony before a Senate subcommittee last month.
"But those children had arrived alone at the Southwest border — without their parents. Most of them are from Honduras, El Salvador and Guatemala, and were fleeing drug cartels, gang violence and domestic abuse, according to government data."
Tuesday's article from The New York Times notes that not knowing what happened to the children is alarming because "the inability to track the whereabouts of migrant children after they have been released to sponsors has raised concerns that they could end up with human traffickers or be used as laborers by people posing as relatives."
Advertisement - story continues below
While that's a valid concern, the article also explains that isn't how the system is currently designed to work. What actually happens paints a very different picture.
"Since 2016, officials at the Department of Health and Human Services have called sponsors to check on children 30 days after they were placed there," the report reads. "But the department has also said it was not legally responsible for children after they were released from the custody of its office of refugee resettlement."
The newspaper spoke with Caitlin Oakley, a spokeswoman for the Department of Health and Human Services, who explained how things work and how the numbers came about.
"As communicated to members of Congress multiple times, these children are not 'lost,'" Oakley told The Times. "Their sponsors — who are usually parents or family members and in all cases have been vetted for criminality and ability to provide for them — simply did not respond or could not be reached when this voluntary call was made."
Advertisement - story continues below
Despite all of this, the article specifically states "U.S. Loses Track of Another 1,500 Migrant Children." If it is not their job to track them, how did the government "lose" them? If sponsors are not responding or could not be reached, how can the children be labeled as "lost"?
When The Times put out a plea for help on social media regarding fake news that may influence the midterm elections, it was lambasted by the public as being a source of it. Suffice it to say, this latest article may not do anything to help refute that claim in the eyes of its critics.
"I wonder if this was, like, an intern that sends out this tweet—that somehow had access to this—not thinking how ridiculous The @nytimes will look sending out a tweet like this." —@stinchfield1776 #FakeNews #WednesdayWisdom pic.twitter.com/tJtwQJiYqC

— NRATV (@NRATV) September 19, 2018
NRA TV's Grant Stinchfield points out that "activist journalists cannot see their own bias." There is a difference between reporting what is supposed to be unbiased news and writing Op-Eds or commentary, which inherently may come with bias.
Advertisement - story continues below
With a slogan of "All the News That's Fit to Print," The New York Times has anointed itself a news reporting publication. But when what appears to be bias so blatantly appears in what is presented as straight news, the publication does itself and its readers a huge disservice.
And it only adds credibility to the outcry by Trump and the public about an increasing inability to trust the media.
Conversation