Op-Ed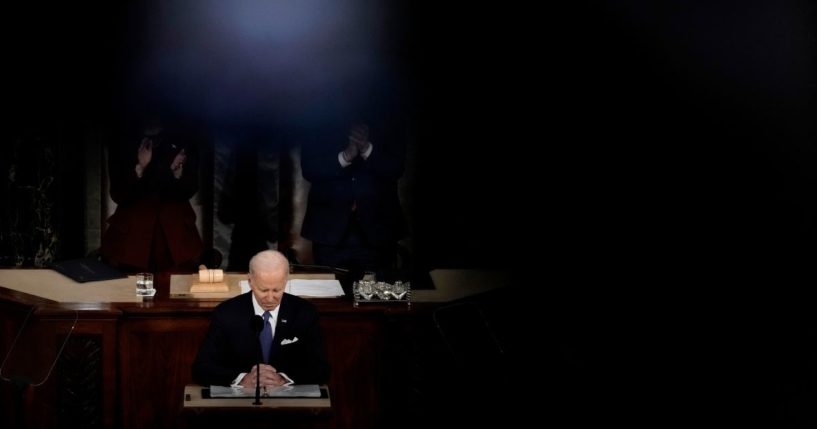 Op-Ed
Op-Ed: The 5 Biggest Lies from Biden's State of the Union Address
On Tuesday, President Joe Biden delivered his State of the Union address. Unsurprisingly, he told many lies and untruths, but here are the top five that caught my attention.
1. The Russia-Ukraine conflict is to blame for high inflation.
At the first mention of inflation in the speech, Biden repeated the claim that the conflict between Russia and Ukraine that began in February 2022 initiated our rising inflation rates.
Advertisement - story continues below
However, data from the Bureau of Labor Statistics shows that inflation drastically increased before Russia's invasion. The consumer price index reached 5 percent in May 2021 and rose to 7.5 percent in January 2022.
Biden also highlighted that the inflation rate has fallen every month for the past six months. While that is true, inflation is still much higher than when he took office. Inflation for December 2022 was 6.5 percent, compared to just 1.4 percent in January 2021.
Biden's policies of printing and spending money are to blame for increased inflation, but he still refuses to accept responsibility for it.
2. Biden reduced the deficit by $1.7 trillion.
Advertisement - story continues below
The president also mentioned a record-breaking deficit reduction that has taken place under his administration.
"In the last two years, my administration has cut the deficit by more than $1.7 trillion — the largest deficit reduction in American history," he said. "Under the previous administration, the American deficit went up four years in a row."
While it is true that the deficit has been reduced by $1.7 trillion, even left-leaning sources such as CNN said that Biden left out some key context.
"Biden did not mention that the primary reason the deficit fell so substantially was that it had skyrocketed to a record high under then-President Donald Trump in 2020 because of bipartisan emergency pandemic relief spending, then fell as expected when the spending expired as planned," CNN reported.
The Congressional Budget Office concurred with this in a 2021 report.
Advertisement - story continues below
"In February 2021, before Biden enacted any fiscal legislation, the Congressional Budget Office already estimated that the budget deficit would plummet in fiscal years 2021 and 2022 because emergency COVID pandemic spending would lapse," according to Fox News.
3. Biden is a president for all Americans.
Leading up to the 2020 general election, Biden campaigned on uniting Americans, regardless of party affiliation. In Tuesday's address, he again claimed he was a "president for all Americans."
But his two years in office prove otherwise.
Advertisement - story continues below
Last year, a poll conducted by Quinnipiac found that 49 percent of Americans believed Biden had done more to divide the country than unite it, while only 42 percent believed he had done more to unite it.
And that was before he delivered his "Battle for the Soul of the Nation" speech, in which he said "Donald Trump and the MAGA Republicans represent an extremism that threatens the very foundations of our republic."
"There is no question that the Republican Party today is dominated, driven and intimidated by Donald Trump and the MAGA Republicans, and that is a threat to this country."
It is one thing for Biden to criticize Trump on policy issues, but to call half the country a threat to the republic only deepens our divisions.
Advertisement - story continues below
4. Biden is a capitalist.
The president claimed to be a capitalist during the address, something he has said on numerous other occasions.
Biden often says that "capitalism without competition is not capitalism," which is true because there will naturally be competition in a free market.
Capitalism without competition isn't capitalism.

It's exploitation.

— President Biden (@POTUS) February 1, 2023
Advertisement - story continues below

But his policies of increasing government spending and regulations do nothing to promote a free market. For instance, he mentioned the passage of the Inflation Reduction Act and the CHIPS Act.
Analysts at the Republican Study Committee found that these massive spending bills were filled with more government regulations and subsidies, as Scott Parkinson with the Club for Growth pointed out in a lengthy Twitter thread.
My friends at @RepublicanStudy, Chaired by @Jim_Banks, have released the most comprehensive analysis of the so-called "Inflation Reduction Act", publishing 50 radical policies in the atrocious Schumer/Manchin bill.

The bill taxes, spends, & regulates America…1/

— Scott T. Parkinson (@ScottTParkinson) August 5, 2022

Someone who proclaims to support capitalism generally supports the free market, but we know Biden does not. His 50-year voting record in Washington and current administration have shown that he believes more government is the solution to nearly every policy issue.
Advertisement - story continues below
5. Mass shootings tripled after the federal "assault rifle" ban expired.
The president once again called on Congress to renew the federal "assault rifle" ban, claiming that the number of mass shootings tripled after it expired in 2004.
"Ban assault weapons now! Ban them now! Once and for all. I led the fight to do that in 1994," he said. "In 10 years that ban was law, mass shootings went down. After we let it expire in a Republican administration, mass shootings tripled."
According to an analysis previously reported by The Washington Post, this is not the case.
Advertisement - story continues below
"The new mass-shooting database shows that there were 31 mass shootings in the decade before the 1994 law, 31 in the 10 years the law was in force (Sept. 13, 1994 to Sept. 12, 2004) and 47 in the 10 years after it expired," according to the Post. "As noted, some of that increase stems from population growth."
Biden can continue making the bold claims that he reiterated in his State of the Union address, but his policies and actions tell us the real story. The real state of the union has become worse under this president, and we deserve much better than what has been delivered over the past two years.
The views expressed in this opinion article are those of their author and are not necessarily either shared or endorsed by the owners of this website. If you are interested in contributing an Op-Ed to The Western Journal, you can learn about our submission guidelines and process here.
Conversation