Op-Ed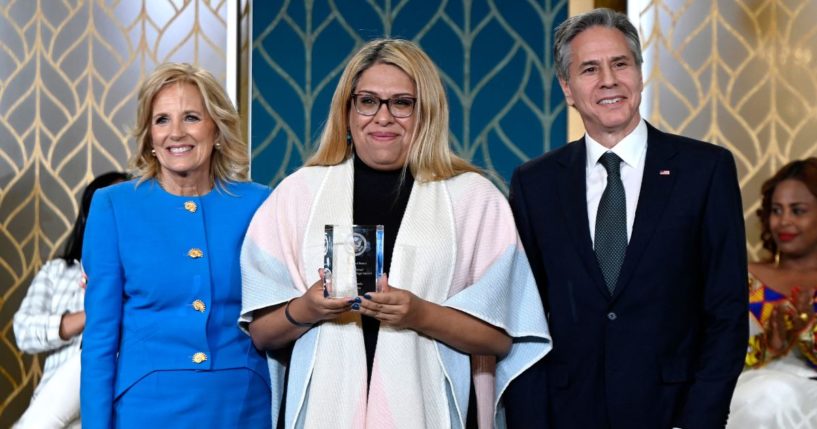 Op-Ed
Op-Ed: Feminism Is Dead - It's a Man's World After All
The great James Brown had a hit with "It's a Man's Man's Man's World" in 1966. By 1970, the feminist movement challenged that song's premise, and thus began the "Battle of the Sexes."
In 2023, the battle is over, and Mr. Brown was right after all.
If a man wearing a women's swimsuit can win NCAA women's swimming titles, or a man dressed as a woman can grace a candy bar wrapper to celebrate "Women's History Month," or a man pretending to be a woman can be presented an International Women of Courage Award, then this truly is a man's world.
Advertisement - story continues below
If you are assuming these occurrences take place on the fringe of society, be warned that that is not the case. The Women of Courage Award was conferred on a man by no less than Secretary of State Antony Blinken and first lady Jill Biden at the White House.
We should have known something was terribly wrong when a nominee to the Supreme Court could not give a definition of the word "woman."
When that nominee, Ketanji Brown Jackson, was asked that simple question, she responded ridiculously, "I'm not a biologist." No, and you probably shouldn't be a Supreme Court justice, either.
Jackson acted as though this toughie was a conundrum to ponder for the ages. I bet her husband could define the word, or at least her daughters. Sitting on the highest court in the land, she will rule on complex questions of law and constitutionality, and yet she found this query to be a real stumper.
Advertisement - story continues below
Feminism, especially with regard to the equality of the sexes, is dead and gone. Buried by a dude in a dress.
E​quality of the sexes has not been achieved if a man can claim to be a woman and crowd out actual women from achievement and elevation.
The cross-dressing collegiate swimmer Lia Thomas dominates female swimmers in the pool and then assaults their senses by parading around nude in the locker room. This is not equality. This is absurdity.
Dr. Rachel Levine, assistant secretary of health at the Department of Health and Human Services and the first transgender federal official, proves there's no glass ceiling for men claiming to be women. I wonder if he suffers from the gender pay gap or if he is earning a "man's" wage.
The dream of equality can't be attained if men can claim membership on both sides, or vice versa. The 21st century's "Battle of the Sexes" will involve only men, and I fear we've already lost.
Advertisement - story continues below
Human sexuality has been deformed and dissected into a thousand variations. This has occurred without denying that the plumbing associated with male and female anatomy is distinct and certain. The surgeon's scalpel may be able to craft facsimiles of male or female genitalia, but as they say, that "does not make the man" or woman.
At this rate, next year's Miss America will have a beard.
James Brown was a seer. He was right about politicians when he sang "Talking Loud and Saying Nothing," and he was right about who this world belongs to.
If we don't do something soon, we'll all be stuck in a (trans) man's world.
The views expressed in this opinion article are those of their author and are not necessarily either shared or endorsed by the owners of this website. If you are interested in contributing an Op-Ed to The Western Journal, you can learn about our submission guidelines and process here.
Conversation