Op-Ed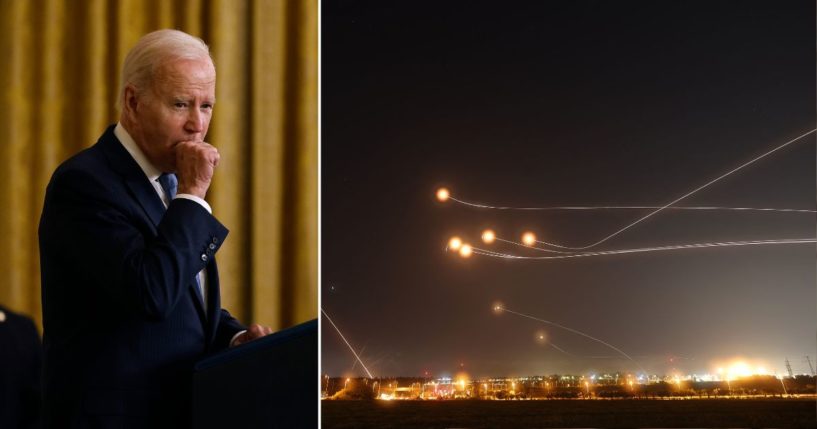 Op-Ed
Op-Ed: Do the Pentagon Leaks Reveal Biden's Agenda to Weaken America, Israel and Beyond?
Ominous alarms sounded. All throughout southern and central Israel, a robotic feminine voice stating "color red" echoed stoically.
Israeli residents were notified that they had as little as 15 seconds to run to bomb shelters before the incoming rockets fired by Islamic terrorists screamed out of Gaza and made impact on Israeli Jewish civilian infrastructure.
Serving with my Israel Defence Force special forces reserve unit, my platoon had driven out into the desert to an undisclosed location not far from an Iron Dome launcher. Israeli fighter jets circled above us. As a deadly Gazan rocket soared overhead, the Iron Dome battery launched a counter-missile. In the distance, we heard the massive boom of the Iron Dome destroying the incoming rocket.
Advertisement - story continues below
My platoon had been stationed on a network of IDF bases in southern Israel. One of those bases had been built by the U.S. Army Corps of Engineers and funded largely with American aid money to Israel.
This American-sponsored military base is one of several in Israel. The purpose of this arrangement is to provide the U.S. armed forces with a physical location in the Middle East for regional operations as necessary. In the meantime, the Israeli military is permitted to use the facilities. Alexander Haig, a retired U.S. Army general and former secretary of state, once said that "Israel is the largest American aircraft carrier in the world that cannot be sunk, does not carry even one American soldier, and is located in a critical region for American national security."
This American-sponsored military base was a very painful reminder to me that President Joe Biden's policies and the war in Ukraine had severely impacted the ability of Israel to defend itself from existential threats.
In an unexpected kind of way, a knowledgeable observer can trace an unprecedented and bizarre web of events intertwining Biden, Israel, Palestinian Arab terrorists, Afghanistan, Iran, and even South Korea and China… along with some quasi-prophetic commentary from George Orwell.
Advertisement - story continues below
And the top-secret documents leaked from the Pentagon in April along with other key reports and admissions that the legacy media often conveniently ignores give us the information we need to connect the dots.
How is that even possible? Let me explain:
Is Biden weakening the United States and Israel?
In July 2019, then-President Donald J. Trump called Volodymyr Zelenskyy to congratulate him on his recent electoral victory to become the president of Ukraine. Trump also encouraged Zelenskyy to look into allegations of corrupt business dealings by Biden and his family in Ukraine. Zelenskyy agreed, and commented that he had already personally taken action against the "swamp" in Ukraine.
In February 2020, the Democrat-controlled Congress impeached the president, claiming that Trump's anti-corruption request in and of itself was somehow a form of serious wrongdoing.
All throughout 2021 and beyond, now-President Joe Biden has been undermining Israel's efforts to deter Iran. In fact, Netanyahu has consistently expressed grave concern that Biden is all but "paving the way" for Iran to secure deadly nuclear weapons.
Advertisement - story continues below
And who could forget the disastrous withdrawal of the U.S. armed forces from Afghanistan in August 2021? Nearly $7 billion in high-tech military equipment and weaponry was abandoned to the Taliban.
And then, in February 2022, Biden practically invited Russian President Vladimir Putin to invade Ukraine, indicating that he would allow for a "minor incursion." As a result, Zelenskyy — who had once pledged to investigate the Biden family for corruption — now faced an onslaught by one of the greatest and most vicious militaries on the planet. Trump has said that if he were in the White House, he would "end that war in one day."
In contrast, Biden & Co. have allowed (maybe even encouraged) yet another "endless war." Over $75 billion in economic and military aid has been dumped into the Eastern European war zone.
In a Mafia-like shakedown that would have made the likes of Al Capone and "Lucky" Luciano proud, the Biden family and their cohorts have put Zelenskyy and the people of Ukraine in a position where they have no choice but to end all investigations into Biden and instead beg for American cash and weapons in order to survive. Otherwise, they will be completely annihilated by the Russian war machine.
Advertisement - story continues below
Meanwhile, the leaked Pentagon documents and other reports indicate that the Biden administration is actively seeking to deplete the military storehouses of America's allies, including South Korea and especially Israel. In fact, among the classified files was a document entitled "Israel: Pathways to Providing Lethal Aid to Ukraine." In short, the document makes it clear that the Biden administration is seeking to pressure Israel to deplete its own supply of sophisticated weaponry.
Similarly, the U.S. has a trove of weapons stored in Israel for emergency use by either America or Israel in an extreme wartime scenario. But now, those storehouses have been emptied of over 300,000 large artillery shells. Meaning that Israel's wartime reserves have been depleted — even though the Jewish state faces the threat of a large-scale and even nuclear war with Iran (supported by China), largely as a result of the disastrous policies of both Barack Obama and Biden.
And now, in May 2023 — after a visit by Republican Speaker of the House Kevin McCarthy to Israel — Netanyahu has authorized a counterterror operation that has already successfully eliminated key terrorist leaders of the Palestinian Islamic Jihad. In response, the Gazan militants have fired hundreds of rockets at Israeli targets.
Israel has tested its new counter-missile system, "David's Sling," as part of the military defense action known as Operation: Shield and Arrow. In fact, Netanyahu himself posted to his social media accounts a photo of himself and others standing in front of a David's Sling counter-missile battery.
Advertisement - story continues below
Netanyahu's not-so-subtle message to Israel's enemies is clear: Despite the reduction of Israel's military stores and weapons supplies, the Jewish state is undaunted. The IDF maintains a strong ability to deter enemy assaults and even Iranian ballistic missiles and other nuclear weapons.
In his novel "Nineteen Eighty-Four," George Orwell describes a scenario in which the ruling elite unnecessarily perpetuate endless wars in order to remain in power, distract the commoners away from their own corruption and instead unite them in fear of an external enemy, enrich themselves off the production of military goods, and destroy the fruits of the labor of the lower classes, keeping them impoverished.
And following the dystopian wisdom of Orwell, we can connect the dots and begin to see a clear pattern.
If we examine the timeline of events, we can see a scenario in which a U.S. president who is allegedly receiving countless millions of dollars from America's greatest enemy — China — has created an endless war and is sending as much weaponry of the U.S. and her allies to Ukraine as possible. And we haven't even delved into the unending billions of dollars in aid money.
Advertisement - story continues below
The result is a severely weakened America and NATO — both militarily and economically — to the benefit of a diabolical alliance of China, Russia, Iran and North Korea.
Is this the beginning of the next world war? Only time will tell. But if there is a massive global conflict on the horizon, there is no question that Biden and the deep state-controlled Democratic Party couldn't have possibly put our enemies at a greater advantage.
Not only Israel but even the United States itself could be at risk of complete annihilation.
The views expressed in this opinion article are those of their author and are not necessarily either shared or endorsed by the owners of this website. If you are interested in contributing an Op-Ed to The Western Journal, you can learn about our submission guidelines and process here.
Conversation