Op-Ed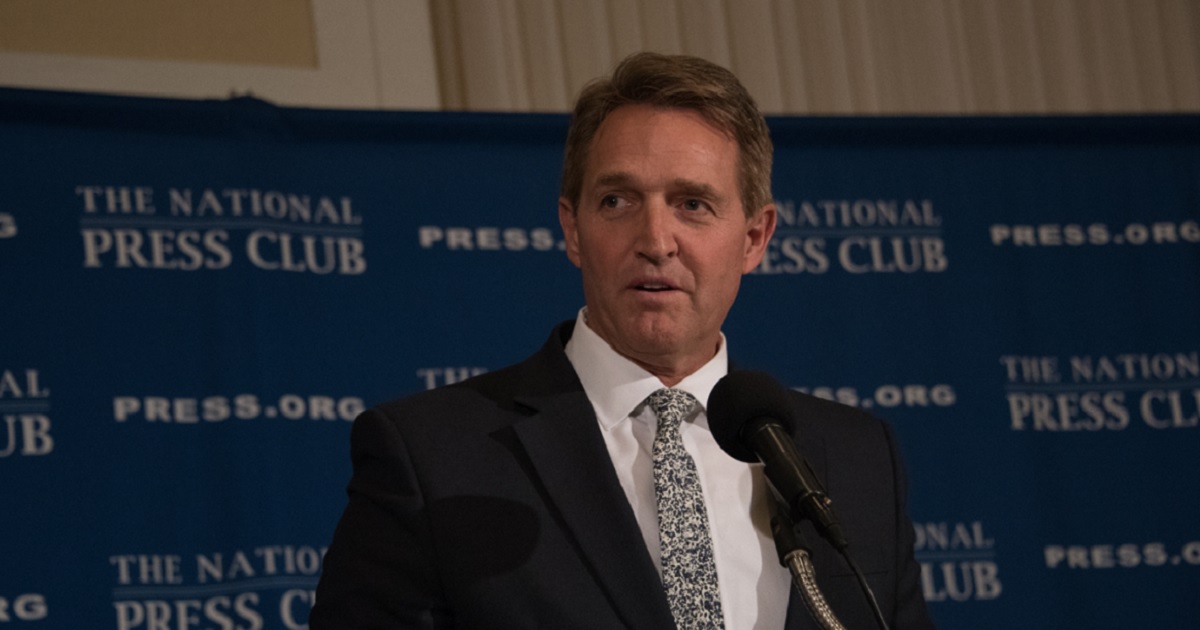 Opinion: Jeff Flake Lost His Backbone. Now, He Needs To Find His Valor
Some things get lost permanently, while others get found. Let's all pray that Sen. Jeff Flake finds his backbone in the next few days. We will all suffer if he doesn't.
Flake's backbone was reported missing Friday morning in the Senate Judiciary Committee, when the vote to advance Supreme Court nominee Brett Kavanaugh out of committee was about to be taken. The vote was delayed as several Republican committee members searched frantically for the backbone, although Jeff himself seemed unconcerned.
It appeared as if the senator knew the search was futile. Secretly, he seemed to know the backbone had wandered off some time ago. He had felt no evidence of its presence for weeks. Why look for something you know is not there?
Advertisement - story continues below
Democrats, on the other hand, seemed delighted that Flake's backbone was missing. Some even think they helped hide it. Truth be told, they would like to hide all of the backbones of all the Republicans in the Senate, something that occasionally seems easy to do.
Well, anyone who knows the lyrics of "Dem Bones" knows what happened next. As the song goes: "The Backbone connected to the – – Vote Bone." So sure enough, Flake's missing backbone affected his vote bone. His vote bone was badly twisted and instead of a strong "Yes" on Kavanaugh advancing, it almost sounded like, "Yes, I surrender."
Seriously, his vote to "advance" Kavanaugh only if a seventh FBI investigation of the man is conducted (after six FBI background checks over the course of his career) was a signal, and one that Sen. McConnell took seriously, that Flake would vote "no" on the confirmation in the full Senate if the "investigation," which is really just a tactic of the Democrats, was not pursued.
So what Flake really did was provide cover for the enemies of traditional values, cover that could be used to justify another attempt at killing Kavanaugh's chances. In truth, Kavanaugh's confirmation is not being opposed or delayed because of the lack of another FBI investigation, but rather, because of four reasons:
Advertisement - story continues below
First, he was President Donald Trump's pick. Second, he is not a leftist. Third, because some Democrats think there is a chance they will take the Senate in November, they want any pick to be delayed until then.
And last, Kavanaugh is being opposed to to send this message to any non-leftist who dares to seek the type of government power a seat on the Supreme Court represents: "We will destroy you. We will ruin your life and crush you. So be smart and stay away."
Now, it is true that this message can be frightening, but then again, some backbones have stood up to it. Some even consider it a challenge that stimulates them to rise to unknown heights. Sen. Lindsey Graham's backbone, for example, seemed to consider the challenge as a growth hormone.
Graham's backbone grew, almost instantly, to become gigantic when it was stimulated this way.  Backbone viagra, you might say.
Jeff Flake, if he can find his backbone, might ask Lindsey how backbone viagra works. Maybe Flake can take a double dose.
Advertisement - story continues below
But if Flake thinks his backbone is actually an irritant, one that doesn't allow him to rest peacefully as he hums "Kumbaya," he is mistaken. A missing backbone does not promote peace and harmony. It only encourages the illness of enslavement and the bloodshed of war.
Winston Churchill understood this. When then-British Prime Minister Neville Chamberlain lost his backbone in Munich in September of 1938, 80 years ago, Churchill told the prime minister: "You were given the choice between war and dishonor. You chose dishonor, and you shall have war."
Senator Flake, you still have the choice between valor and dishonor. You will have to make it in a few days. Please chose valor. It will provide a better peace, in the long run, not only for you but for all the people you care about.
Surrendering does not produce harmony, only more demands.
The views expressed in this opinion article are those of their author and are not necessarily either shared or endorsed by the owners of this website. If you are interested in contributing an Op-Ed to The Western Journal, you can learn about our submission guidelines and process here.
Conversation