Commentary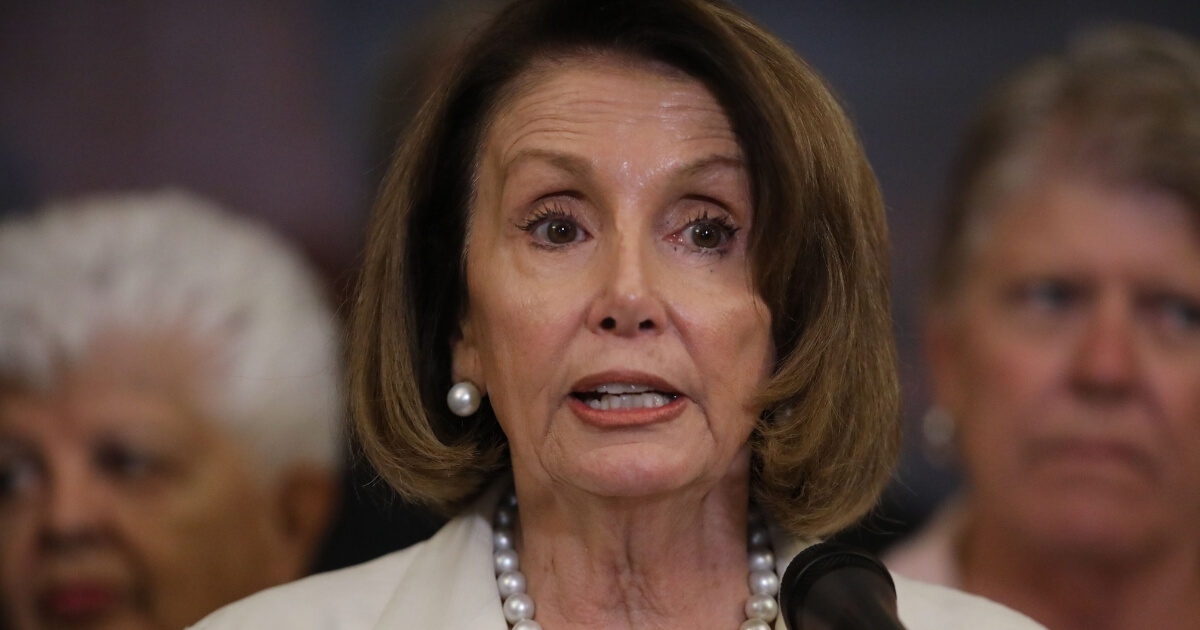 Pelosi in Despair Over Kavanaugh Developments - 'Prayerful of a Divine Intervention'
During her weekly press conference — the gift that keeps on giving — Democratic Sen. Nancy Pelosi once again played the religion card in her attack on Republicans.
It was when she was asked about what she hoped Democratic Rep. Jerrold Nadler — Ranking Member of the House Judiciary Committee — would do in terms of Supreme Court Justice nominee Judge Brett Kavanaugh and hearings.
Her response wasn't an actual answer to the question.
Advertisement - story continues below
It was, however, indicative of what many have claimed: The Democrats are pretty much out of options. Except, of course, what she points out as their last hope.
She said, "Well, look, I'm ever hopeful of an intervention. Prayerful of a divine intervention."
She then started talking about a book she read that she found in the Library of Congress, written by Mark Judge.
Advertisement - story continues below
Judge has been, as Vox noted, named as a witness to the alleged sexual assault by Kavanaugh by Dr. Christine Blasey Ford. What a book he wrote — that was published in 2005 — has to do with Nadler holding hearings is unclear.
The rest of her presser statements were similar in nature, being indirect at times when answering questions. Some of her claims were contradictory or even arguably false.
Do the Democrats have legitimate concerns about Kavanaugh?
Despite evidence pointing to the Democrats playing political games with Kavanuagh's confirmation, Pelosi insisted that was not the case.
She said during her press conference: "This is so much bigger than politics or elections. It's about America and who we are."
To many Americans, they are a group of people who will sink to the low of smearing a good man's reputation in order to score political power. Such tactics have fueled the #WalkAway movement, which urges people to leave the Democrat party.
Advertisement - story continues below
Lindsey graham has been magnificant in telling the truth about the hypocrisy and destructivenss of the senate democrats and their willingness to exploit dr ford to smear judge kavanaugh. It is nice to have someone tell the truth about this shameful episode.

— Newt Gingrich (@newtgingrich) September 27, 2018
Pelosi even claimed that by nominating Kavanaugh, President Donald Trump was "trying to "break the #MeToo movement," reported Fox News. The left has pushed hard on the notion that sexual assault accusers 'should be believed.' Well, actually, not everyone on the left buys into that narrative:
There is no empirical evidence supporting the gender-biased political view that women who claim to have been sexually assaulted in alleged acquaintance-rape situations tell the entire truth more often then men who are accused and deny the accusation. https://t.co/KaqneUyD4F

— Alan Dershowitz (@AlanDersh) September 27, 2018
It seems that no matter what low tactic or suspect claim the left has thrown at Kavanaugh, nothing has worked. They have succeeded in getting some delays, for now, but Kavanaugh has stated he will not withdraw from the process and Trump has not indicated any change in his opinion, either.
Advertisement - story continues below
Some claim their core problem with Kavanaugh is that they believe he will overturn Roe v. Wade, while others point to his thoughts against criminal investigations of sitting presidents. This is something they link to the Trump and Russian Collusion narrative.
But others believe it is something deeper and more insidious that has the Democrats essentially losing their minds over Kavanaugh's nomination. Some believe it all comes down to the power of the Supreme Court:
Lindsey Graham slams Dems, says they want to "destroy this guy's life" to win in 2020, calls the process a "sham" and tells Kavanaugh, "you're looking for a fair process? You came to the wrong town at the wrong time, my friend." https://t.co/l9bYWa2HTY pic.twitter.com/A5IOJ050yM

— ⚔️DAVE LEONE❌(IFB Patriots) (@NevadaElJefe) September 27, 2018
So while the Supreme Court nomination process is still ongoing, is it likely that even more drama will unfold.
Advertisement - story continues below
If Pelosi's statement is any indication, however, the Democrats may be all but out of cards to play, leaving them nothing but reliance upon the divine to fix things in their favor.
Conversation