News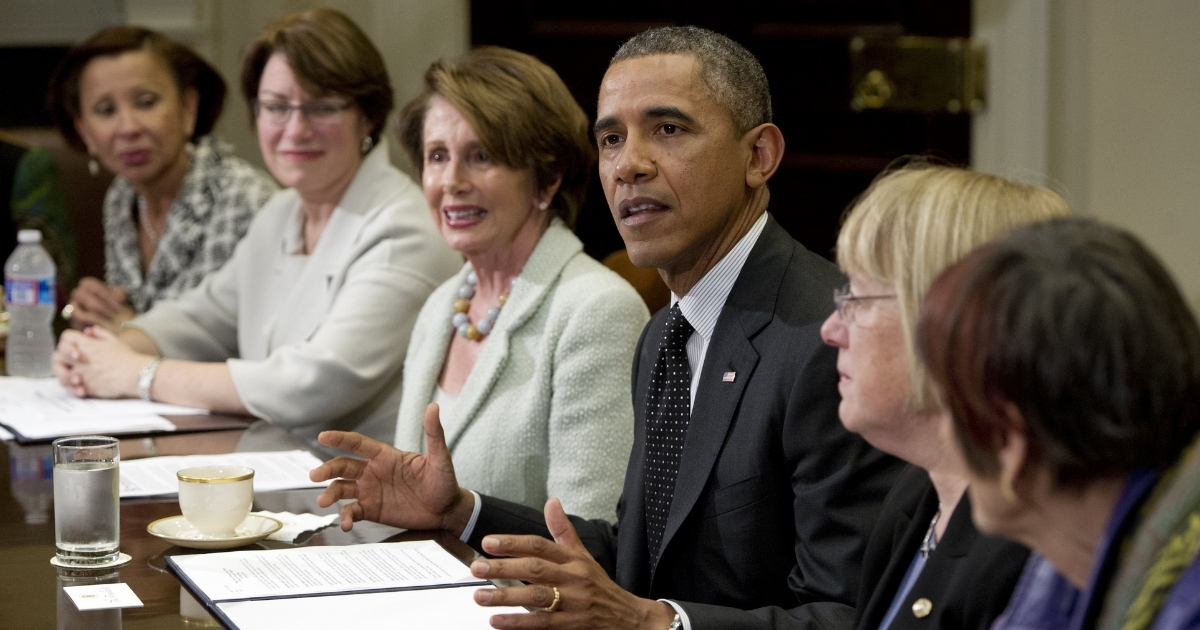 Pelosi Reignites Obama Push To Shut Down Huge Chunk of Coal Industry
House Minority Leader Nancy Pelosi is renewing the Obama administration's war on coal by supporting efforts to attack coal use in America.
On Thursday, the California Democrat criticized the coal industry during a speech at the Global Climate Action Summit in California, NTK Network reported.
"Under President Obama, we went on to pass the Waxman-Markey American Clean Energy and Security Act in the House. But we were stopped in the Senate by the coal industry," Pelosi said. "For this and other reasons, I'm so grateful to Michael Bloomberg's 'Beyond Coal' initiative working with the Sierra Club. It is so essential."
Advertisement - story continues below
On its website, "Beyond Coal" says it wants to "replace dirty coal with clean energy by mobilizing grassroots activists in local communities to advocate for the retirement of old and outdated coal plants and to prevent new coal plants from being built." Among its objectives is to shutter a third of the nation's coal plants by 2020.
In a New Yorker interview, Bloomberg said coal's day is done no matter what anyone says to the contrary.
"Coal will go away in any place where there's a free market, for sure, because the market just forces that, the economics force it," he said, "It does not help that our federal government is opposed to some rational things and is putting out some of the drivel that they do."
Pelosi's most recent criticism of the coal industry was not the first time in recent weeks Pelosi attacked coal.
Advertisement - story continues below
In an August speech at the Public Policy Institute of California she praised herself for her efforts against a small coal plant that operated in Washington, D.C., The Daily Caller reported.
"And it really is a moral issue if you believe as I do that this is God's creation we have to be good stewards of it," Pelosi said. "We have evangelicals and others with us — er, some, those who believe in God's creation. So, in any case, this was a big thing for us. I had to fight some Democrats. Senator Byrd had a coal-powered plan fueling the Capitol, you know … and that's gonna go, with all due respect to West Virginia we're not gonna have a coal-powered plant floating around."
Should America reduce coal consumption?
Pelosi's view is contrasted with that of President Donald Trump, who has strongly supported the coal industry, and at a recent rally had a coal miner join him on stage, according to The Daily Caller. Trump was telling the story of a miner who spoke to him about the revitalization of the coal industry.
"He said, 'Sir, what you've done for the coal industry is incredible. Because we were dead, and now we're vibrant again,'" Trump recalled.
The man then came on stage and talked about how under former President Barack Obama "the coal industry absolutely had the boot of government on its throat."
Advertisement - story continues below
"Many, many jobs were lost," said the miner, whose name was not announced. "And many towns were destroyed by this. It was just a horrible thing. Horrible suffering happened in this country. Really for made-up reasons, I think. And what your administration does — has done — is bringing us back to life."
In 2016, as part of his effort to change America's energy sources, Obama pushed for a reduction in coal and other fossil fuels, The Washington Post reported. He said his administration would "push to change the way we manage our oil and coal resources, so that they better reflect the costs they impose on taxpayers and our planet."
That tone was emulated in the 2016 presidential campaign by Democrat Hillary Clinton who in March 2016 said, "We're going to put a lot of coal miners and coal companies out of business," according to Politico.
Conversation