News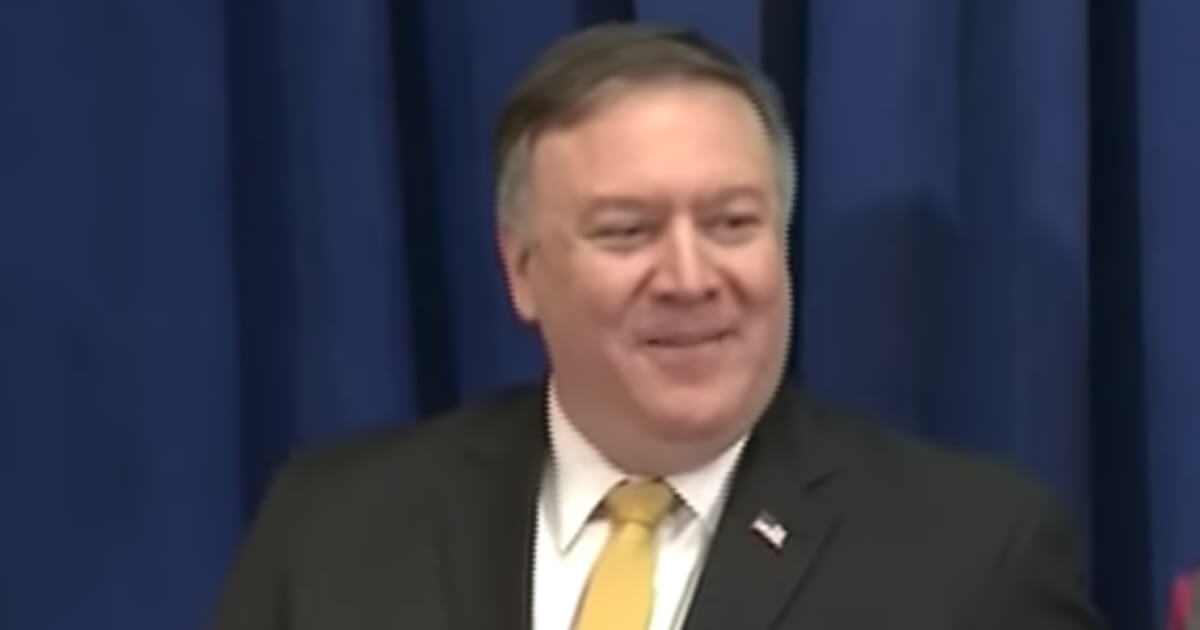 Pompeo Reveals His 'Greatest Highlight' So Far as Secretary of State
Secretary of State Mike Pompeo told those gathered at the annual Values Voter Summit in Washington, D.C., on Friday that his most rewarding experience of his short tenure as the nation's top diplomat was securing the release of three American prisoners from North Korea in May.
"Far and away the greatest highlight to date of my job as secretary of state was bringing home three Americans from captivity in North Korea," he said to great applause.
"It's emotional still to speak about it," continued Pompeo, who took over the helm at the State Department in April.
Advertisement - story continues below
"When Kim Dong-chul, Kim Hak-song and Tony Kim got off our plane at about 2:30 a.m. at Andrews Air Force Base, their faces were bursting with tears of joy," he recounted. "They hugged and they wept with their families. And President Trump was on the tarmac to meet them."
Pompeo shared that he did not realize how emotional it would be to see the three men first being released into American hands by the North Koreans.
"I was already aboard the plane, and I saw them get out of the vehicle. And they could walk, and they appeared to be in reasonably good health. I wasn't emotionally prepared for the moment," he said. "And even now, as I speak at it — speak about it — it reminds me of the greatness of our nation."
Advertisement - story continues below
He recalled that, on the flight back to the U.S., the men scribbled out a note on an index card and gave it to him when they arrived in Washington, D.C., which he read when he got home that night.
Do you believe freeing the American prisoners was a great moment for U.S. diplomacy?
The note was Psalm 126, verses 1-3 from the Bible, which reads: "When the Lord brought back the captives to Zion, we were like men who dream. Our mouths were filled with laughter, our tongues with songs of joy.
"Then it was said among the nations, the Lord has done great things for them. The Lord has done great things for us, and we are filled with joy."
Pompeo said regarding the prisoners, "President Trump will never forget about our own. The Lord has done great things for us."
Advertisement - story continues below
The secretary of state promised the U.S. is also doing everything in its power to free Pastor Andrew Brunson, who is currently being held captive by Turkey.
"He has been wrongly held," Pompeo declared. "And his proper place is to be able to return here to once again practice his faith in our great nation."
During his remarks, the West Point graduate said his desire to preserve liberty, and particularly religious liberty, is what inspired him to join the military.
"Religious freedom is also an essential building block for all free societies, and our founders knew this," he said. "It's a freedom that I care personally about, and I know you do, as well. It's the one that drew me to serve my country in the United States Armed Forces."
Advertisement - story continues below
Pompeo related making America a beacon for religious liberty is a top priority of the Trump administration.
"President Trump has directed all of us in his administration to advance and defend religious freedom at home and abroad because religious freedom is a universal, a God-given right to which all people — all people are entitled," he said.
Conversation