Lifestyle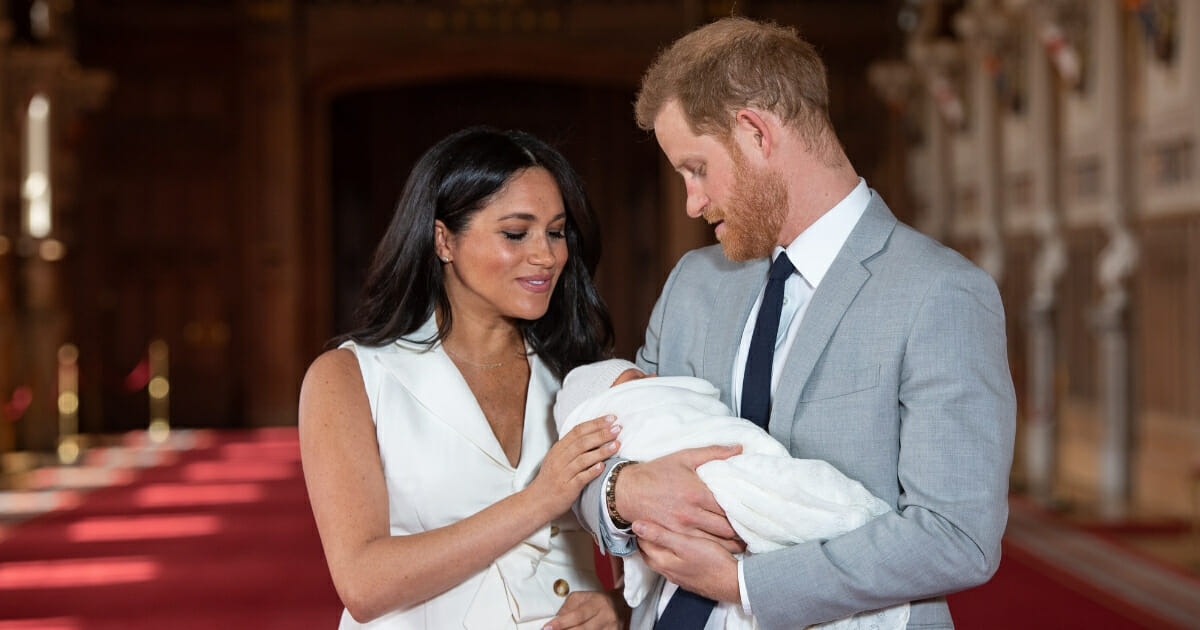 Prince Harry and Meghan Markle Announce Their Newborn Son's Name
People all over the world rejoiced with Prince Harry and Meghan Markle as they welcomed their first-born into the world on May 6, 2019.
The Duke and Duchess of Sussex announced that they were expecting on Oct. 15, 2018, only a few days after Princess Eugenie's wedding.
"Their Royal Highnesses The Duke and Duchess of Sussex are very pleased to announce that The Duchess of Sussex is expecting a baby in the Spring of 2019," the Palace said in a statement.
Advertisement - story continues below
"Their Royal Highnesses have appreciated all of the support they have received from people around the world since their wedding in May and are delighted to be able to share this happy news with the public."
Since then, royal fans have excitedly waited for the arrival of the newest addition to the royal line.
Early Monday morning the couple announced on their new Instagram account that their healthy little boy had been born.
"We are pleased to announce that Their Royal Highnesses The Duke and Duchess of Sussex welcomed their firstborn child in the early morning on May 6th, 2019. Their Royal Highnesses' son weighs 7lbs. 3oz," they wrote.
Advertisement - story continues below
"It has been the most amazing experience I could've possibly imagined," the excited new father said in a video Monday afternoon.
"How any woman does what they is beyond comprehension."
Advertisement - story continues below
Markle's mother, Doria Ragland, was able to be at the birth and is with the Duke and Duchess of Sussex at Frogmore Cottage.
Two days after the birth, Meghan and Prince Harry introduced their son to the world.
Advertisement - story continues below
"It's magic. It's pretty amazing. I have the best two guys in the world so I'm really happy." the Duchess said of being a mother.
She also said that her son has "been a dream" and has the "sweetest temperament."
The couple is still trying to decide who the baby takes after the most, but Harry joked that he did already have a little facial hair.
Advertisement - story continues below
"Parenting is amazing," Prince Harry said. "It's only been, what, two and a half days, three days, but we're just so thrilled to have our own little bundle of joy, and to be able to spend some special time with him as he slowly starts to grow up."
They also presented their new son to the Queen and announced his name: Archie Harrison Mountbatten-Windsor.
The Duke of Edinburgh and Doria Ragland were also there.
Advertisement - story continues below
Archie is Queen Elizabeth's eighth great-grandchild and he will be seventh in line for the throne.
The line of succession following the birth of little Archie is as follows: Prince Charles, Prince William, Prince George, Princess Charlotte, Prince Louis, Prince Harry, Archie, Prince Andrew, Princess Beatrice, Princess Eugenie, Prince Edward.
Conversation
Notice: Due to threatened de-monetization, we have temporarily removed commenting while we build a long-term commenting solution that allows you to voice your opinion freely and allows us to continue to publish the news fearlessly and cover topics that you care about. If you would like to personally partner with The Western Journal to help us continue publishing while under relentless assault by Big Tech, please visit our
subscription page
here. We encourage you to share this article and discuss with your friends.