Deep Dive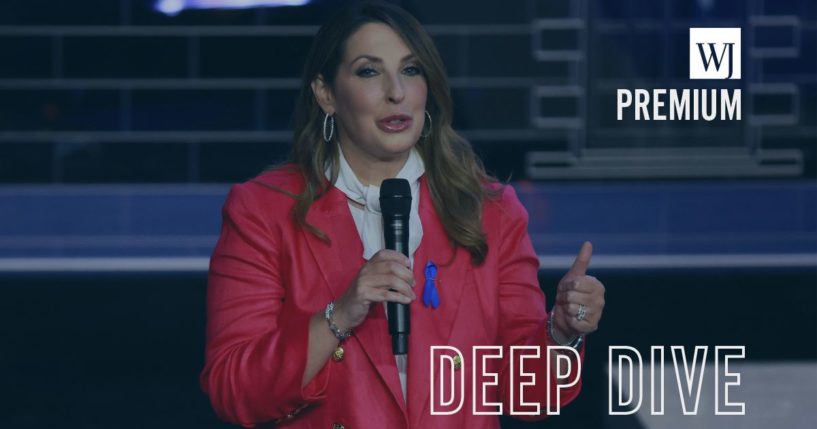 Premium
Is Ronna McDaniel a Problem For the GOP? Here's Her Record - You Decide
Republican National Committee Chairwoman Ronna McDaniel has been criticized over the party's underwhelming performances during crucial local and national elections throughout her tenure.
But is she the party's problem?
After Tuesday's elections, in which Ohio codified abortion as a right, Kentucky re-elected a Democratic governor over a qualified Republican and voters in Virginia handed the state legislature to Democrats, conservatives were rightly upset.
Advertisement - story continues below
Republican Sen. Thom Tillis of North Carolina referred to the day as a "complete failure" for the party.
Many on the right have blamed the GOP's poor performances on the party's opposition to abortion and the ongoing blowback from the left over the Supreme Court's 2022 decision to overturn Roe v. Wade.
Others blamed McDaniel, who has chaired the GOP since before the ruling.
Republican presidential hopeful Vivek Ramaswamy actually called out McDaniel from the stage in Miami Wednesday during the primary debate hosted by NBC News — which many conservatives felt did not deserve an opportunity to choose which narratives conservative candidates would discuss, given NBC's left-wing, partisan bent.
Advertisement - story continues below
"I think there is something deeper going on in the Republican Party here, and I am upset about what happened last night," Ramaswamy said. "We've become a party of losers."
He continued:
Should the GOP ditch McDaniel?
"There is a cancer to the Republican establishment. Let's speak the truth. I mean, since Ronna McDaniel took over as chairwoman of the RNC in 2017, we have lost 2018, 2020, 2022 — no red wave that ever came — we got trounced last night in 2023.
"And I think that we have to have accountability in our party. For that matter, Ronna, if you want to come on stage tonight, if you want to look the GOP voters in the eye and tell them that you resign, I will …  yield my time to you."
.@VivekGRamaswamy goes scorched earth on RNC Chairwoman Ronna McDaniel and the NBC moderators. pic.twitter.com/heFclqEz9T

— Townhall.com (@townhallcom) November 9, 2023
Advertisement - story continues below
The comments were praised by many voters, some of whom expressed being tired of the Republican Party establishment and of McDaniel, whose uncle is, of course, Sen. Mitt Romney of Utah – a man who perhaps represents the party's old guard better than anyone.
But was Tuesday McDaniel's fault? Let's look at the facts.
Where the Republican Party Stood When Romney Took Over
Advertisement - story continues below
As Politico noted, McDaniel was tapped as the replacement to former GOP chair Reince Priebus in 2017 and with the full support of then-President-Elect Donald Trump.
Upon her election, McDaniel vowed to shape the party around Trump's vision for America.
"I am a mom from Michigan. I am an outsider. And I am here to make Donald Trump and Republicans everywhere successful," McDaniel said after her victory, a day before Trump's inauguration.
She added, "As President-Elect Trump has directed us to do, we are going to keep winning," McDaniel said. "America has two parties: Theirs, the elite, coastal, redistributionist Party of the status quo. And ours the national, opportunity for everyone, party of change."
Advertisement - story continues below
But as Politico also noted, McDaniel inherited a party that at the time held all but 27 governor's mansions nationwide and a party that had complete control of the legislative chambers in 32 states.
On top of that, the U.S. Supreme Court was at that point sure to end up with a conservative majority, the GOP had majorities in the House and the Senate and Trump had just been elected as president.
McDaniel's Record as GOP Chairwoman
As of the time of Ramaswamy's rebuke of the chairwoman on Tuesday, McDaniel had presided over a party that had lost seven governor's mansions, while the party only controlled both legislative chambers in 28 states – a net loss of four.
Advertisement - story continues below
As Ramaswamy and many others have pointed out, 2016 was the last time the Republican Party won big.
From McDaniel's election until today, the party has lost the House, the Senate and the White House — although the GOP did regain a slight House majority in the 2022 midterms, those elections were predicted to be a red wave for a party whose chief argument was that it was not led by Joe Biden.
The red wave never materialized and the Republican Party has now had two House speakers in 10 months.
McDaniel answered questions after Tuesday's debate during an interview with Katie Pavlich of Townhall.
Advertisement - story continues below
"I'm very proud of the fact that under my tenure, we won back the House," she said. "We now are getting investigations into the Bidens."
First on @townhallcom: RNC Chair Ronna McDaniel reacts to the third GOP presidential debate in Miami and a call from the stage for her to resign. pic.twitter.com/hNAFaa1Ua1

— Katie Pavlich (@KatiePavlich) November 9, 2023
Axios reported she later said of Ramaswamy's comments, "I know Vivek is kind of newer to the party. He voted for [Barack] Obama, so he may not know that, but this is something we're going to have to get right … as a party."
Advertisement - story continues below
Calls on McDaniel to Step Down Ramped Up After Tuesday
McDaniel faced opposition last fall and early this year, but won a fourth term as chairwoman with ease and with the backing of Trump.
In January, he congratulated her on her successful re-election bid using his Truth Social account:
Advertisement - story continues below
But she has faced calls to step down in the aftermath of both of the last two elections, despite Trump's support of her.
Tuesday's results across the country saw a torrent of criticism unleashed on the embattled party leader. In fact, a general lack of confidence in her led McDaniel to briefly trend on social media:
What, exactly, does Ronna McDaniel do, besides lose?

The only thing she SHOULD do is RESIGN.

Effective immediately.

— Monica Crowley (@MonicaCrowley) November 8, 2023
Advertisement - story continues below
In case you missed this today, Steve Bannon and John Solomon called for Ronna McDaniel (@GOPChairwoman) to resign. Since taking over in 2017, she has lost 8 Governor races, 3 Senate seats, 19 House seats, and 1 Presidential race. WATCH pic.twitter.com/AzwEuti47O

— Simon Ateba (@simonateba) November 8, 2023
Totally useless @GOPChairwoman Ronna McDaniel should resign following tonight's general election results. She has done nothing to this day to secure our elections from voter fraud, registration fraud, and mail-in ballot fraud.

The RNC, with all the funding, all the staff, all…

— The Gateway Pundit (@gatewaypundit) November 8, 2023
Advertisement - story continues below
Ronna can join Michael Steele on MSNBC after she tanks a few more elections for the GOP.🤔🤔🤔

— James (@SarcasticNomad1) November 9, 2023
Under the current @GOPChairwoman, the GOP is not embracing early voting and can't properly counter the "abortion ban" narrative. Last night's election results were a disappointment. And it's tied directly to GOP leadership.

Ronna McDaniel needs to resign. Today.

— Andrew @ Don't Walk, RUN! (@DontWalkRUN) November 8, 2023
Advertisement - story continues below
The Democrats are doing a victory lap today… How big you might ask..

So big that The View has Hillary Clinton on to celebrate how they've turned the tide in the Presidential race that President Trump is dominating..

RONNA MCDANIEL MUST RESIGN TODAY… NO MORE EXCUSES..

— Matt Couch (@RealMattCouch) November 8, 2023
WHY do we keep the @GOPChairwoman when she does nothing for us? https://t.co/otKeWFn28c

— Pima County Republican Party (@RealPimaGOP) November 8, 2023
Advertisement - story continues below
I went on Warroom to call for President Trump to fire Ronna Romney

Millions of GOP voters refuse to donate to the RNC to fund her beauty appointments

It's time to clean house – no more pay increases for losers

If we can vacate Kevin McCarthy, we can fire Ronna McDaniel! pic.twitter.com/lWvwCPGWrq

— DC_Draino (@DC_Draino) November 9, 2023
McDaniel has offered no indication she intends to step down, while Trump has not responded to calls for her to step aside.
Where Does the Republican Party Go From Here?
Advertisement - story continues below
Tuesday's election results in Ohio and Kentucky reignited criticism of McDaniel that has been simmering since January 2021, when both of Georgia's Senate seats were flipped from Republican to Democrat during the state's early January special elections.
Some conservatives are not simply blaming McDaniel for the party's mounting, post-2016 losses. Some are also blaming Trump himself:
Last night, he launched into a righteous tirade against the GOP chairwoman. He notably did not mention the man who put her in that position. So it's just largely theatrics. An honest broker would hold everyone accountable.

— Jordan Schachtel @ dossier.today (@JordanSchachtel) November 9, 2023
Advertisement - story continues below
Correct, but he's not alone. There's an entire industry of people who speak hard truths, except when it comes to fearless leader. Even to the point of criticizing the very poison poke he remains proud of. https://t.co/Ntpzh5s8KP

— Steve Deace (@SteveDeaceShow) November 9, 2023
DeSantis attacks President Trump:

"He said Republicans were going to get tired of winning. Well, we saw last night, I'm sick of Republicans losing." pic.twitter.com/iVYd3bI7cx

— Citizen Free Press (@CitizenFreePres) November 9, 2023
Advertisement - story continues below
I remember when @RonDeSantis endorsed Harmeet for GOP chair, and Trump sent Susie Wiles to whip votes for Ronna https://t.co/90HWkUcg2s

— Will Chamberlain (@willchamberlain) November 8, 2023
Ronna McDaniel is the head of the RNC because Trump endorsed her.

— Stephen L. Miller (@redsteeze) November 9, 2023
Advertisement - story continues below
The results of the 2018, 2020 and 2022 elections are arguably on McDaniel, whose sole purpose as chair of the Republican Party is to win close races and to raise money. Those are the two requirements of the job.
Should 2024 become another year of losing for the party, it is difficult to imagine any scenario in which she retains the chair.
Republicans should hope that between now and then, the party adopts a winning message and raises enough cash to counter the media blitz that is coming next year. The establishment media will without a doubt go all-in in an attempt to secure another term for Biden — or whomever the Democrats nominate.
Conversation