Sports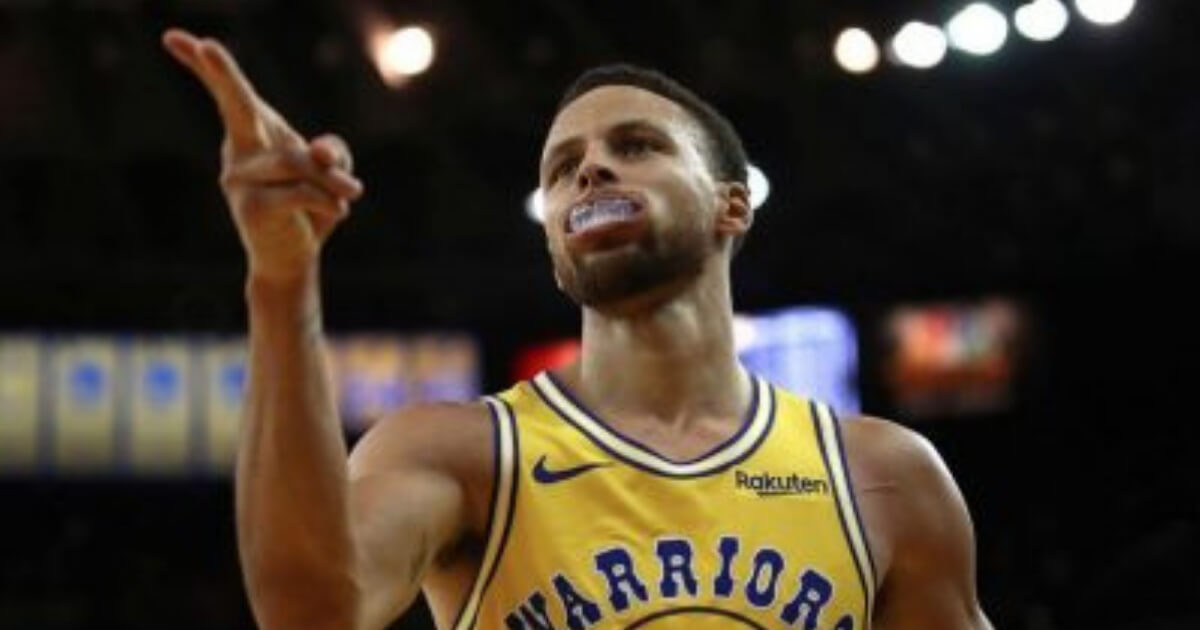 Stephen Curry Explodes for 'Video-Game' Good Night
Stephen Curry appreciated the freedom from coach Steve Kerr to shoot from wherever he darn well pleased, no distance off limits.
On this night, Curry could get away with anything. He was feeling it.
"It is nice to turn around and not hear your coach on the sideline chewing you out," Curry said. "I'd like to say I deserve that little wiggle room there for sure."
Advertisement - story continues below
Even with another post-championship, whirlwind summer that included welcoming a son, more golf tournaments and travel, Curry considered it among his best and most productive offseasons.
His body is fully healthy and recovered after the Golden State superstar played only 51 regular-season games during the latest championship run because of injuries.
Through five games, Curry is as dominant as ever — as evidenced in a spectacular 51-point performance in Wednesday night's 144-122 win against the Washington Wizards playing only three quarters. He scored 18 straight for the Warriors during one stretch.
Steph Curry dropped the highest-scoring quarter of the NBA season so far.

23 pts
8-11 FG
5-6 from three pic.twitter.com/bQv2ZISzzN

— NBA on ESPN (@ESPNNBA) October 25, 2018
Advertisement - story continues below
"It was a joy to be on the same court with that. That was sick," Kevin Durant said
Is Curry the greatest shooter in NBA history?
"That boy good!" teammate Shaun Livingston tweeted immediately after the game.
His teammates notice Curry's purpose when he takes the floor each day, whether practice or a game.
"Just to be great, it's that simple," Klay Thompson said earlier Wednesday. "He's never satisfied. We saw that after the first year he won MVP, he came back even better and had an historic season. And nothing's changed since four years ago or since he got in the league. That's what makes him so great, is his humility and his ability to just keep working."
Advertisement - story continues below
The Warriors are practically spoiled by the brilliance of No. 30, as great as ever at age 30 and in his 10th NBA season.
Kerr insists Curry is stronger than ever and "at his physical and mental peak."
"He's got a great life, doesn't he?" Kerr said. "I just think that part of what makes Steph great is who he is as a person and what his life is about. He loves life. He takes so much joy out of every single day," Kerr said. "Steph has a joy about him that I think everyone in the building can see and feel, so he brings that and I think you talk about wanting people to have a balanced life and how powerful that can be. I think he's a prime example of that."
We should've known Steph Curry was gonna go off when he made this during warmups ?? pic.twitter.com/rN2YlX0Xga

— SB Nation NBA (@SBNationNBA) October 25, 2018
Advertisement - story continues below
Curry scored 31 in the first half, finished with his sixth career 50-point game and made 10 or more 3s for the 10th time. The 51 points matched his most at Oracle Arena.
He hit his first five 3-pointers and had the ninth 30-point half of his career, drawing "MVP!" chants all evening long from an adoring home crowd.
Curry shot 15 for 24, 11 of 16 from 3-point range and made all 10 free throws, missing his career high of 54 set in February 2013 by three points.
Advertisement - story continues below
"Some of the shots that he was making, you don't see that," Wizards coach Scott Brooks said. "He's a special player, a special scorer, a special shooter. He's taking 35-foot shots, it's hard to double team a guy who's that far out, and he makes them like they're layups. I've never seen anything like it."
Kerr and Brooks each considered Curry "video-game" good.
"We are kind of used to it with Steph," Kerr said before Curry's latest brilliance. "He's just so consistent and so lethal."
Curry hurt his left knee March 23 just as he had come back from a six-game absence with a right ankle injury. He also missed 11 games last December with a sprained right ankle.
Advertisement - story continues below
He then sat out the first round of the playoffs before returning for Game 2 of the Western Conference semifinals against the Pelicans.
Then after another title was in hand, a third in four years to put the Warriors in dynasty status, Curry struck a balance during the summer to both push and pace himself to stay on the floor for the long haul because, in his words, "there's a lot to gain, there's a lot more to accomplish."
"I definitely expect it, I expect it every year," Curry said. "I don't wake up when I do in the summers and put all those hours in just to show up during the season with no confidence and no kind of rhythm. This summer for a lot of different reasons it was a great kind of consistent approach to what I was trying to get out of my training and things like that. Had I started off cold, I would have had the same confidence because of the work that I put in and things would have hopefully turned around. The way that I started, I just want to keep going and not change what I'm doing."
Conversation