News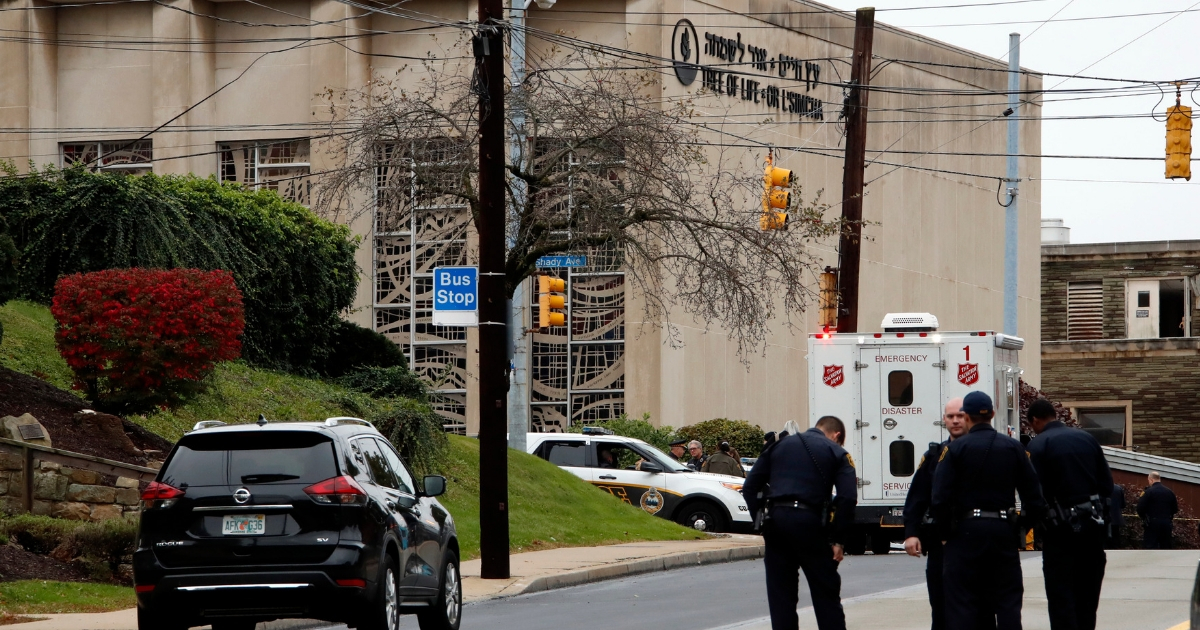 Synagogue Shooter Charged, DOJ Weighing Death Penalty
Charges filed against Robert Gregory Bowers in connection with Saturday's massacre at a Pittsburgh-area synagogue could lead to the death penalty if Bowers is convicted, Attorney General Jeff Sessions said
"These alleged crimes are reprehensible and utterly repugnant to the values of this nation. Accordingly, the Department of Justice will file hate crimes and other criminal charges against the defendant, including charges that could lead to the death penalty," Sessions said Saturday.
Making Bowers, 46, subject to the death penalty was supported by President Donald Trump, who spoke about the incident Saturday.
Advertisement - story continues below
"When people do this, they should get the death penalty," Trump said. "And they shouldn't have to wait years and years. I think they should very much bring the death penalty into vogue."
Authorities announced Sunday that Bowers faces 29 charges, according to CNN.
Bowers is charged with 11 counts of using a firearm to commit murder and multiple counts of two hate crimes: Obstruction of the exercise of religious beliefs resulting in death, and obstruction of the exercise of religious beliefs resulting in bodily injury to a public safety officer.
The federal hate-crime charges can carry the death penalty with a conviction.
Advertisement - story continues below
The crimes of violence are based upon the federal civil rights laws prohibiting hate crimes, said U.S. Attorney Scott Brady, and Bob Jones, the FBI special agent in charge of the Pittsburgh office, in a statement.
Brady called the massacre an "unspeakable and hateful crime" and noted that during his rampage, Bowers talked about genocide and killing Jewish citizens, Fox News reported.
Should the shooter in Saturday's massacre be executed if found guilty?
"The actions of Robert Bowers represent the worst of humanity," Brady said.
Jones said the victims were "brutally murdered by a gunman targeting them simply because of their faith."
On Saturday, Bowers entered the Temple of Life synagogue in Squirrel Hill, near Pittsburgh, armed with a rifle and three handguns. He killed 11 people and wounded six. Four police officers were among the six people wounded. Bowers was wounded in a gun battle with police.
Advertisement - story continues below
The slaughter was the deadliest attack on Jewish citizens in American history, said Jonathan Greenblatt, CEO of the Anti-Defamation League.
The United States Holocaust Memorial Museum said in a statement that the attack is a reminder of the dangers Jewish people face.
"The museum reminds all Americans of the dangers of unchecked hatred and anti-Semitism which must be confronted wherever they appear and calls on all Americans to actively work to promote social solidarity and respect the dignity of all individuals," the museum said in a statement.
Republican Congressman Mike Kelly of Pennsylvania said the shooting should galvanize Americans to action, Fox News reported.
Advertisement - story continues below
"These are senseless acts of evil," Kelly said Sunday on "Fox & Friends." "It's so important for all of us to gather around [and] understand that we have a role to play in this," he said
"If we can get away from the fact that we're Democrats and Republicans and just look at the fact that we're Americans, let's work together that way to unify the country," he said.
Conversation