Commentary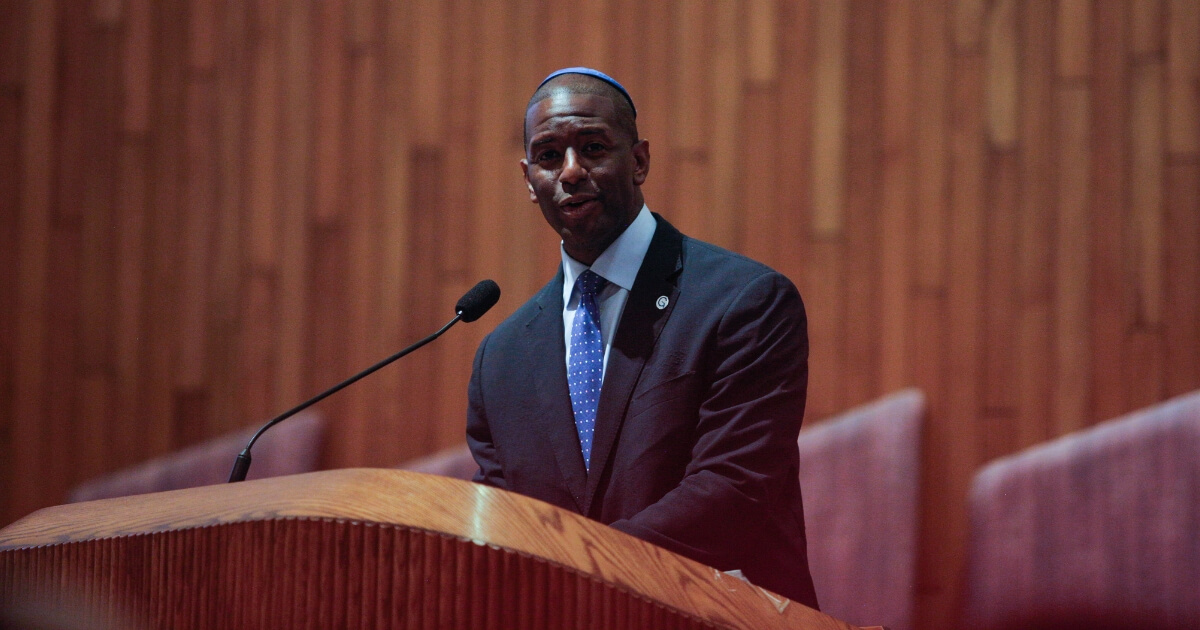 Not Just Tickets: Dem Gov. Candidate Caught. Undercover FBI Paid for Actual Fundraiser
If you thought it was bad that Florida's Democratic candidate for governor, Andrew Gillum, got a ticket for the Broadway play "Hamilton" from undercover FBI agents as part of a corruption sting, well, you'd be right. But, that is just the tip of the proverbial iceberg.
A new report from The Washington Examiner explained there was more to the situation than one ticket, according to "new emails and records." How much worse could it be? Oh, a lot.
Apparently, the Tallahassee mayor "had an undercover FBI agent pay for a fundraiser for his political action committee in 2016." And that played out as "undercover FBI agent 'Mike Miller' was charged $4,386 from a restaurant then owned by former lobbyist Adam Corey."
Advertisement - story continues below
Also bear in mind that Gillum had originally claimed that the ticket came from his brother. But it was later revealed via "text messages between Gillum and Corey (that) Gillum was aware the ticket had been obtained from Miller."
And it may only get worse for Gillum. "The ethics commission is examining trips Gillum took in 2016 to New York and Costa Rica, and originally subpoenaed documents pertaining to trips Cory (sic) took with Gillum."
Gillum continues to deny the ticket was given to him by anyone other than his brother, reported the Tampa Bay Times. The publication wrote that on Facebook Live, Gillum stated, "These messages only confirm what we have said all along."
"We did go to see Hamilton. I did get my ticket to Hamilton from my brother."
Advertisement - story continues below
"At the time, we believed that they were reserved by friends of Adam's, Mike Miller. And when I got there after work, got my ticket, we went in there and saw it, assumed my brother paid for it, and so far as I know, that was the deal."
His opponent, Republican Ron DeSantis, has hit him hard on the matter. He's been using Twitter to help spread the word.
Do you believe Gillum should leave the governor's race?
.@AndrewGillum is a failed mayor who presided over a crime-ridden city AND is involved in corruption. It has become completely clear that he is NOT the leader our state needs. Sunday night proved he's all talk and no substance. https://t.co/EcNzLidEQf

— Ron DeSantis (@RonDeSantisFL) October 23, 2018
Filet mignons, salmon mousse canapés and cocktails for @AndrewGillum brought to you by lobbyists and an undercover FBI agent posing as a developer. https://t.co/OHx80ErR25

— Ron DeSantis (@RonDeSantisFL) October 28, 2018
Advertisement - story continues below
Luxury vacations, free Hamilton tickets, fancy hotels, filet mignon. @AndrewGillum is living the high life thanks to lobbyists and undercover FBI agents posing as developers. Side note: pay to play is ILLEGAL. https://t.co/yCMZpMVMos

— Ron DeSantis (@RonDeSantisFL) October 27, 2018
Previously, Gillum had played the race card, according to The Hill. "I definitely think we're held to a different standard, and I try not to spend a lot of time on what that is, rather focusing on what my contributions are, and how we push past it."
Advertisement - story continues below
"They don't expect much of me to begin with. They certainly didn't expect me to be here, and now they're having to wrap their heads around what it means to have someone like me on the state and the national scene. I think their muscle memory about politics and elected officials forces them to see me in the most cynical light."
Is it any wonder the #WalkAway movement is growing and conservative activist Candace Owens' newly launched BLEXIT movement already has so much support?
This is what the Democrats have to offer. Meanwhile, President Donald Trump has offered struggling communities in America jobs, a thriving economy, and hope.
Conversation