News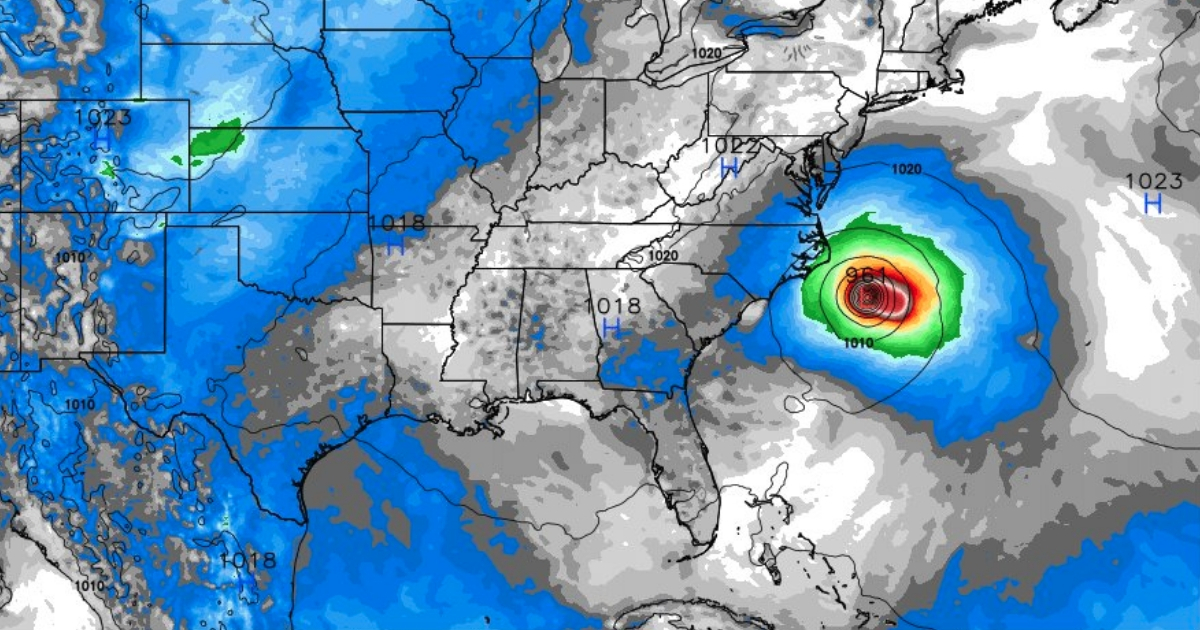 Tropical Storm Florence Threatens East Coast
As of Monday morning, tropical storm Florence has strengthened as it has traveled across the central Atlantic ocean.
At 11:00 a.m. EST, the storm was reported to be moving west-northwest at 16 mph with maximum sustained winds of 65 mph, according to the National Hurricane Center.
At 1:23 p.m. EST, Florence was reported to be near the Cabo Verde Islands.
Advertisement - story continues below
If Florence continues in the west-northwest direction, it will be a potential threat to the east coast of Florida and points north.
BREAKING – We now have Tropical Storm Florence #TSFlorence #Florence pic.twitter.com/bs1lCZtGyJ

— WeatherNation (@WeatherNation) September 1, 2018
Though the storm's winds have reached 65 mph, there was no mention of it becoming a hurricane within the next 10 days.
Within 240 nautical miles of Florence there are scattered and isolated rain showers and varying wind speeds.
Advertisement - story continues below
There were no coastal watches in effect, but forecasters were continuing to standby in the event that it becomes more serious and advisories need to be issued.
Florence could continue to increase in strength.
Do you think man-made global warming is contributing to severe weather?
The tropical storm should begin to reach the U.S. within 10 days.
The Atlantic hurricane season switch has been flipped on.

A disturbance near the Bahamas has an 80% chance of developing in the Gulf of Mexico. Model data shows a tropical storm near New Orleans midweek (pic #2).

ECMWF model show Florence nearing the US in 10 days (pic #3). pic.twitter.com/QonmDGI7ZR

— Brad Nitz (@BradNitzWSB) September 2, 2018
I don't like what the latest European run is showing. It suggests that Tropical Storm Florence will not be a miss out to sea. Instead, it threatens the east coast 10 days from now. This needs to be watched closely. There's a ridge over the top that may shut the northern door. pic.twitter.com/yUrsw9edVy

— Chris Sowers (@chris_sowers) September 3, 2018
Advertisement - story continues below
Despite the tropical storm not posing any serious immediate threat to land, it is always important to be prepared in case the storm develops into a hurricane.
The Centers for Disease Control and Prevention suggest several ways to be prepared for a tropical storm. Simple steps, such as obtaining emergency supplies, creating a disaster plan, preparing to evacuate if necessary, protecting older adults and pets, and after-care planning can help keep people safe during the event of dangerous weather.
Of course, 10 days is a fairly long time, as far as such forecasts go, and lots could change between now and then, so residents up and down the Eastern Seaboard should be watching developments, just to be safe.
Florence is not the only tropical storm on the radar. Tropical storm Gordon was also being watched as it traveled over South Florida, leaving heavy rains and making its way to the Gulf of Mexico.
Advertisement - story continues below
Tropical Storm #Gordon has formed near the Upper Florida Keys, with maximum winds of 45 mph. Tropical Storm Warnings are coming for portions of south Florida and the Keys in a Special Advisory to be issued by 9 am EDT (1300 UTC). More: https://t.co/tW4KeGdBFb

— National Hurricane Center (@NHC_Atlantic) September 3, 2018
Gordon has hit the Florida Keys and advisories have been issued. Gordon only has winds of about 45 mph, less than that of Florence, but the heavy rainfall poses a threat to Florida and the Gulf of Mexico.
Conversation