Commentary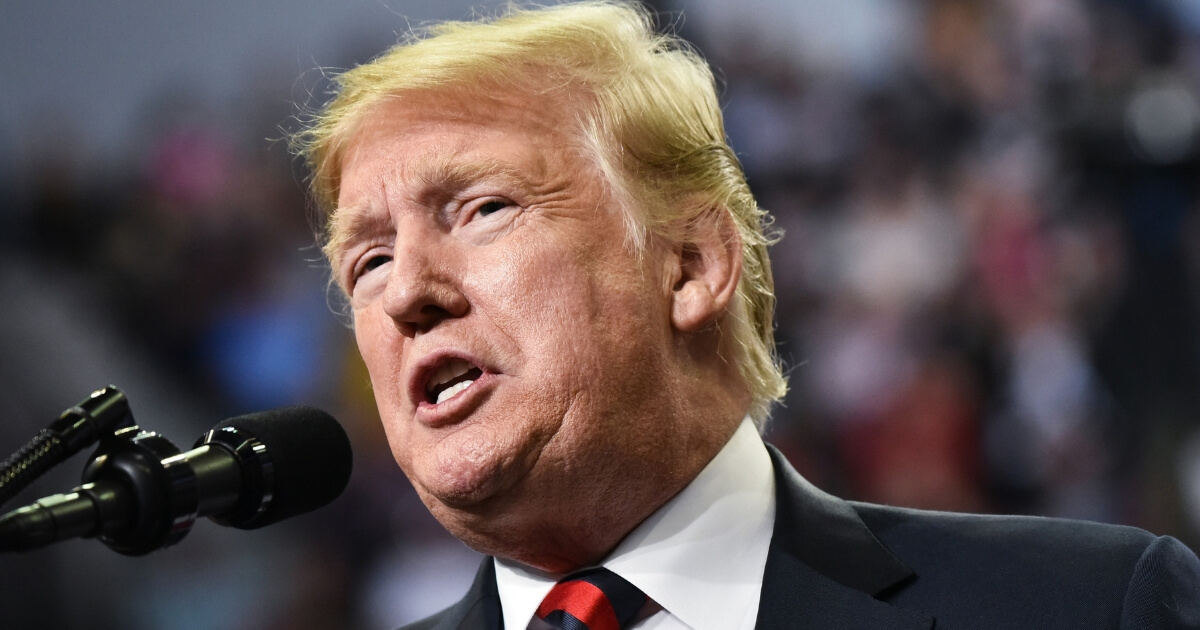 Trump Angry At Republicans Over 'Ridiculous' Spending Bill; Blasts Them for Not Funding Wall
The Senate's 93-7 approval vote for H.R. 6157: Department of Defense and Labor, Health and Human Services, and Education Appropriations Act, 2019 was met with President Donald Trump's disapproval.
Trump lashed out on Twitter:
I want to know, where is the money for Border Security and the WALL in this ridiculous Spending Bill, and where will it come from after the Midterms? Dems are obstructing Law Enforcement and Border Security. REPUBLICANS MUST FINALLY GET TOUGH!

— Donald J. Trump (@realDonaldTrump) September 20, 2018
Advertisement - story continues below
The Associated Press reported that the bill is "a wide-ranging, $854 billion bill that funds the military and a host of civilian agencies for the next year and provides a short-term fix to keep the government open through early December. The measure includes $675 billion for the Defense Department and boosts military pay by 2.6 percent, the largest pay raise in nine years."
It also noted that, "The bill also approves spending for Health and Human Services, Education, Labor and other agencies, including a 5 percent boost for the National Institutes of Health." The House is expected to also approve it ahead of the September 30 deadline to avoid a government shutdown.
Notably, funding for the border wall got punted, according to Fox News.
"Republican congressional leaders have said they would prefer to tackle the border wall after the midterms in November. The appropriations for the Department of Homeland Security will be handled after Dec. 7, where the money for the wall would be set."
Advertisement - story continues below
Trump had, just days earlier, called out Republicans over border wall funding. He warned them about "being played" by Democrats:
When will Republican leadership learn that they are being played like a fiddle by the Democrats on Border Security and Building the Wall? Without Borders, we don't have a country. With Open Borders, which the Democrats want, we have nothing but crime! Finish the Wall!

— Donald J. Trump (@realDonaldTrump) September 15, 2018
Should Congress have funded the border wall before the midterm elections?
Despite that, 45 Republicans sided with 47 Democrats and one Independent to pass the legislation. Only six Republicans voted against the measure, joining one Independent, Sen. Bernie Sanders.
Only 6 R's including @SenSasse, @SenMikeLee, & @RandPaul voted against excessive/wasteful spending:

$15M to natural gas vehicles
$18M R&D for HVAC/refrigeration systems
$20M wind test facilities
$20M truck efficiency program
$4M to steel industry#ampFWhttps://t.co/jT3UhtTaF6

— FreedomWorks (@FreedomWorks) September 18, 2018
Other senators also voted against the bill. They include Republicans Jeff Flake, Pat Toomey, and David Perdue.
Advertisement - story continues below
.@POTUS is fed up with the Democrats' historic obstructionism. Frankly, so am I. It's time to get the government on a process where we can fund our priorities & get this President's agenda accomplished. pic.twitter.com/3GSR0oXh6h

— David Perdue (@sendavidperdue) September 20, 2018
The Chicago Tribune wrote that following Trump's threat to never again sign another omnibus bill, Congress has been working to break down spending bills and get them completed much faster. This was reflected in a statement from Sen. Roy Blunt, R-Mo., a senior Appropriations Committee member:
"Today's bill reflects the prorities (sic) I think of both sides of the Capitol and both sides of the aisle. It also fulfills, by the way, the president's demand that he doesn't want any more of the omnibus spending bills."
According to The Hill, Republican Sen. Mitch McConnell echoed that sentiment. "These milestones may sound like inside baseball, but what they signify is a Senate that is getting its appropriations process back on track, a Senate that is attending to vital priorities for our country."
Advertisement - story continues below
Fox News reported that back in July McConnell made it clear that border wall funding would have to wait until after the mid-terms. So while Congress seems willing to work with Trump on passing funding bills in a more timely, responsible manner, when it comes to the border wall funding, there still seems to be issues.
Trump told Fox News' Pete Hegseth at a rally in Billings, Montana that he understood the desire to wait to fund the wall until after the midterms. "If it were up to me I'd shut down the government over border security in a second. But I don't want to do anything that is going to hurt us or potentially hurt us because I have a feeling that Republicans are going to do very well."
Fox News went on to write that Trump had "commitments" from both McConnell and Speaker of the House Paul Ryan to take care of the border wall funding immediately after the midterm elections.
How well they keep that commitment will be partially dependent upon how the elections turn out. A "blue wave" shifting control within Congress could make such a commitment impossible to keep.
Conversation