Commentary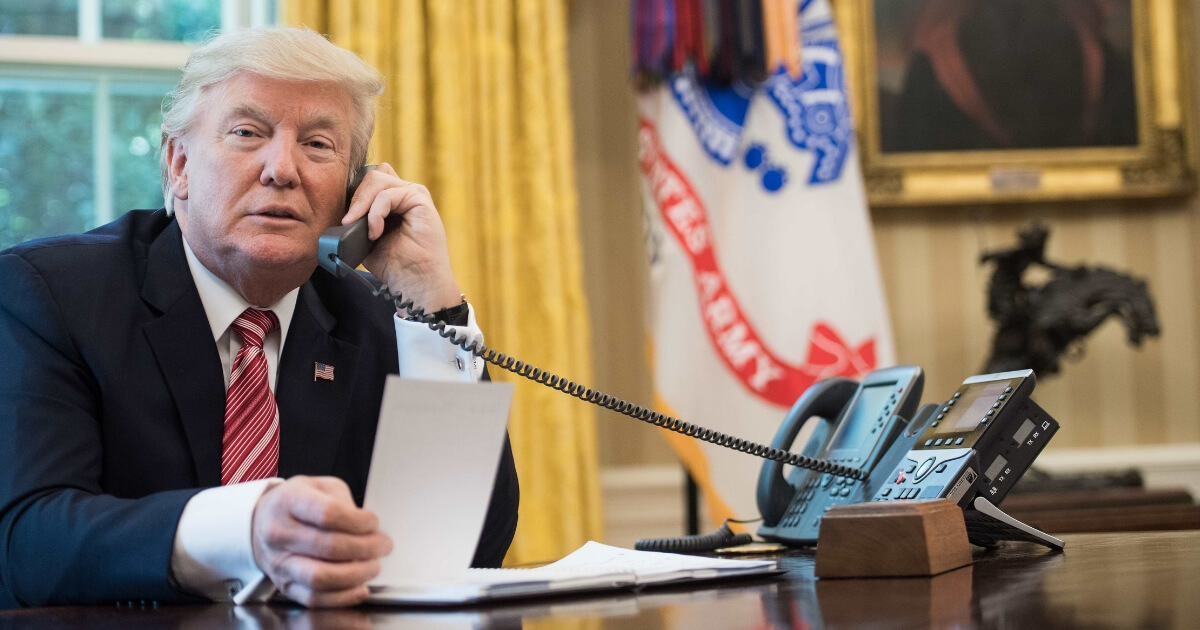 Trump Has To Fix Another NYT 'Fake News' Story: China, Russia Not Listening In
Some people have objected to President Donald Trump referring to CNN and other media outlets as "fake news." However, those outlets sometimes do things that merit such a claim.
Trump has pointed out another example of this in a recent tweet. In it, he blasted The New York Times.
The New York Times has a new Fake Story that now the Russians and Chinese (glad they finally added China) are listening to all of my calls on cellphones. Except that I rarely use a cellphone, & when I do it's government authorized. I like Hard Lines. Just more made up Fake News!

— Donald J. Trump (@realDonaldTrump) October 25, 2018
Advertisement - story continues below
He was responding to an October 24 article in which they cited unnamed "current and former American officials" as their sources of information.
The sources claimed that although CNN previously reported Trump mostly stuck to hard line phone use, he more recently had starting using his cellphones more often.
Also according to the sources, both Russia and China were listening in on these calls from his cellphones. They did not say he was sharing classified information while using his cellphones. In fact, the article stated the usage was when he "calls old friends on one of his iPhones to gossip, gripe or solicit their latest take on how he is doing."
Advertisement - story continues below
CNN reported that a Chinese official jumped on the "fake news" bandwagon, also referring to the report as such. Chinese Foreign Ministry spokeswoman Hua Chunying then said, "My reaction to this New York Times report is that certain people in the United States really have been sparing no effort in their pursuit of an Oscar for best screenplay."
Hua didn't stop there, though. Hua also recommended a switch to Chinese brand Huawei cellphones by anyone concerned about security issues with Apple iPhones.
Do you believe President Trump's personal use of his personal cell phones is a problem?
One elephant in the room with The New York Times story on Chinese spying is found with Democratic Sen. Diane Feinstein's nearly 20-year-employment of a Chinese spy. Of note, she is a member of the Senate intelligence committee.
The intelligence committee's duties are explained on her government website page. "The Senate Select Committee on Intelligence, established in 1975, has oversight responsibility for the 16 civilian and military agencies and departments that make up the U.S. Intelligence Community."
We also learned Senator Diane Feinstein had a Chinese spy working for her for 20 YEARS!! Where was Comey and Mueller during this SUBVERSION attempt? https://t.co/Cc5MsB12Xc

— Todd Doyle (@whizkids) October 25, 2018
Advertisement - story continues below
Another elephant in the room is Hillary Clinton's private email server reportedly being hacked by China. Some believe the server was hacked and led to the deaths of multiple U.S. agents.
Did leaky Hillary devices get 21 Chinese CIA assets "killed or imprisoned"?
–https://t.co/1iXP2HzexQ
-Death/imprisonment 2010-2011 fits perfectly with HRC's 2009-2013 tenure as SecState.

— WillDemocracyDieInDarkness? #1/1032 PeruvianToo (@boone_jo) October 16, 2018
Advertisement - story continues below
So what is the point of a story that Russia and China — based on the word of anonymous sources — may be listening during Trump's personal calls about non-government stuff? One theory is that is is just more media bias aimed at making Trump look bad.
The story focused on how he was frustrating his aides with his personal phone use and gave an impression — which has been a focus since before he was elected — that he is out-of-control and a risk to U.S. national security, despite no proof of either claim.
As the midterms close in, more and more negative stories can be expected, particularly as Republicans are doing better in polling. The push to show Trump as incompetent, a danger, and otherwise unfit for office has just been a running theme from the left and the establishment media of late.
Conversation