Commentary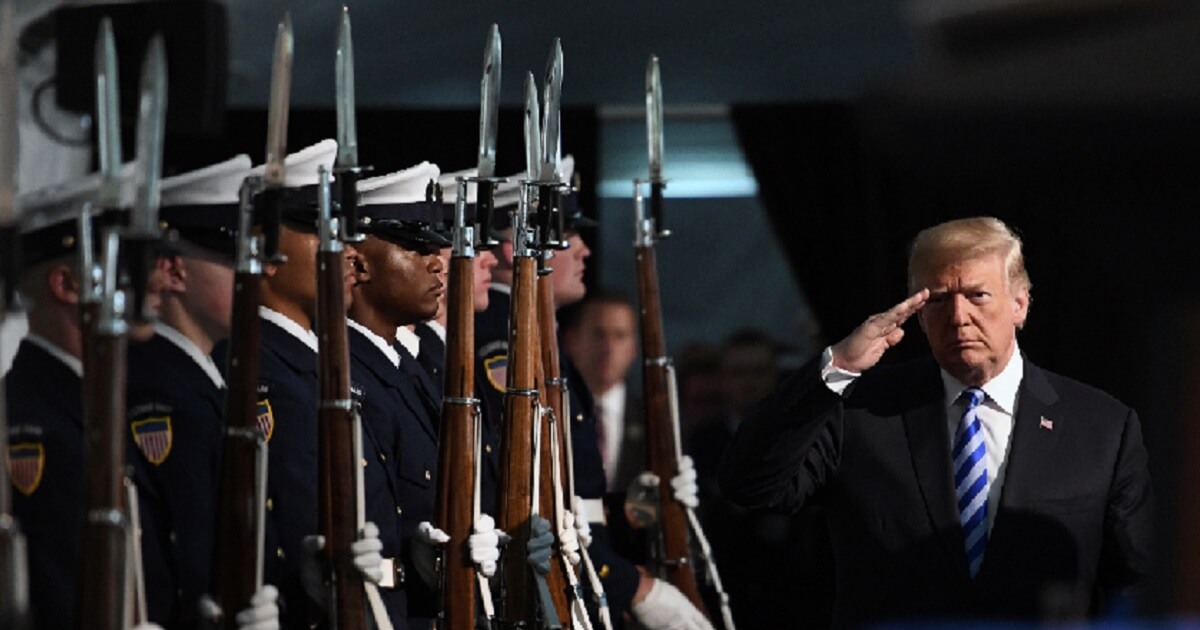 Trump Personally Intervened To Ensure Coast Guard Would Be Paid During Gov't Shutdown
Stories about President Donald Trump's kindness and generosity have been around for years. While the left likes to dispute them, even the liberal-leaning Snopes has pointed to a number of them being true.
Now we have another incredible act from the commander in chief. However, establishment media seems to have missed reporting on it.
When the partial government shutdown hit, concerns were raised about everyone getting paid. Trump just made sure that salaries could keep going for the Coast Guard and others.
Advertisement - story continues below
The Washington Examiner reported that Trump pressed the Office of Management and Budget, the Department of Homeland Security and the Coast Guard to find a way to make sure Coast Guard members paid.
While military personnel under the Department of Defense aren't affected by the shutdown because their funding has already been appropriated, the Coast Guard is under the Department of Homeland Security and had yet not been fully funded for next year.
After Trump's intervention, the Examiner reported, DHS and Coast Guard officials found they had a little more than needed from the past continuing resolution appropriation to "make the month's last payroll check," which amounted to approximately $75 million.
An official told The Washington Examiner that "The president is trying to make the shutdown as painless as possible for workers, and this case proved it."
Advertisement - story continues below
The Coast Guard issued an update for service members regarding the situation, which included this news.
However, in the update it was noted that 2019 pay will be dependent upon "a fiscal year 2019 appropriation, a continuing resolution, or passage of an alternative measure."
Do you believe the Democrats need to end the shutdown by funding the wall?
In other words, while the Coast Guard's Dec. 31 paychecks are fine, the Jan. 15 paycheck will likely depend on the shutdown being over.
Trump has taken aim at Congress, the Democrats in particular, over the matter. On Twitter he has urged them to take care of their base.
Have the Democrats finally realized that we desperately need Border Security and a Wall on the Southern Border. Need to stop Drugs, Human Trafficking,Gang Members & Criminals from coming into our Country. Do the Dems realize that most of the people not getting paid are Democrats?

— Donald J. Trump (@realDonaldTrump) December 27, 2018
Advertisement - story continues below
He has also pointed out that while the Republicans had the majority in Congress, they still needed Democratic cooperation to get things done. That has caused problems, which led to the current partial shutdown.
For those that naively ask why didn't the Republicans get approval to build the Wall over the last year, it is because IN THE SENATE WE NEED 10 DEMOCRAT VOTES, and they will gives us "NONE" for Border Security! Now we have to do it the hard way, with a Shutdown. Too bad! @FoxNews

— Donald J. Trump (@realDonaldTrump) December 29, 2018
Advertisement - story continues below
Trump's actions show he cares about Americans and about workers getting paid. Will the Democrats do likewise?
If social media is any indication, that answer may be 'no.' Some Democrats are putting it back on Trump, who can't do anything without their cooperation.
Note to @realDonaldTrump:

54,000 Border patrol & customs agents 53,000 TSA agents
42,000 Coast Guard employees
13,500 FBI agents
4,400 DEA agents

are working without pay (or not getting paid) not as Dems or Republicans, but as Americans. #TrumpShutdown#ThursdayThoughts https://t.co/UZXg0d5oUV

— Ted Lieu (@tedlieu) December 27, 2018
Advertisement - story continues below
.@realDonaldTrump has the Senate, the White House, and the House (for the moment) under Republican control. He has the power to keep government open – but instead, he says he's going to shut down the government. #TrumpShutdown pic.twitter.com/Pdbo4rH0sG

— Nancy Pelosi (@NancyPelosi) December 11, 2018
The President wanted the shutdown, but he seems not to know how to get himself out of it. As long as the President is guided by the House Freedom Caucus, it's hard to see how he can come up with a solution that can pass both the House and Senate and end his #TrumpShutdown.

— Chuck Schumer (@SenSchumer) December 24, 2018
Advertisement - story continues below
While both sides battle, Americans are caught in the middle.
National security and paychecks matter to them and they need Congress to do its job.
Conversation