News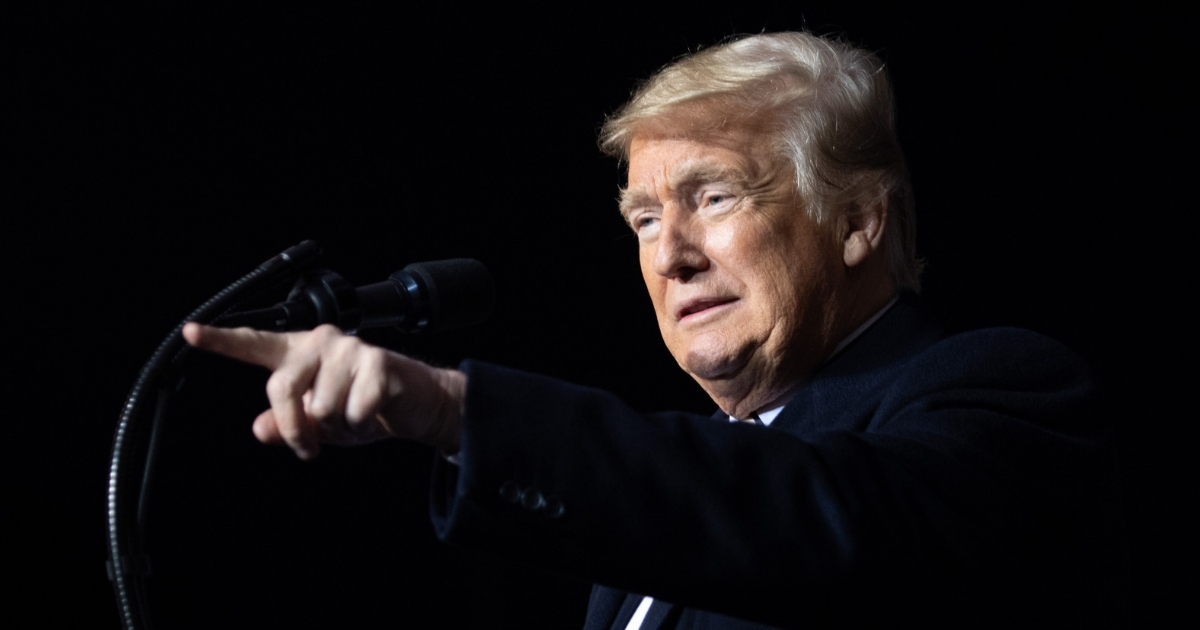 Trump Puts Americans First, Plans Immigration Rule Change To Reduce US Taxes
In an effort to reduce the cost to U.S. taxpayers, the Trump administration is planning to change the so-called public charge rule, which has funded a range of welfare benefits for noncitizen foreign nationals for decades.
According to Forbes, "If fully implemented, the 'public charge rule,' as it is known, could be the most far-reaching immigration policy change made during Donald Trump's time in office."
The proposed changes were published by the Department of Homeland Security in the Federal Register. Public comments are being accepted through Dec. 10.
Advertisement - story continues below
The rule determines the extent to which the U.S. federal government provides welfare benefits to noncitizens.
According to current immigration criteria, a public charge is a foreign national with "the likelihood of … becoming primarily dependent on the government for subsistence."
The majority of likely U.S. voters, 62 percent, supports the proposal, according to a 2017 Rasmussen Reports national poll.
The majority also supports barring legal and illegal immigrants from receiving welfare benefits for at least five years. Twenty-six percent opposed it; 12 percent were undecided.
Advertisement - story continues below
According to the Migration Policy Institute's report "Chilling Effects: The Expected Public Charge Rule and Its Impact on Legal Immigrant Families' Public Benefits Use," 10.3 million out of 22 million foreign nationals in the U.S. are enrolled in at least one taxpayer-funded federal welfare program (Medicaid, TANF or SSI benefits, food stamps and/or Social Security). Children ages 17 and younger account for 54.2 percent of foreign nationals.
MPI estimates represent the broadest group of noncitizens. In Minnesota, for example, it calculates that nearly 70,000 noncitizens could be affected by the proposed rule, and 151,400 people are living in a household with a noncitizen receiving a benefit.
The proposed changes affect those seeking admission to the U.S. through temporary work visas, tourist visas or student visas. They also impact legal residents applying for green cards.
The changes would not be retroactive and would exempt refugees, those granted asylum or temporary protected status, DACA recipients and humanitarian-based visa recipients.
The Center for Immigration Studies found that the majority of more than 1.5 million foreign nationals entering the U.S. every year receive roughly 57 percent more food stamps than the average native-born American household.
Advertisement - story continues below
According to Harvard economist George Borjas, the multidecade U.S. policy of importing so many legal immigrants every year is the world's "largest anti-poverty program" paid for by U.S. taxpayers.
"Since 1965, we have admitted a lot of low-skilled immigrants, and one way to view that policy is that we were running basically the largest anti-poverty program in the world," Borjas told TalkingPointsMemo. "That is actually not a bad thing at all. Except someone is going to have to pay the cost for that."
Critics say that the Trump administration's proposed changes would reduce the number of foreign nationals on welfare, cause a decrease in immigration levels and make it more difficult for foreign nationals and their dependents to be eligible for welfare benefits.
Proponents argue that's the whole point.
Advertisement - story continues below
The American Experiment, a free-market think tank, maintains that the existing system is unfair to taxpaying citizens on several levels.
"The provision of welfare to noncitizens is a betrayal of hard-working taxpayers, both citizen and noncitizen, who do not receive welfare benefits," Kim Crockett, its vice president and senior policy fellow, told Watchdog.org. "Our argument is with policymakers at the federal and state level, not people who accept their invitation to come to our country."
The more than 1.5 million mostly low-skilled foreign nationals entering the U.S. every year who are not receiving benefits take jobs away from citizens willing and able to work.
"Economically speaking, if American immigration policy is going to be about increasing per capita incomes in the U.S., what the country wants is immigrants who are more skilled than the average of people already here," John Phelan, an economist at the American Experiment, told Watchdog.org. "If immigrants are arriving in the US and going on welfare, being supported by American taxpayers, that is a sign that they do not meet this criteria."
Advertisement - story continues below
Phelan, who moved to the U.S. from the United Kingdom, shared his own experience with the U.K.'s equivalent of the public charge rule. He explained, "My wife was once an immigrant to the United Kingdom and I had to show the immigration authorities pay slips and bank statements to prove that I could support her in the event she couldn't support herself and she was ineligible for public funds.
"This policy is not something unique or inhuman. Most countries operate some form of this and for very good economic reasons."
As part of the proposed changes to the plan, legal immigrants living in the U.S. would be less likely to be able to obtain permanent residency in the U.S. if they have used any forms of welfare in the past, including obtaining Obamacare, food stamps and public housing.
The earliest the new rule could take effect is February 2019.
Advertisement - story continues below
A version of this article previously appeared on Watchdog.org under the headline "Trump administration plans immigration rule change to reduce U.S. taxpayer cost."
Conversation