Commentary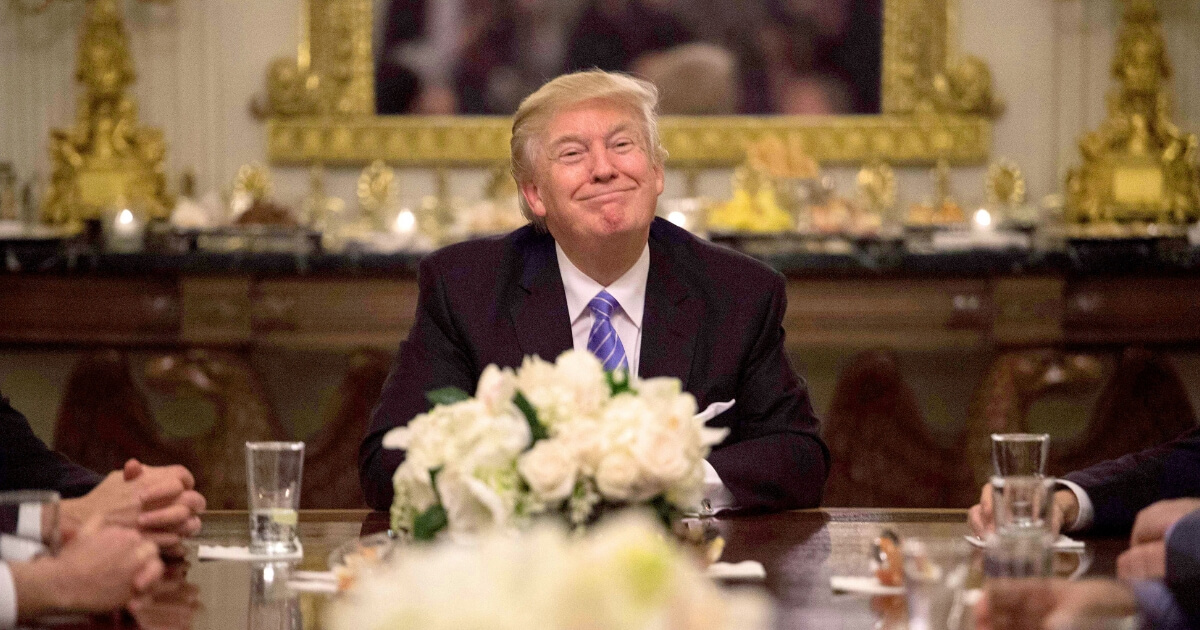 Hidden in Plain Sight: Eagle-Eyed Viewers Notice Incredible Trump Painting at White House
I wasn't always a Trump fan. I voted for him because I was just sick and tired of the stodgy, buttoned up career politicians who lost my trust long ago.
Career politicians all seem to be too polished and over rehearsed and so you never really can trust that you're seeing deep inside the real person and his/her character.
However, over the last two years Donald Trump has really grown on me as president and Sunday's "60 Minutes" interview is just one example of why.
Advertisement - story continues below
I watched the president's interview with CBS's Leslie Stahl and wasn't impressed with how she handled herself during her interrogation of POTUS. Though I do always enjoy how this president, unlike so many others in the past, speaks with disarming frankness. There's so much less political two-stepping in his answers and I think that's just an aspect of his personality that people appreciate.
Perhaps one of the most telling aspects of how the president conducts himself — giving us further clues as to his personality — is the variety of objects with which he surrounds himself inside the White House. At first I missed it, but when others pointed it out, I chuckled out loud. It's perfect.
The Daily Mail ran a piece on Monday about artist Andy Thomas' creation "The Republican Club" hanging in the White House and it just so happened to make its way into the camera's view during the president's interview on Sunday evening's "60 Minutes."
The first thing I thought was that I bet previous presidents had never hung such a pop culture version of historical expression in the White House before. It's just like Trump to do something like that and to make sure it found its way into the "60 Minutes" moment.
Advertisement - story continues below
The Daily Mail describes the painting: "In the piece he is seated across from Lincoln, between Presidents Dwight D. Eisenhower and Richard Nixon, with Teddy Roosevelt and Gerald Ford standing behind him. On the far left of the table is Ronald Reagan, with George W. Bush seated next to him and George H.W. Bush standing."
"Further in the background behind Roosevelt appears to be President Calvin Coolidge. Further into the background next to Coolidge is Warren G. Harding and possibly Herbert Hoover."
Do you think the portrait of Republican Presidents should hang in the White House?
"The Republican Club was a piece that had been done previously. This was an update to that painting, according to Thomas. It was re-worked to include 45."
"The piece was gifted to Trump by Republican Californian Congressman Darrell Issa, reported The Daily Mail."
I think a portrait of 45 surrounded by generations of past Republican presidents makes a tremendous statement. There's a new sheriff in town and business as usual inside the beltway is no more. I'm so glad it made it's national debut on left wing media's interview with Leslie Stahl.
Advertisement - story continues below
This version of the painting is a revision from the original 2008 version, with Donald Trump added.
The Daily Beast reported that Congressman Daryll Issa, a fan of Thomas' work, gave the painting to the president.
Thomas said, "He had actually given a me real gracious call to tell me how much he liked it. He was very complimentary. He made a comment that he'd seen a lot of paintings of himself and he rarely liked them."
As far as he knows, no other presidents have a copy of Thomas' work, reported the Daily Beast.
Advertisement - story continues below
And yes, I missed it during the interview, but the social media population did not. It exploded all over Twitter:
oh my god, it's hanging in the white house pic.twitter.com/wrq8eo7Bvx

— Josh Billinson (@jbillinson) October 15, 2018
Yes, there is a Democrat version of POTUS's at play:
Since I see the Republican painting in my timeline. Here is the Democrat and the Republican paintings together. Both were painted by the talented Andy Thomas

CC: @Asher_Wolf pic.twitter.com/dr3RA6Rx6k

— Steve Ragan (@SteveD3) October 15, 2018
Advertisement - story continues below
And of course there were the critics from the left who just couldn't stand the idea of such a painting including Donald Trump.
Say what you will, the likenesses in Andy Thomas' "Republican Club" painting are stunning (thanks to Cecilia Giménez). pic.twitter.com/YvFu6IzK3n

— Full Frontal (@FullFrontalSamB) October 15, 2018
This painting depicts
"The Republican Club"
It's name is perfect. A bunch of old white men! pic.twitter.com/8zs4SRQmms

— Flowers (@CherylB88782937) October 15, 2018
I think, after watching the president for the last couple of years, he was sending a message by walking Leslie Stahl past the portrait — maybe in much the same way the first lady wore a Zara "I really don't care. Do you?" jacket on a trip to the border to let the media know they can't mess with her.
Advertisement - story continues below
The left can moan and groan all they want about Trump in the White House. I think he's just messing with the media at this point and they have no clue as to how to deal with it.
And that is an attitude I just love in President Trump.
Conversation