Sports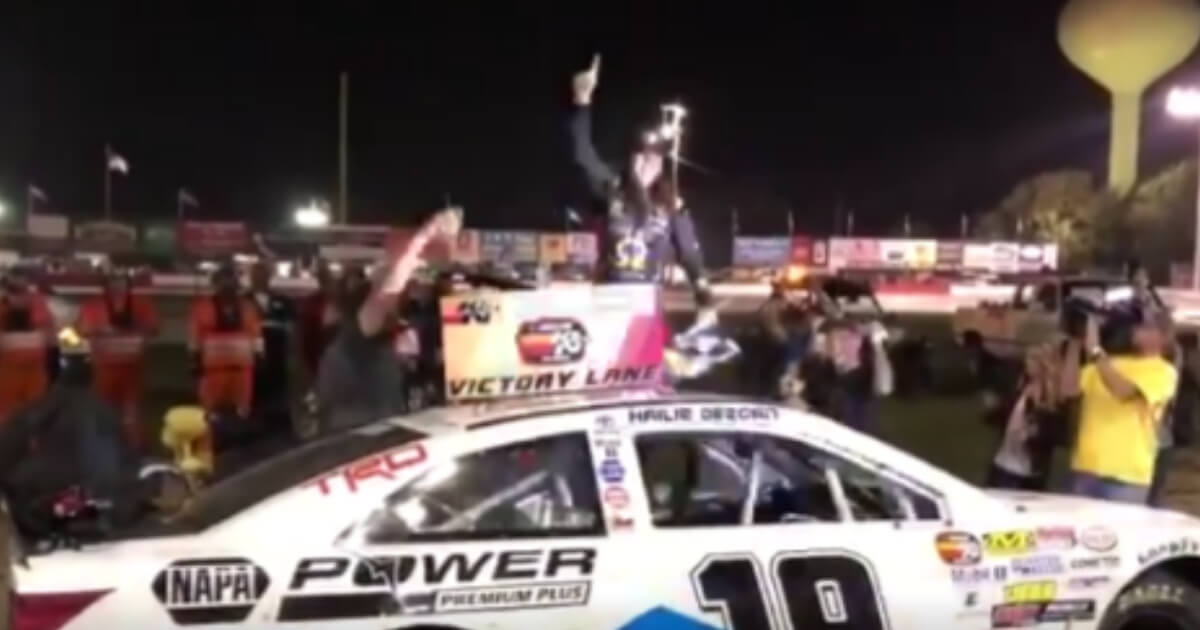 17-Year-Old Hailie Deegan's Historic Win Has Never Been Seen in NASCAR
Hailie Deegan led for only one lap during the K&N Pro Series West race at Meridian Speedway, but that one lap was all she needed to make history.
The 17-year-old from California became the first female driver to win a K&N Pro Series race on Saturday night. She passed teammate Cole Rouse on the last lap to take the lead and it was the only lap she led.
History.@HailieDeegan climbs out following her #Idaho208 victory @meridianspeed, the first win for a female in series history. #NASCAR pic.twitter.com/MVPok6qakd

— NASCAR Roots (@NASCARRoots) September 30, 2018
Advertisement - story continues below
Her previous best finish had been second place twice before, including two weeks ago at The Dirt Track at Las Vegas Motor Speedway.
"Oh my god," Deegan said in Victory Lane. "This has to be the best day of my life right here. It doesn't get any better than this. People don't understand how many days, how many hours I've put into this. How much work I've done to get to this moment. It's just amazing … this is the happiest day of my life. We did it."
Deegan made a list of everything she wanted to accomplish in 2018, and with this win she checked off the last of those goals.
LAST GOAL ✅!!! WE DID IT pic.twitter.com/ypjJWDMDt9

— Hailie Deegan (@HailieDeegan) September 30, 2018
Advertisement - story continues below
Deegan is the daughter of Brian Deegan, who has won seven medals at the Summer X Games. The entire Deegan family was on hand to celebrate the historic occasion.
Do you think Hailie Deegan will make it to the NASCAR Sprint Cup Series one day?
"So we're here, end of the night, I've lost my voice and Hailey just made history. She just won her first NASCAR race at Boise, Idaho. We are so pumped, literally in tears. What an awesome moment. So much work went into this. Thank you everyone that supported her!"
The K&N Pro Series West is a regional stock car division of NASCAR and is mainly used as a developmental circuit for drivers in the western part of the United States.
The K&N Pro Series East is the other division and drivers such as Kevin Harvick, Joey Logano and Martin Truex Jr. have gotten their starts in the K&N Pro Series.
Advertisement - story continues below
Harvick still races in K&N Pro Series events from time-to-time and he competed against Deegan at a race in California.
She was just 16 at the time, but back then Harvick recognized her talent and he picked her as the driver in the race field with the most potential.
"I think as far as potential and reach and just racing knowledge and getting in a car as young as she is, she would be the one I would pluck out of the series and say, 'That's the one we want to be a part of,'" he said.
Deegan has a chance to add more victories to her resume as there are two more races in this K&N Pro Series West season.
Advertisement - story continues below
The drivers will race at All-American Speedway in Roseville, California on Oct. 13 before finishing up at Kern County Raceway Park in Bakersfield two weeks later.
Conversation