Commentary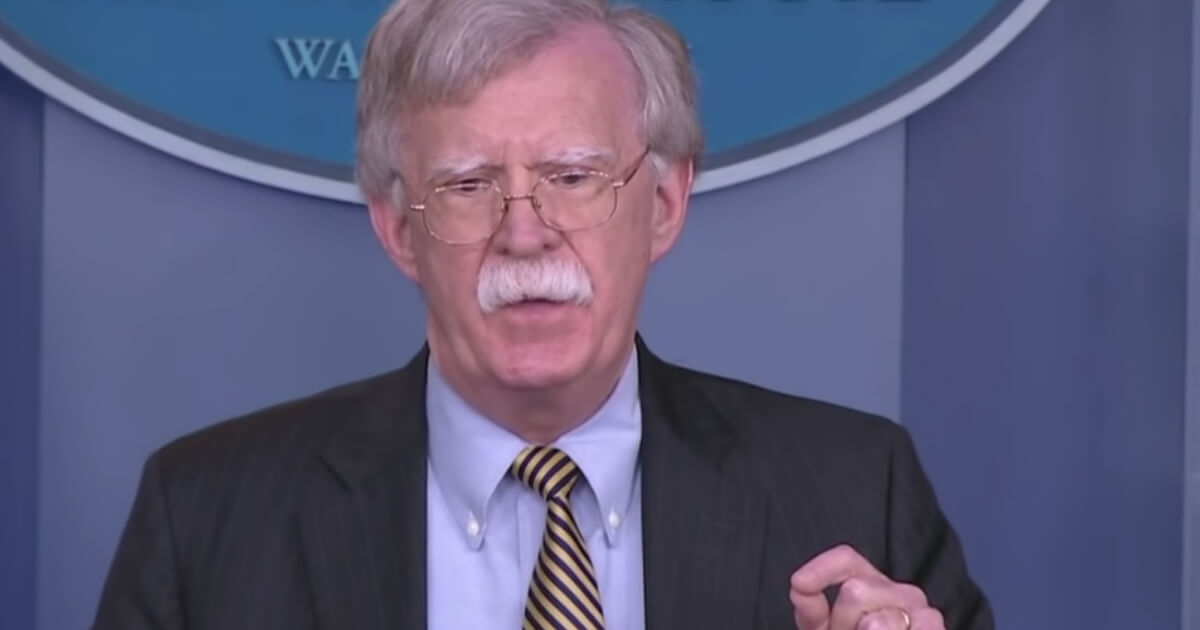 Bolton Tears Down Smug Reporter Over Palestine Dispute
It's a sad state of affairs when a young journalist thinks she knows more about national security and foreign policy than a seasoned veteran like National security adviser John Bolton.
But that's just what it looked like in an exchange between Bolton and a White House reporter on Wednesday when she challenged him for his reference to the "so-called state" of Palestine.
"So-called state?" the reporter asked. "The president in New York city as you know recommitted his goal of achieving a two-state solution. So, is using that sort of language productive in achieving his goal."
Advertisement - story continues below
While the young reporter took exception with his characterization of the state status of Palestine, the 69-year-old Bolton quickly schooled her on the facts.
John Bolton saying it like it is.

The first step of any peace is to agree on some basic facts. At this moment, there is NO state of Palestine. pic.twitter.com/OF9O1IHPjE

— Leibel Mangel (@LeibelMangel) October 3, 2018
"It's accurate. It is not a state," he said.
He then laid out the many reasons why.
Advertisement - story continues below
"It's not a state now. It does not meet the customary international law test of statehood. It doesn't control defined boundries. It doesn't fulfill the normal functions of government. There are a whole host of reasons why it's not a state," he said.
"It could become a state — as the president said — but that requires diplomatic negotiations with Israel and others," he added.
Did John Bolton adequately school this White House reporter?
Bolton stressed that not calling Palestine a state has been U.S. policy for three decades.
"Calling it the 'so-called' state of Palestine defines exactly what has been a position the U.S. government has pursued uniformally since 1988," Bolton emphasized. "We don't recognize it as the State of Palestine. We have consistently – across Democratic and Republican administrations – opposed the admission of 'Palestine' to the United Nations as a state because it's not a state."
President Donald Trump said last month he thought a two-state solution to the Israeli-Palestinian conflict would be a preferable solution to the unrest in that region.
Advertisement - story continues below
"I like two-state solution," Trump said. "That's what I think works best."
The president also said at the time that he believes Palestinian negotiators will soon return to the table, even though Palestinian officials broke off talks with the U.S. when the president announced it was moving the U.S. embassy to Jerusalem and recognizing that city as Israel's capital.
Bolton dispensed a boatload of knowledge that was obviously escaping the reporter's grasp. But she certainly received her share of enlightenment on the "so-called" Palestinian state.
Since 1977 Bolton has had a long and distinguished legal and political career serving in the administrations of Presidents Ronald Reagan, George H.W. Bush and George W. Bush.
I would think twice before challenging him on anything let alone definitions of national or foreign policy. Of course, this young reporter has grown up in a media world filled with its own descriptions of Palestine and Israel. Hopefully, she's learned a little bit of the true history of the conflict taking place in Israel.
Conversation