Sports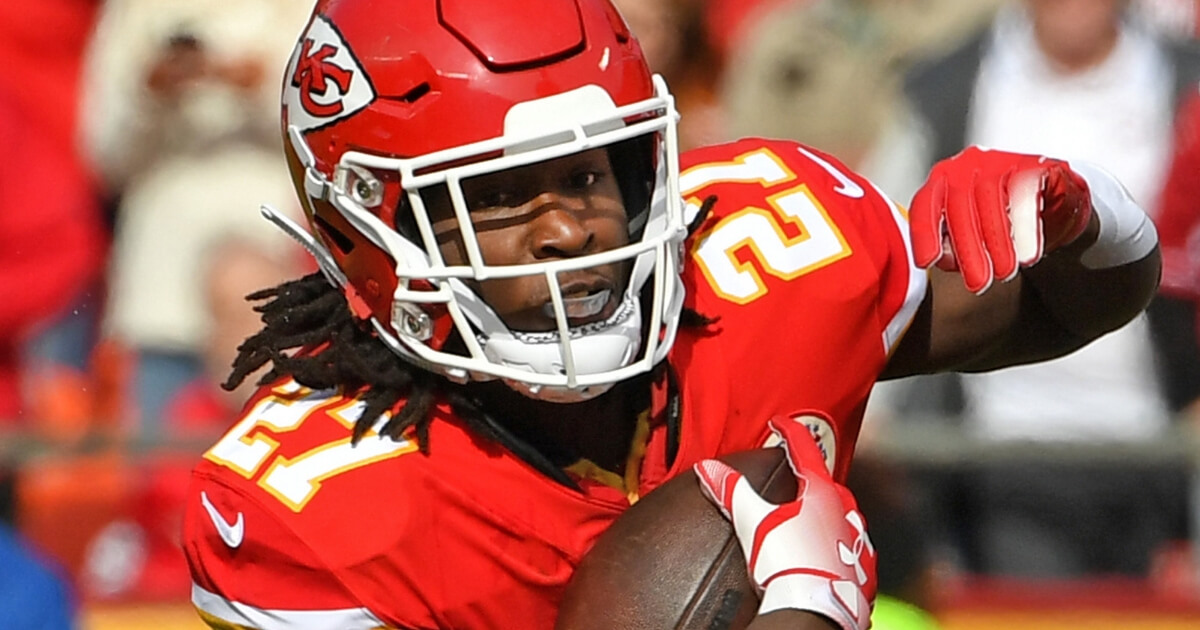 Disturbing Video Exposes NFL Superstar Pushing, Kicking Woman
TMZ Sports has released a disturbing video showing Kansas City Chiefs Pro Bowl running back Kareem Hunt assaulting a woman.
Hunt, who turned 23 in August, led the NFL in rushing yards as a rookie last season and has been a key cog in the Chiefs' high-scoring offense this year.
Reports surfaced in February that Hunt had assaulted a 19-year-old woman in a Cleveland Hotel.
Advertisement - story continues below
Abigail Ottinger, a Kent State University student, told police that Hunt "shoved and pushed" her around 3:45 a.m. Feb. 10 outside of his hotel apartment at The Metropolitan at The 9 complex in Cleveland.
According to initial police reports, a group of people including Hunt, Ottinger and their respective friends were traveling in a party bus going from bar to bar.
One of Hunt's friends told police that Ottinger and another woman were kicked out of the group because it was discovered they were under the legal drinking age.
Ottinger, however, disputed that claim. She said she was kicked out because she refused to "hook up with one of the men."
Advertisement - story continues below
According to the first TMZ Sports report in February, a friend of Hunt's claimed that one of the women kicked out of the party, presumably Ottinger, had been "calling him and Hunt the N-word and specifically stated, 'F— you, n—–. You ain't s—.'"
TMZ Sports released surveillance video from the hotel that it said was obtained by law enforcement.
WARNING: Video contains images of graphic violence that some viewers might find disturbing.
While there are obviously no winners in the above video, it's an utterly terrible look for Hunt.
Advertisement - story continues below
The two can be seen exchanging heated words and come to quick blows. After Ottinger strikes Hunt in the head, he lashes out.
Ottinger can be seen being thrown to the ground hard after Hunt shoves an unnamed man into her. While trying to recover, Hunt takes a last parting shot at Ottinger by kicking her.
When the incident originally occurred, police were called to the scene but nobody was arrested.
Hunt faced no punishment from the league at the time, though that is likely to change now.
Advertisement - story continues below
Chiefs CEO Clark Hunt issued a statement at the time that has aged particularly poorly in light of this video.
this is what the Chiefs' CEO said in August about the charges against Hunt (via https://t.co/7Htm6U2Pfc) pic.twitter.com/llErQZMeyM

— Mina Kimes (@minakimes) November 30, 2018

"The team's made up of a bunch of young men," Clark Hunt said. "They're not always going to make the best decisions, but we have a strong support system, both with the coaching staff and also with our player development department that works with young guys and talks to them about the situations they want to be in."
"Kareem is a young man, second year in the league, obviously had a very big year on the field last year. I'm sure he learned some lessons this offseason and hopefully won't be in those kind of situations in the future."
Advertisement - story continues below
Kareem Hunt isn't the first prominent Chiefs playmaker who has been accused of disturbing conduct. Star wide receiver Tyreek Hill was kicked out of Oklahoma State after he allegedly choked and punched his pregnant then-20-year-old girlfriend.
Conversation