Commentary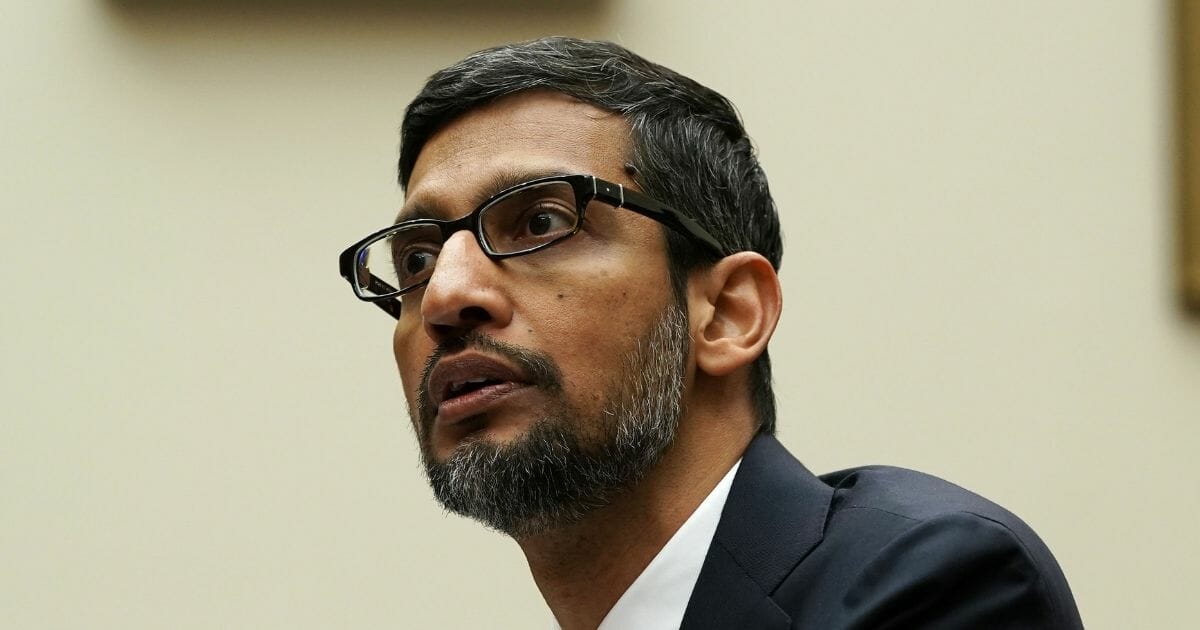 Ex-Google Engineer Says Google Is Lying, Claims It Does 'Manually Intervene' In Results
June was not a good month for Google.
A bombshell report accused the tech giant of actively planning to interfere in the 2020 election in an effort stop President Donald Trump from winning re-election.
Trump called them out for "trying to rig the election."
Advertisement - story continues below
More of Google's own internal bias was revealed when a humiliating internal document leaked showing Google employees attempting to silence conservative voices such as Ben Shapiro and Dennis Prager by labeling them as Nazis.
Then, in an act of tyrannical rage more befitting Kim Jong Un than a sophisticated Silicon Valley tech company, Google censored the very videos that made the damning claims of bias and politically-motivated bans.
That was just June — and July isn't starting off any better.
Tuesday morning, Mike Wacker, a former software engineer at Google, wrote a scathing report describing in detail how Google manually intervenes in search results. Google CEO Sundar Pichai expressly denied such an accusation while under oath before Congress. "We don't manually intervene on any particular search result," Pichai told the House Judiciary Committee on December 11, 2018.
Advertisement - story continues below
But Wacker isn't buying it. "Sundar Pichai did not tell the truth when he made this statement," Wacker wrote.
Wacker proves his case by recounting Google's responses to two different questions.
Do you think Sundar Pichai lied before Congress?
California Rep. Zoe Lofgren asked the first question at the hearing. Lofgren wondered why pictures of Trump were showing up on Google search results when she searched for "idiot," asking if there may be "some little man sitting behind a curtain" deciding what to show users. It was in response to Lofgren's question that Pichai assured her and all the lawmakers present at the hearing that Google does not "manually intervene" when delivering search results.
Google's response to a second question, however, was markedly different.
The second question Wacker described was asked by April Glaser, a pro-abortion writer for Slate. Glaser wrote an article about what happened after she asked Google-owned Youtube why so many anti-abortion results came up when she searched "abortion" on the website. Glaser wrote that YouTube responded by assuring her "the company is working to provide more credible news content from its search and discovery algorithms."
Advertisement - story continues below
Wacker uses the dissonance between these two answers to explain how he famously identified and exposed "the smoking gun," a "blacklist" of topics and words that, when searched on YouTube, trigger an "alternative" set of results.
Some of the reasoning for Google's maintaining such a blacklist makes sense. For example, after a mass shooting or natural disaster, misleading information can prove harmful.
But those aren't the only kind of topics on the blacklist. In fact, the list contained terms like "abortion" and "Maxine Waters." This means that when someone types in those search results in YouTube, they will get an alternative, or specially curated, set of results.
Wacker dove deeper. He wanted to explore whether Pichai's misleading statement applied only to Google-owned YouTube or to Google's search results as well.
Advertisement - story continues below
Wacker refers to The Daily Caller's massive scoop that Google had a blacklist for its own search results. The blacklist, purportedly made as part of Google's "misrepresentation policy" and "good neighbor policy," instead ended up banning sites like The American Spectator and Matt Walsh's blog.
And these are just the sites we know about.
According to Wacker, the blacklist was "manually created" as part of Google's Trust and Safety Team and approved by Ben Gomes, a senior VP who reports directly to Pichai.
"Based on this information, it is clear that Google CEO Sundar Pichai did not tell the truth to Congress," Wacker concluded. "Any false statement before Congress is a problem in and of itself, but this false statement also had a significant practical consequence: it obstructed Congressional oversight of Google."
Advertisement - story continues below
"If Sundar had disclosed these forms of manual intervention, Congress would have been afforded the opportunity to ask additional questions about these manual processes" Wacker said. "For example, it could have asked what safeguards exist to prevent the biases of Google's employees from seeping into these manual processes. However, since Sundar said that Google does not manually intervene, he denied Congress the opportunity to ask these questions, questions that are of vital importance to both Congress and the general public."
As Wacker pointed out, if Google's CEO can't be trusted to tell the truth to Congress, there's no telling what else he is hiding and how far he will go to hide it.
Conversation