News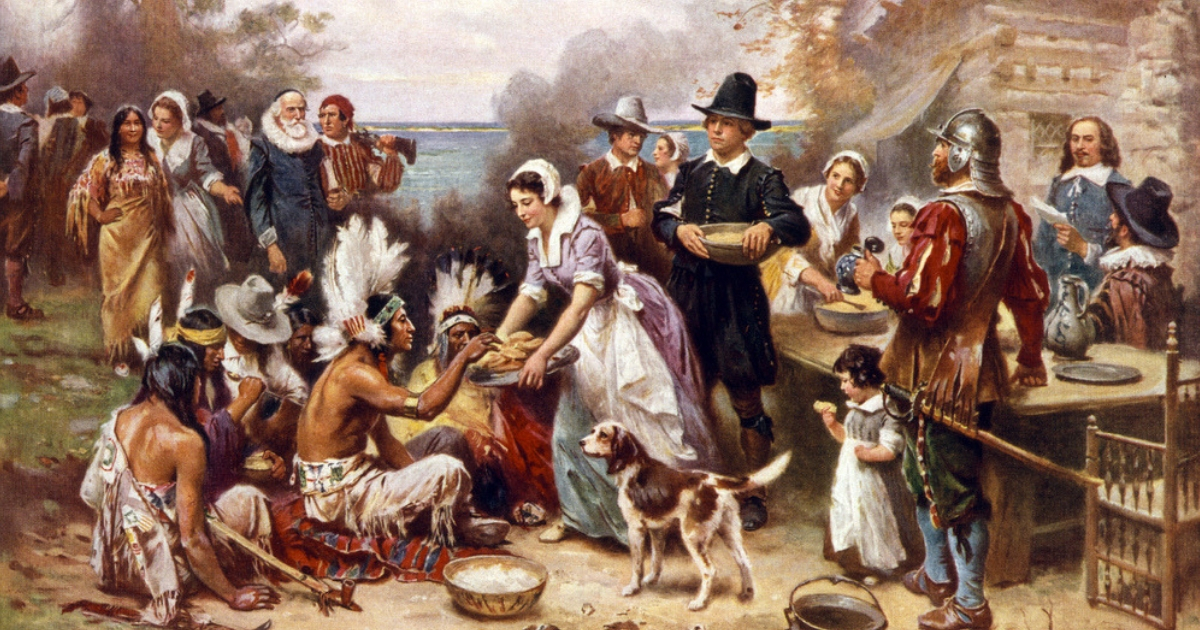 Eyewitness Accounts from America's First Thanksgiving Tell a Fascinating Story
Two eyewitness accounts from Plymouth Colony in the fall of 1621 have come down through the centuries and reveal how a spirit of gratitude, manifested in a Thanksgiving feast, enabled the Pilgrims to overcome the hardships and heartbreaks of their first year in a new land.
A total of 53 Pilgrims partook in the first Thanksgiving feast, and they had all come over on the Mayflower, having arrived in Plymouth in December 1620, according to the Pilgrim Hall Museum.
That number represented about half the total Christian believers who had set out from England in September 1620. Their ranks had thinned during the winter due to the outbreak of disease and shortages of food.
Advertisement - story continues below
Among the deaths had been the colony's governor, John Carver, in April 1621.
His replacement, William Bradford, experienced the loss of his wife Dorothy, who died within days of the Pilgrims reaching the shores of the New World.
For those who survived, rather than giving into bitterness and defeat, they got to work in the spring and summer planting their fields and reaping their first harvest in the fall.
The first Thanksgiving most likely happened sometime between September and November 1621, according to the History of Massachusetts Blog.
Advertisement - story continues below
In addition to the 53 Pilgrims, there were about 90 Wampanoag Indians from a nearby village, including their leader Massasoit, and their translator Squanto, who spoke fluent English. The latter had been captured by a British explorer years earlier but had escaped, making his way back to the Massachusetts Bay area a short time before the Pilgrims arrived.
Colonist Edward Winslow recounted: "Our harvest being gotten in, our governor sent four men on fowling, that so we might after a special manner rejoice together, after we had gathered the fruits of our labors; they four in one day killed as much fowl, as with a little help beside, served the Company almost a week."
Do you appreciate the example of perseverance the Pilgrims offer?
During this time, "amongst other Recreations, we exercised our Arms, many of the Indians coming amongst us, and amongst the rest their greatest king Massasoit, with some ninety men, whom for three days we entertained and feasted, and they went out and killed five Deer, which they brought to the Plantation and bestowed on our Governor, and upon the Captain and others.
"And although it be not always so plentiful, as it was at this time with us, yet by the goodness of God, we are so far from want, that we often wish you partakers of our plenty."
Bradford remembered the fall of 1621 also being a time of plenty in Plymouth, between their farming harvest, hunting and success fishing for cod and bass.
Advertisement - story continues below
"All the summer there was no want," he wrote. "And now began to come in store of fowl, as winter approached, of which this place did abound when they came first (but afterward decreased by degrees). And besides waterfowl, there was great store of wild turkeys, of which they took many, besides venison, etc.
"Besides, they had about a peck of meal a week to a person, or now since harvest, Indian corn to that proportion. Which made many afterward write so largely of their plenty here to their friends in England, which were not feigned but true reports."
So in all likelihood, the first Thanksgiving included turkeys, based on Winslow's and Bradford's accounts.
The governor wrote of Plymouth Colony, "And thus they found the Lord to be with them in all their ways, to bless their outgoings and their incomings, for which let His holy name have praise forever, to all posterity."
Conversation