Sports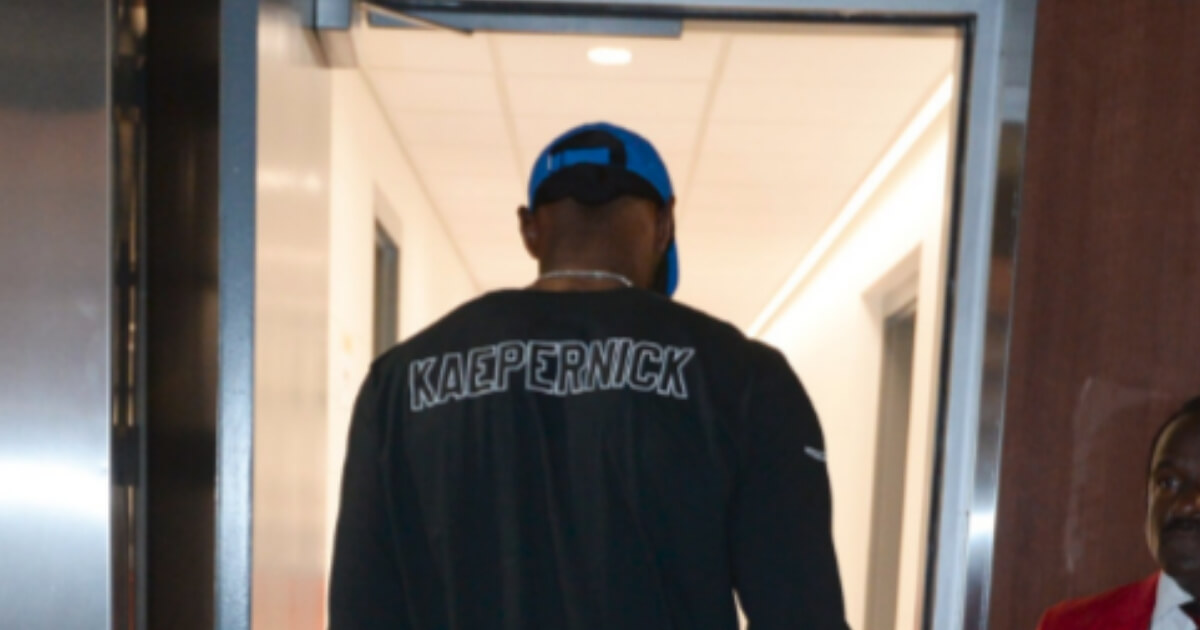 Hypocrisy: LeBron Supports Anti-Cop Kaepernick, Enlists Police to Protect His Family
NBA star LeBron James made headlines Thursday when he wore a T-shirt emblazoned with "Kaepernick" before a preseason game between the Los Angeles Lakers and Sacramento Kings.
LeBron showing love to Colin Kaepernick while arriving to the arena tonight pic.twitter.com/sTeZdrV2Jt

— Sports Illustrated (@SInow) October 5, 2018
Colin Kaepernick, the former NFL quarterback who was the first NFL player to kneel during the national anthem in 2016, has been persona non grata to many sports fans after his actions. Considering James' social justice rhetoric, it's not exactly a surprise that the Lakers star is endorsing Kaepernick.
Advertisement - story continues below
To many Americans, Kaepernick's actions were extremely disrespectful to police, military and the American flag.
Not helping Kaepernick's case is the fact that one of the most prolific moments he was involved with as an NFL player was when he infamously wore socks depicting police officers as pigs.
Colin Kaepernick wears socks of police officers depicted as pigs https://t.co/F5Hvt7lw5h pic.twitter.com/6jZe2BwgHL

— Bleacher Report (@BleacherReport) September 1, 2016
As an unemployed athlete, Kaepernick again made waves by comparing all police officers to slave wranglers.
Advertisement - story continues below
A system that perpetually condones the killing of people, without consequence, doesn't need to be revised, it needs to be dismantled! pic.twitter.com/BVVPVZIQyD

— Colin Kaepernick (@Kaepernick7) June 16, 2017
In short, it's hard to blame anyone for thinking that Kaepernick is anti-police. The proof is in the pudding.
In turn, James made it crystal clear that he supports Kaepernick.
#imwithkap @Kaepernick7 x @KingJames pic.twitter.com/CdgqtHDxZJ

— NESSA (@nessnitty) October 5, 2018
"I support Kaep. I've always supported Kaep and what he stands for and what he believes in," James said of his Kaepernick shirt. Presumably, that would include supporting Kaepernick's anti-police ramblings.
Interestingly enough, James has just recently turned to police to help protect his family in Los Angeles.
Advertisement - story continues below
According to TMZ Sports, James has significantly increased security around his LA mansion after a rash of burglaries that targeted professional athletes and celebrities. Among that beefed-up security force are off-duty police officers.
Police have already arrested four people linked with the string of high-profile robberies. Police also discovered a list of future targets that included James. Police have also determined that more people are involved with the robberies and remain vigilant.
Does LeBron's support of Colin Kapernick seem hypocritical?
Sounds like an awful lot of good and honest hard work from police officers. Apparently, they're not racist or evil when protecting people from burglaries.
Advertisement - story continues below
Nobody is or should be blaming James for wanting to protect his home and his family. Any decent father and husband should want that.
But how can you possibly support Kaepernick's anti-police sentiments while directly looking to police for help? That is weak at best and hypocritical at worst.
There's no way to separate Kaepernick's crusade for criminal justice reform with his abject disdain for police. If James is supporting Kaepernick as wholeheartedly as he claims, he's tacitly supporting Kaepernick's stance on police officers.
Police officers can't be horrible racists and noble protectors at the same time. James should think about that while police are protecting his home and family.
Conversation