News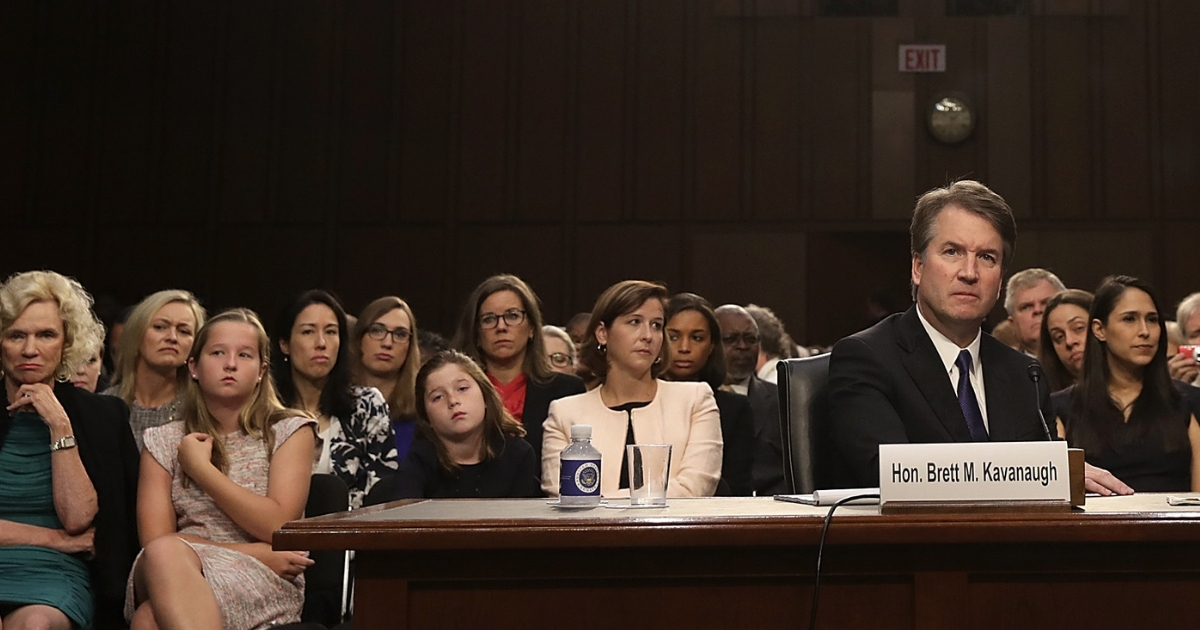 Kavanaugh's Young Daughters Rushed Out of Hearing as Things Turn Ugly
Supreme Court nominee Brett Kavanaugh's daughters were taken out of his U.S. Senate confirmation hearing after multiple protesters loudly interrupted the proceedings.
"The two, Margaret (13) and Liza (10), were taken out by their mother, Ashley, as the hearing got 'hot,' said one insider," according to the Washington Examiner.
"And at times hecklers in the audience shouted out, apparently scaring the young girls there to support their father. One screamed, 'This is a mockery. This is a travesty of justice. Cancel Brett Kavanaugh, adjourn the hearing,'" the Examiner added.
Advertisement - story continues below
Kavanaugh had introduced his entire family, including his children, to the Senate Judiciary Committee in opening remarks.
"Our daughters Margaret and Liza thank the committee for arranging a day off from school today," the judge joked.
Judge Brett Kavanaugh: "I'm honored to be here today with my family." pic.twitter.com/O7QmDwrzry

— Fox News (@FoxNews) September 4, 2018
On the night of his nomination by President Donald Trump, Kavanaugh said, "I have two spirited daughters, Margaret and Liza. Margaret loves sports and she loves to read. Liza loves sports and she loves to talk," he said and then playfully gave his daughter "five."
Advertisement - story continues below
Shortly into Tuesday's hearing, a woman yelled out that Kavanaugh would "overturn" her daughter's future as she held up a T-shirt with pictures of her. Still another yelled, "If you vote for Brett Kavanagh, we will replace you."
Others screamed out in high pitched protests difficult to understand.
Protesters were escorted out of Brett Kavanaugh's confirmation hearing just minutes after it began this morning. pic.twitter.com/w8WJqB7krG

— POLITICO (@politico) September 4, 2018
The proceedings were not only disrupted by members of the public sitting in the audience, but also the Democrat senators on the Judiciary Committee.
Just seconds into Chairman Chuck Grassley's opening statement, Democrats began to interrupt him and asked to postpone the hearings, citing the fact that 42,000 Kavanaugh-related documents were released to the committee on Monday.
Advertisement - story continues below
Do you think the Democrats' disruption strategy in the Kavanaugh hearing hurts their cause?
Grassley countered that since Trump's nomination of Kavanaugh on July 9, committee members have received over one million pages of documents concerning the Washington, D.C., court of appeals judge, which is more than the past five nominees combined.
Democrat Sen. Cory Booker of New Jersey called the hearings "unconstitutional" while Sen. Richard Blumenthal of Connecticut asked that the hearing be adjourned because it will be "tainted and stained forever."
The Washington Times reported that Democrats interrupted the proceedings 44 times during the first hour.
Advertisement - story continues below
"Proper respect and decorum, plus how we normally have done business in a hearing like this," Grassley said in response. "We wouldn't be having all these motions. This is something I've never gone through before in 15 Supreme Court nominations. I want to be patient … but I don't think we should have to listen to the same thing three or four times. I would like to have this be a peaceful session."
Committee member Sen. Orrin Hatch, R-Utah, said some Democrats were grandstanding during the hearing for the sake of their presidential political ambitions, presumably referring to Booker and California Sen. Kamala Harris.
"We have folks who want to run for president, who want their moment in the spotlight, who want that coveted TV clip," Hatch said. "Frankly, I wish we could drop all the nonsense."
MSNBC correspondent Kasie Hunt reported that Democrats "plotted (a) coordinated protest strategy over the holiday weekend" in a conference call led by Senate Minority Leader Chuck Schumer.
Advertisement - story continues below
Democrats plotted coordinated protest strategy over the holiday weekend and all agreed to disrupt and protest the hearing, sources tell me and @frankthorp

Dem leader @chuckschumer led a phone call and committee members are executing now

— Kasie Hunt (@kasie) September 4, 2018
"All agreed to disrupt and protest the hearing," Hunt tweeted.
Conversation