Commentary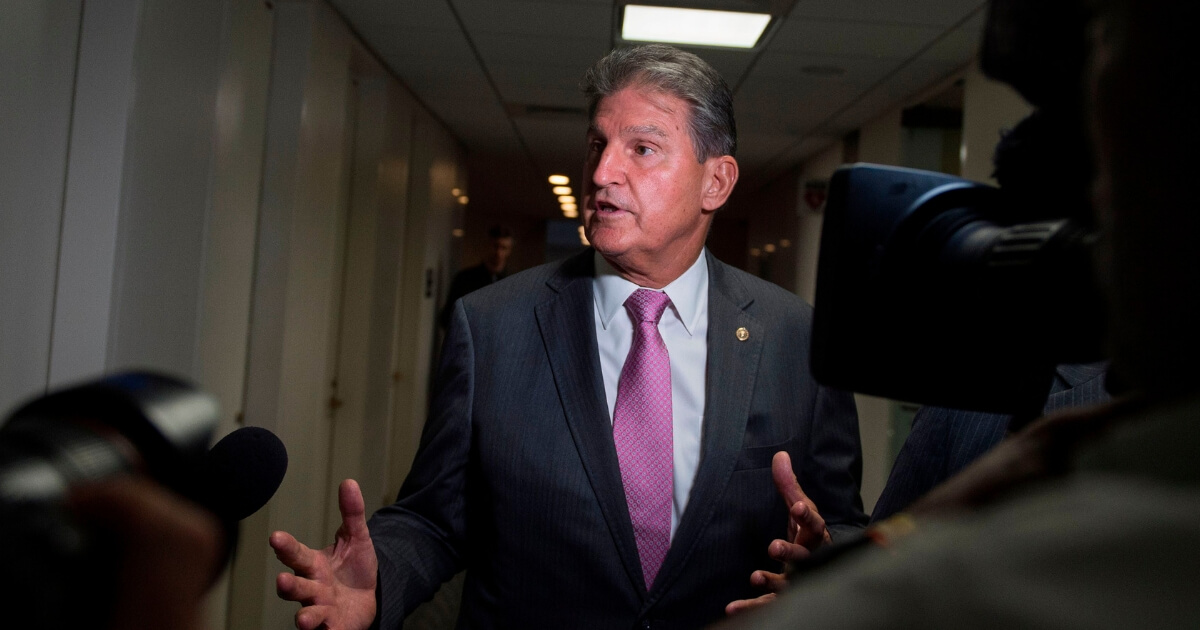 Watch: Manchin Announces Yes on Kavanaugh as Protesters Embarrass Themselves with Tantrum
The left constantly acts as if so-called "social justice" is the cutting edge of society … but more and more, it looks like it's nothing but a slick term for shrieking tantrums and mob rule.
Case in point: On Friday, one of the last "swing vote" senators announced that he will likely vote to confirm Judge Brett Kavanaugh to the Supreme Court, and protesters at the Capitol went into a meltdown.
While almost all liberal lawmakers in Washington have denounced Kavanaugh and tried to block him at every turn, one Democrat is going rogue.
Advertisement - story continues below
"West Virginia Sen. Joe Manchin, a Democrat who was the final deciding vote on Kavanaugh's confirmation, said in a statement that he posted to Twitter that he would vote to confirm Kavanaugh," reported CBS News.
As news broke that the Democrat would side with Kavanaugh, a mob of people swarmed the senator near his office and shouted "shame!" at him.
Sen. Manchin says he will cross party lines and vote "yes" on Kavanaugh – as protestors shout "shame" at him. https://t.co/8EWF2wqHkd pic.twitter.com/RaiWhPUBKu

— CBS News (@CBSNews) October 5, 2018
In a video released by CBS News, the soft-spoken lawmaker tried to calmly give an interview about his decision but could barely finish as he was shouted down by angry liberals.
Advertisement - story continues below
Manchin told reporters that he was concerned about overall issues of sexual assault in the country, but that when it came to the facts regarding Kavanaugh, there was not enough evidence for him to accept the unproven allegations against the judge.
"(B)ased on all of the information I have available to me, including the recently completed FBI report, I have found Judge Kavanaugh to be a qualified jurist who will follow the Constitution," the senator wrote in a statement.
With Republican Sen. Susan Collins also indicating that she will vote to confirm Kavanaugh, it now looks all but certain that he will enter the Supreme Court barring a last minute surprise.
I will vote to support Supreme Court nominee Judge Brett Kavanaugh. pic.twitter.com/1FfuMTOZz8

— Senator Joe Manchin (@Sen_JoeManchin) October 5, 2018
That fact has sent liberals into overload, with protests taking place in Washington and throughout the country.
As the video from outside Manchin's office shows, however, they seem to have given up making any intelligent arguments and have resorted to yelling and chanting one-word sayings.
Advertisement - story continues below
That's really what the entire Kavanaugh saga has come down to: One side has looked calmly at the evidence, while the other side continues to throw temper tantrums and form screaming mobs like spoiled children.
Democrat lawmakers themselves have come precariously close to that kind of attention-seeking behavior.
From Sen. Cory Booker's laughable "I am Spartacus" moment to Sen. Dianne Feinstein keeping the Kavanaugh accuser's claims to herself for months as a delaying tactic, liberals in Washington have looked shockingly childish this whole time.
Is this video a sign of the "new normal" of mob-like behavior in politics?
Advertisement - story continues below
It was once true that liberals and conservatives agreed on the core fundamentals of America, but had different views about the size of government. Those days of polite disagreement seem to be long gone.
Adults who believe in the rule of law and evidence-based logic are now on one side, while sniveling children who think that yelling "shame!" is an argument are on the other. The Kavanaugh fiasco has brought this divide into sharp focus like never before.
Conversation