Commentary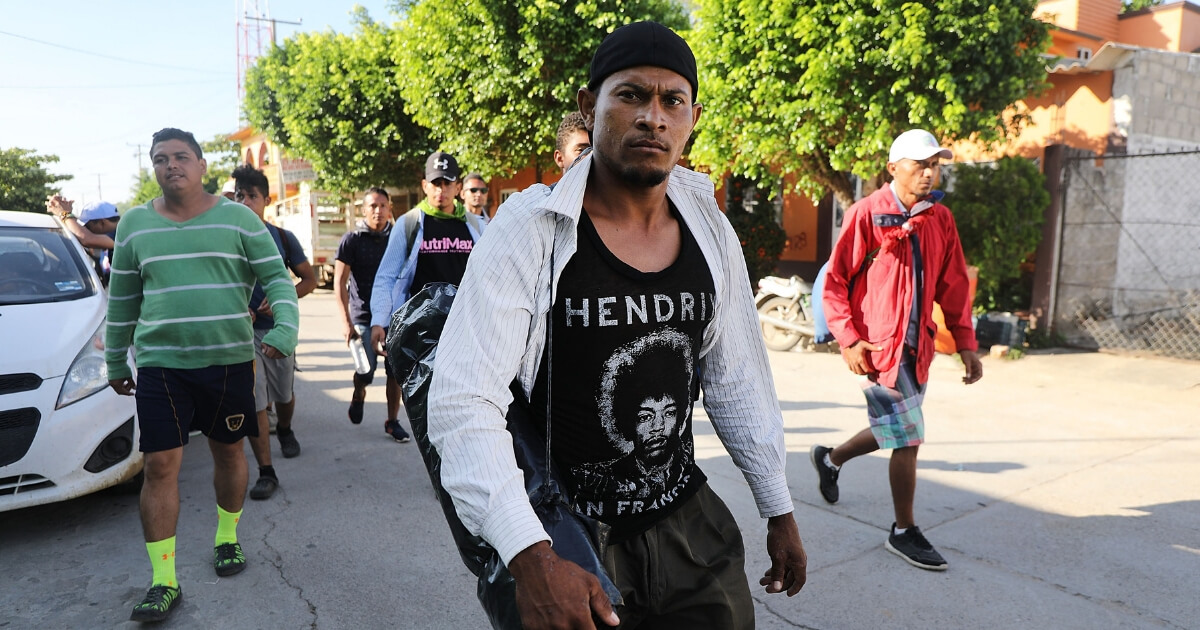 Homeland Security Reports over 270 Members of Migrant Caravan Are Convicts or Known Gang Members
The approaching migrant caravan has raised concerns for many people. President Donald Trump has made it clear they will not be allowed in.
Our military is being mobilized at the Southern Border. Many more troops coming. We will NOT let these Caravans, which are also made up of some very bad thugs and gang members, into the U.S. Our Border is sacred, must come in legally. TURN AROUND!

— Donald J. Trump (@realDonaldTrump) October 31, 2018
Advertisement - story continues below
But for some, like Fox News' Shep Smith, there is nothing to worry about. He even said so on his show, assuring viewers that it was not an invasion and no one was coming to get them. Nothing to worry about at all.
Shep Smith on the migrant caravan: "There is no invasion. No one is coming to get you. There is nothing at all to worry about." pic.twitter.com/4dLmPuZem0

— Jon Passantino (@passantino) October 29, 2018
But Mr. Smith and those like him are very wrong. A report from Homeland Security indicates that almost 300 members of the migrant caravan are convicts or known gang members. "So far, there are over 270 individuals along the caravan route that have criminal histories, including known gang membership."
Advertisement - story continues below
And it gets worse, reported Breitbart News.
The convictions includes those of "sexual assault on a child, aggravated assault with a deadly weapon, armed robbery, and assault on a female."
President Trump was criticized for talking about "very bad people coming" and "hardened criminals coming in," but he was right.
Trump epitomizes the worst of America.#vote if you want to live in a better country. https://t.co/yKB4iw0F0P

— Pitt Griffin (@pittgriffin) October 23, 2018
The Department of Homeland Security report also noted that Mexican officials have publicly said that "criminal groups have infiltrated the caravan." While the report also stated that individuals from multiple countries had joined the group, independent journalists on the scene have also been sharing reports of the same on Twitter and YouTube, including Judicial Watch.
Here caravan people testify they were told on Honduras TV "was a caravan forming to go and get guarantee jobs in USA." They say they are not coming because any political persecution, but for jobs and money.https://t.co/KpCOgNQPWj

— Naticris (@Naticris55) October 27, 2018
Advertisement - story continues below
According to the DHS report, some of the additional countries represented in the caravans include "Somalia, India, Haiti, Afghanistan, and Bangladesh." The report makes clear that there is a large number in the caravan that nothing is known about, so the number of convicts and gang members could be higher.
In the Judicial Watch interview, some caravan migrants have stated that they are leaving for economic reasons, such as getting jobs, money, and getting medical care. Not all are "fleeing violence" as establishment media and their supporters claim. Some are bringing violence with them, as evidenced by their behavior along the way.
Footage of caravan breaking through border gates to enter Mexico. https://t.co/8aPCjauVDF

— Republican Atheists (@repubatheists) November 2, 2018
Advertisement - story continues below
Yesterday Mexico's border was violently attacked by another Migrant Caravan group traveling to the U.S.

1 migrant was killed, 6 police were injured

The media has been under reporting this pic.twitter.com/jTbI6BeKHQ

— Millie Weaver (@Millie__Weaver) October 29, 2018
These people beat and attack police and border guards without pause. They tore down each border fence. Willing to be this violent AFTER being offered asylum.https://t.co/1SfSfNKI7U

— KyleK1x (@KyleK1x) October 29, 2018
Advertisement - story continues below
In fact, Breitbart wrote that even the Mexican ambassador to the United State spoke of how violent some of them are. "Unfortunately, some of the people in the caravan have been very violent against authority, even though they have offered the possibility of entering in compliance with immigration law and refugee status."
And more groups keep forming. A fourth migrant caravan is reportedly on its way to the United States. This one also with no regard for the law.
HAPPENING NOW: a FOURTH caravan of roughly 2,000 migrants (this group all from El Salvador) crossing the Suchiate River into México – after they were turned away by authorities when they tried to cross at the border #CaravanaMigrante pic.twitter.com/r2IZxDdejS

— Annie Rose Ramos (@Annie_Rose23) November 2, 2018
Advertisement - story continues below
And there is one more piece of horrifying news in the report about the caravans.
Do you believe the migrant caravans should be allowed into the United States?
While it is made up of approximately 50 percent males, the women and children who are present are being pushed to "the front of the groups to act as human shields when the caravans approach military or police," according to the Interior Minister of Guatemala.
Advertisement - story continues below
That is not the behavior of peaceful people seeking a better life. Such people don't need "human shields" and put on their best behavior so they will be accepted and allowed in. Clearly that is not what is happening with any of these groups.
Conversation