Sports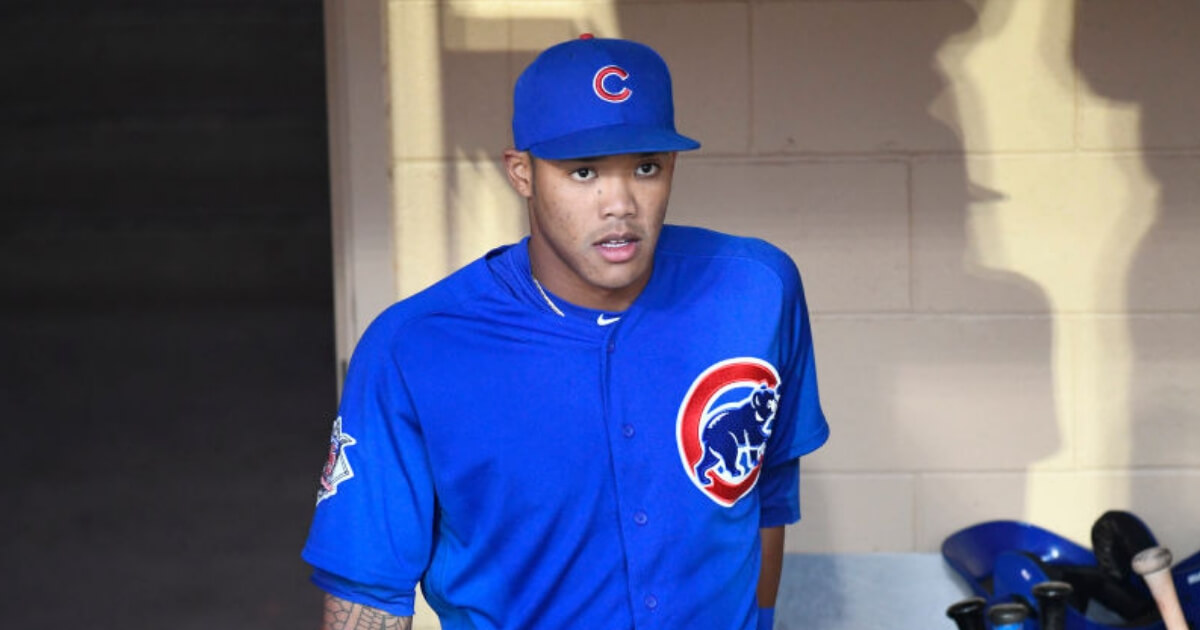 MLB Star on 'Administrative Leave' After Latest Domestic Violence Allegations Involving Ex-Wife
Addison Russell may have played his last game as a member of the Chicago Cubs after being placed on administrative leave by Major League Baseball following allegations of domestic abuse.
Russell's ex-wife, Melisa Reidy-Russell, alleged in a recent blog post that he was physically and emotionally abusive to her.
"I was deeply hurt that he could even be capable of this behavior towards me, I couldn't understand how the man I was so in love with, the FATHER of my child, the man I married just a few months ago could show such aggression towards me… I simply could not wrap my head around it, it tore me apart," she wrote in the post that was published Wednesday.
Advertisement - story continues below
Addison Russell's ex wife, Mellisa, shared her story about the physical & mental abuse she went through while married to Addison Russell & it's absolutely horrible.

Mellisa is a very strong individual to come out publicly & share her story.

READ: https://t.co/W93yEYfLPC

— Cubs Live (@Cubs_Live) September 21, 2018
A allegation of domestic abuse by Russell on his ex-wife was made in a social media post last year by a friend of Reidy Russell, according to NBC Sports.
Russell denied the allegations last year and did so again this week.
"These allegations are completely false," Russell said, reported Fox News. "I made that clear to Major League Baseball last year and reiterated it to the Cubs today. I'm confident any full and fair investigation will fully exonerate me. The protection of my children is foremost in my mind so I will have no further comment."
Advertisement - story continues below
The Cubs reported last year's allegations to MLB and the league investigated the matter. But Reidy-Russell did not participate in the investigation.
With these new allegations against Russell, the league, in conjunction with the MLB Players Association, put him on administrative leave while it investigates. There is no timetable on how long he will be on leave.
"Major League Baseball takes all allegations of Domestic Violence seriously. When the allegations against Addison Russell became public on June 7, 2017, the Commissioner's Office's Department of Investigations immediately commenced an investigation. Melisa Russell declined to participate in the investigation at that time.  Our investigation of this matter has remained open and we have continued our efforts to gather information," the league said in a statement, Friday.
"With the new details revealed in today's blog post by Ms. Russell, Mr. Russell has been placed on Administrative Leave in accordance with the Joint MLB-MLBPA Domestic Violence Policy. We are hopeful that this new information will allow us to complete the investigation as promptly as possible."
MLB announces that Addison Russell has been placed on "administrative leave."

Per MLB's domestic violence policy, that's an indefinite leave. pic.twitter.com/QUWa7AgmgD

— Yahoo Sports MLB (@MLByahoosports) September 21, 2018
Advertisement - story continues below
Reidy-Russell filed for divorce last year; it was finalized in August.
There is no word if Reidy-Russell will cooperate with the MLB's investigation this time. Last year, her attorney Thomas Field said she opted not to participate.
"She gave it a lot of thought, but Melisa isn't interested in legitimizing anything that doesn't come from her.'' Field told USA Today. "Ultimately, MLB has one reason for wanting to talk to her, but she doesn't believe it would be of any benefit for her or her son."
"She is not going to admit or deny, but said this is in the best interest of her family," Field said last year.
Advertisement - story continues below
https://www.instagram.com/p/BoCGHRPhvEl/?taken-by=m3liiiiiisaaa
Russell did not join his teammates for this weekend's games with their crosstown rivals, the Chicago White Sox.
Theo Epstein said of Addison Russell's status with the Cubs: "We concur that (administrative leave) was appropriate in that situation."

More: https://t.co/cG5en6x2Cs pic.twitter.com/s56uJ2VMdF

— 670 The Score (@670TheScore) September 21, 2018
MLB's administrative leave lasts up to seven days, and MLB has the right to extend the penalty another seven days. That puts Russell's status for being part of the team's postseason roster in jeopardy.
Advertisement - story continues below
Russell signed a one-year contract with the Cubs in January, meaning he's a free agent after this season. He's been with the Cubs since 2014 and was a member of the Cubs' 2016 World Series team.
Conversation