Sports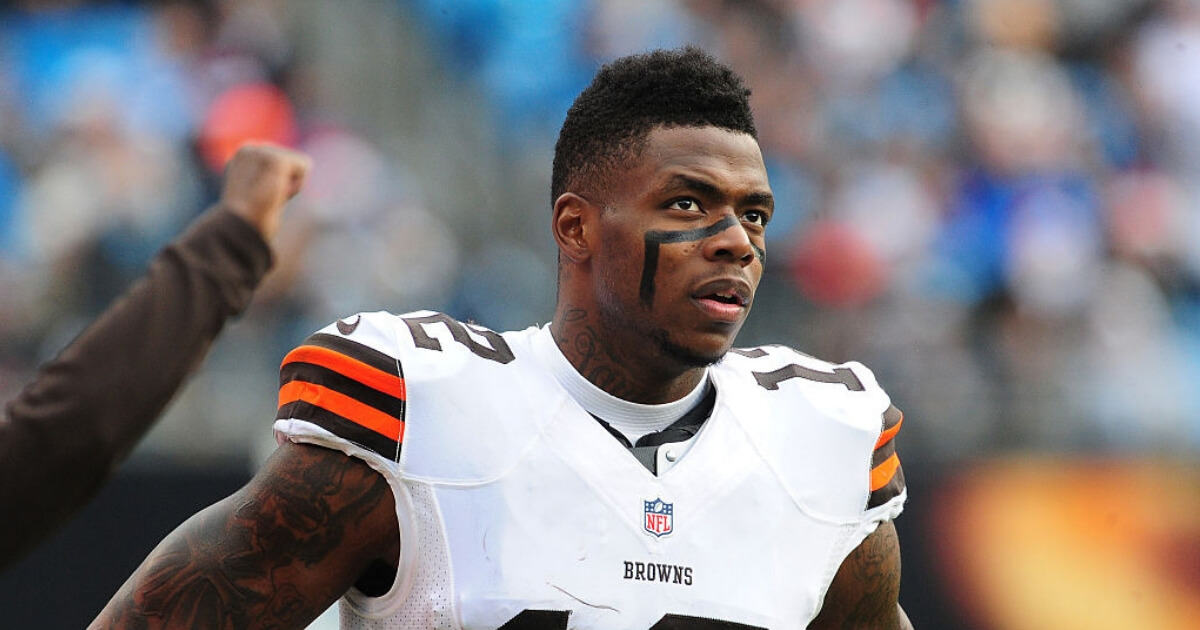 NFL Star Given Millionth Chance About to Get Cut After Team Doctors Suspect Relapse
The Cleveland Browns are often referred to as an NFL horror story — just one nightmare after another, each loss another killing in a gruesome classic '80s slasher flick.
But this year, thanks to Josh Gordon, they've turned into the world's worst rom-com while never quite shaking off the horror flick aesthetic, almost as though Wes Craven directed a Nora Ephron movie.
Playing the role of the terrible boyfriend, Gordon promised to change, that "things will be better this time," that "I can't hurt you anymore, I love you"… before doing all those old things that put his relationship with the Browns, in the role of the dutiful-but-naive girlfriend on the rocks in the first place.
Advertisement - story continues below
And what rom-com would be complete without the climactic "woman finally tells the man to get lost and throws all his clothes on the front lawn" moment?
Cleveland cut Gordon Saturday, after the embattled wide receiver reportedly showed up late for practice and "wasn't himself."
The team isn't officially releasing him until Monday, for various contractual reasons and the possibility of a being able to work out a trade with another team. But his days with the Browns are over. The clothes are on the lawn, it's raining, and the finally-got-his-comeuppance boyfriend is left to scream a large-ham "WHY?" at the heavens.
Gordon complained of a strained hamstring when he showed up late, but team sources say he was fine when he left on Friday.
Advertisement - story continues below
When team doctors examined him, they did find a problem with his hamstring, but it was their evaluation of his mental state that sealed his fate.
The doctors were "concerned" that Gordon was in danger of having a relapse on his substance abuse issues that saw him repeatedly suspended by the league. Indeed, the doctors couldn't rule out that perhaps he already had relapsed.
Should another NFL team take a chance on Josh Gordon?
Gordon is not with the team in New Orleans Sunday as the Browns try to remain undefeated after achieving a tie against the Steelers in Week 1.
Gordon reportedly felt like he "let down the team" with the hamstring problem, but he is finally, at long last, out of chances.
When Gordon joined the Browns Aug. 18, it was after a stint in a rehab facility run by the University of Florida. It was Gordon's fifth course of substance abuse treatment on record.
Advertisement - story continues below
Rumors are swirling about where Gordon will land next, as apparently the rest of the league — like so many rom-com protagonists — look at the troubled bad boy and think they can be the ones to "fix" him.
Unofficial odds on the move hit Twitter, and just about every team in the NFL with a need at receiver seems to have action.
With @JOSH_GORDONXII expected to be on the move from Cleveland, where will he play next? (via @DaveMasonBOL )

Cowboys 2-1
49ers 5-2
Raiders 6-1
Seahawks 7-1
Patriots 10-1
Cardinals 10-1
Chiefs 12-1
Redskins 12-1
Titans 12-1

— Todd Fuhrman (@ToddFuhrman) September 16, 2018
Gordon played 69 snaps in Week 1 but was targeted just three times and caught just one pass for 17 yards against the Steelers, but that one catch was the one that drew the Browns level at 21 at the end of regulation and made the tie possible.
Advertisement - story continues below
The Browns are reportedly looking to sign former Cowboys wideout Dez Bryant to replace Gordon, another player who's been plagued by character issues overshadowing his talent while he's been in the league.
Fourth-round draft pick Anthony Callaway is the front-runner for the starting job in the meantime. But Rashard Higgins, who knows the offense, may get the bulk of the snaps as a result.
The state of Gordon's hamstring is still an open question. He was not listed on the injury report, nor did he show any visible issues with the muscle during practice, but teams who may be in a position to sign or trade for him will no doubt want assurance that he is healthy — not just in terms of physically but in terms of fitness to pass a drug test — before bringing him aboard.
Gordon will not be a major cap liability for Cleveland. Cutting him only creates $790,000 in dead money on the cap, the veteran minimum for Gordon's two years of accrued service time.
Advertisement - story continues below
In an interview last year with GQ, Gordon explained the drug problems that have dogged him since seventh grade.
"Initially it started for me, [because of] a lot of childhood and adolescent trauma-based fear," he told GQ. "I was using in my childhood. That environment brought me into that a lot sooner than a normal. … I didn't want to feel anxiety, I didn't want to feel fear."
In addition to codeine, marijuana and other drugs, the one that stood out as his drug of choice was Xanax, the anti-anxiety medication.
"Truthfully, that's where it started from for me," he said. "The anxiety, the fitting in and stuff. Not being comfortable with who I was. … A lot of inadequacy, I think, is the reason why I initially got into it."
Advertisement - story continues below
There's an old saying, "fake it 'til you make it," and while drugs can certainly help punch through that stage, once you make it, you've got to let go, or all your accomplishments weren't you but just the drugs you used as a crutch.
NFL teams are going to learn the hard way that you can't fundamentally alter someone's nature like that. But since he can pluck a ball off someone's helmet to end a losing streak, Gordon will get another chance somewhere.
Meanwhile, Gordon's learning that bad things come in threes. In addition to his drug problem and his unemployment problem, he's also in a bitter battle over his three-year-old daughter, with the child's mother, Christina Lockhart, pressing him hard on child support.
Hopefully, Gordon will get his life together. But for now, he is just a problem child who finally got kicked to the curb.
Conversation