Premium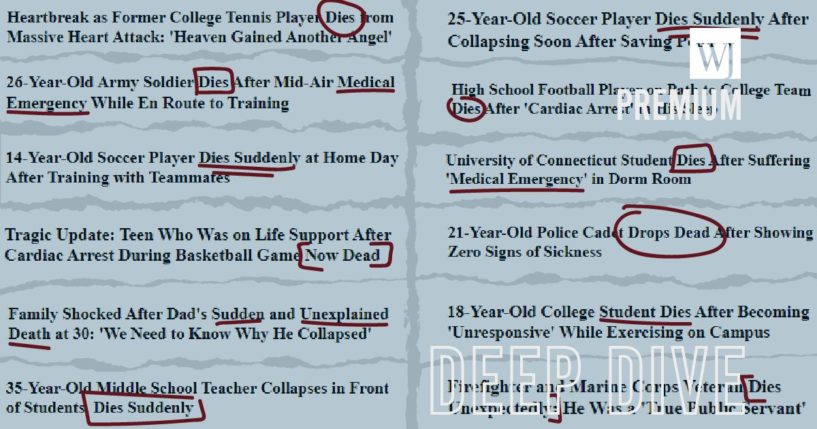 Premium
The Real Story: What's Causing the 'Died Suddenly' Phenomena We're Seeing All Over America
The "died suddenly" phenomenon has been in the headlines a lot recently, especially after Buffalo Bills safety Damar Hamlin went into cardiac arrest last month during "Monday Night Football."
Various theories are circulating regarding the apparent spike in sudden deaths and the U.S. death rate overall, including the long-term impact of the coronavirus on the body, COVID-19 vaccine injury, health consequences due to the lockdowns, and even over-reporting about these sudden deaths, leading to confirmation bias.
You're not imagining things: More people are dying than usual. By some counts, there are 200,000 to 300,000 "excess deaths" per year that are not being attributed directly to COVID infections.
Advertisement - story continues below
Let's take a closer look at the theories about those who are dying suddenly of cardiac arrest.
Long-Term Impact of COVID Infections 
One hypothesis is that COVID-19 infections are actually doing more harm to the body than researchers originally knew.
"We still don't really grasp the entire spectrum and breadth of disease yet," Yale immunobiologist Akiko Iwasaki told The New York Times.
Advertisement - story continues below
A study by Cedars-Sinai Medical Center in Los Angeles published in October found that heart attack deaths have become more common among all age groups in the U.S. since the onset of the COVID-19 pandemic.
The age group hit the hardest has been people between 25 and 44, who saw a 29.9 percent increase in observed compared to predicted heart attack deaths by 2021.
For those 45 to 64, there was a 19.6 percent increase, and a 13.7 percent increase for those 65 and older.
Do you believe vaccine injury is a cause of the "died suddenly" phenomenon?
Dr. Yee Hui Yeo, the lead author of the study, stated that the explanation for the increase in heart attacks could be that COVID-19 triggers or accelerates pre-existing coronary disease, even in younger people.
"We are still learning the many ways by which COVID-19 affects the body, regardless of age, gender, ethnicity or race," Yeo said.
Advertisement - story continues below
Nature also reported in August that there have been multiple studies showing an increased risk of heart attack or stroke following a COVID infection.
Researchers using records from the Department of Veterans Affairs found that people who had COVID, especially severe cases requiring hospitalization, faced "substantially increased risks for 20 cardiovascular conditions — including potentially catastrophic problems such as heart attacks and strokes — in the year after infection," Nature reported.
"Some smaller studies have mirrored these findings, but others find lower rates of complications. With millions or perhaps even billions of people having been infected with SARS-CoV-2, clinicians are wondering whether the pandemic will be followed by a cardiovascular aftershock," the journal added.
Further, a study published in The British Medical Journal in May 2021 found an "excess risk in the four months after acute infection" for people to develop various illnesses.
Advertisement - story continues below
Researchers found that 14 percent of adults under 65 infected with COVID had a least one new complication that required further medical care. Myocarditis, chronic respiratory failure and cardiac arrhythmia were among them.
Vaccine Injury 
Dr. Vinay Prasad, a practicing hematologist-oncologist and professor at the University of California San Francisco, and Dr. John Mandrola, a cardiologist with the Baptist Health Medical Group in Louisville, Kentucky, delved into the potential causes of the "died suddenly" phenomenon in a recent piece for The Free Press. They concluded vaccine injury may be to blame.
"Cards on the table: We think the vaccines are an important tool for preventing severe illness and death among vulnerable people — particularly the elderly and those with certain underlying medical conditions," the doctors wrote early in their article.
Advertisement - story continues below
But they added that there is "growing evidence that these vaccines may not be appropriate for all."
Myocarditis can be a side effect of both the Pfizer and Moderna vaccines, the physicians noted.
"Post-vaccine myocarditis occurs at much higher frequencies — estimates are up to 30 times higher — in healthy young males," Prasad and Mandrola said, and complications most often arise after the second shot.
They also refuted claims made by Rochelle Walensky, director of the Centers for Disease Control and Prevention, that the cases of vaccine-related myocarditis are "mild."
Advertisement - story continues below
The CDC asserted that many viruses, including COVID, can cause myocarditis, posing a greater risk than developing it from the COVID vaccine.
"We dispute both claims," Prasad and Mandrola wrote. "The majority of young people with vaccine-related myocarditis are hospitalized, and then given long lists of activities to avoid.
"That is serious. And the evidence for the assertion that a Covid-19 infection is a big heart risk for young people is unconvincing."
The vast majority of people tolerated the vaccine well, according to a Zogby poll from July. About 85 percent of respondents said they experienced no known problems after taking an mRNA vaccine.
Advertisement - story continues below
Some of the new conditions that 15 percent of people reported having within weeks or months after receiving the vaccine included blood clots (21 percent), heart attack (19 percent), liver damage (18 percent), lung clots (17 percent), leg clots (17 percent), stroke (15 percent), pericarditis (6 percent) and myocarditis (4 percent).
During a recent House Oversight and Accountability Committee hearing, GOP Rep. Nancy Mace of South Carolina announced that she had experienced vaccine injury.
"I now developed asthma that has never gone away since I had the second shot," Mace said. "I have tremors in my left hand, and I have the occasional heart pain that no doctor can explain. And I've had a battery of tests."
Congresswoman @NancyMace announced she was injured by the COVID vaccine and shamed the Big Tech execs who hid the truth about dissenting opinions from medical professionals who were always concerned about the safety and efficacy of the shots. Thank you for speaking up Nancy! 👏🏼👏🏼 pic.twitter.com/3wCqw5Z46x

— Robby Starbuck (@robbystarbuck) February 8, 2023
Advertisement - story continues below
Effects of the Lockdowns
Multiple issues can fall under this heading.
One is the failure to diagnose and treat various illnesses — like heart disease, cancer and diabetes — early in the pandemic as people avoided or were not able to see their physicians regularly. So someone may have developed a heart condition that went undiagnosed, resulting in sudden death.
Advertisement - story continues below
Additionally, the lockdowns led to increased isolation, anxiety and depression, which put a strain on the heart.
A report published in The Lancet in October 2021 estimated that an additional 53 million cases of major depressive disorder and 76 million cases of anxiety disorders around the world were due to the lockdowns.
"There's definitely a huge mental health impact from a long period of uncertainty and change that's left people very isolated and not sure how to connect. Just being out in public and interacting in a very casual way with strangers or mild acquaintances — that's very regulating," New York-based psychiatrist Valentine Raiteri told CNBC in February 2022.
When those signals aren't coming in, Raiteri said, "our internal voices become stronger and it becomes harder and harder to self-regulate." That created a "big pressure cooker, especially for people who already have a vulnerability," he said.
Advertisement - story continues below
The American Heart Association states on its website, "When you experience depression, anxiety or stress your heart rate and blood pressure rise, there's reduced blood flow to the heart and your body produces higher levels of cortisol, a stress hormone. Over time, these effects can lead to heart disease."
Mental issues can also lead drug and alcohol users to self-medicate, which can result in sudden cardiac arrest. Over 100,000 Americans die each year from drug overdoses.
The CDC reported that overdose deaths shot up 30 percent during the first year of the pandemic, and 15 percent more in 2021.
"We now have more overdose deaths each year than all military deaths of the last 60 years combined," Rob Arnott and Casey B. Mulligan wrote in The Wall Street Journal.
Advertisement - story continues below
Confirmation Bias  
Confirmation bias may be in effect, too.
In other words, we see Hamlin go into cardiac arrest on national TV and hear stories of people suddenly dying, and we read into it that they all must be related to the same thing.
The Associated Press spoke with cardiologists who said that sudden cardiac deaths during sporting events and otherwise happened long before COVID hit, and these doctors "have not observed the dramatic increase alleged on social media."
Advertisement - story continues below
Is the "died suddenly" phenomenon caused by the long-term effects of COVID, vaccine injury, the lingering effects of the lockdowns, or confirmation bias?
Perhaps all are in the mix.
If these last few years have taught us anything, it's that it's best to follow the truth no matter where it takes us.
Conversation