Commentary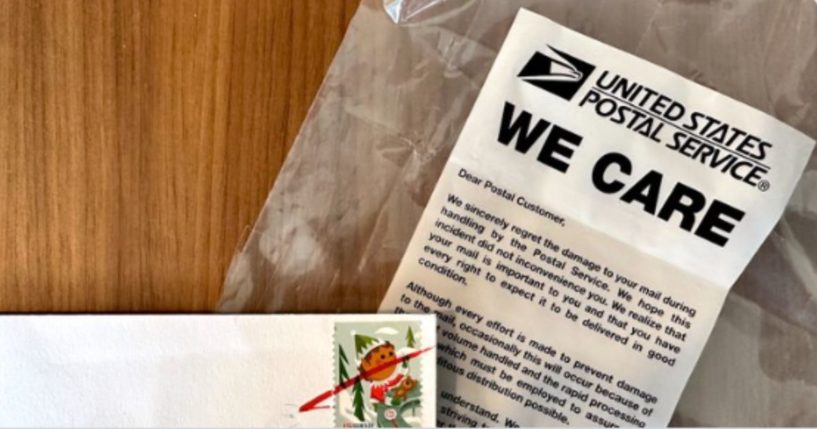 Commentary
Woman Gets Christmas Card Month Late and Finds Contents Missing - She Has 1 Question About USPS
A woman has written an article describing how she recently received a Christmas card in the mail a month after the holiday, only to find the contents of the envelope missing. Now, she has a serious question for USPS.
On Wednesday, Kylee Griswold published an article in The Federalist detailing her United States Postal Service story. When collecting mail, she came across a Christmas card that she had never received. But, instead of an actual card, it was an open, mangled envelope with the card missing, located inside a plastic bag that also contained an apology note from the postmaster.
"We sincerely regret the damage to your mail during handling by the Postal Service. We hope this incident did not inconvenience you," the letter read. "Although every effort is made to prevent damage to the mail, occasionally this will occur because of the great volume handled and the rapid processing methods which must be employed to assure the most expeditious distribution possible. We hope you understand …"
Advertisement - story continues below
Now, obviously, Griswold was frustrated that the card came a month after Christmas and that the actual letter was lost during the delivery. We clearly must expect better service from USPS.
But she also pointed out that Christmas cards are probably the least critical things that are delivered by mail. We use the postal service for all kinds of different things, including greeting cards, passports, tax documents and, now, election ballots.
Thus, Griswold posed this question to USPS that all Americans should be asking: "If the USPS can't handle [Christmas cards], why should it be trusted with my ballot?"
Mangled Remains Of A Christmas Card Got Delivered A Month After The Holiday… But I'm To Believe The USPS Can Handle My Ballot? @FDRLST https://t.co/xY9mKulA0g

— Kylee Griswold (like the family vacation) (@kyleezempel) January 25, 2023
Advertisement - story continues below
Election ballots are way more critical than Christmas cards. If something happens that results in mail-in ballots being lost or damaged during delivery, then thousands or even millions of Americans could lose their vote in a critical election. It could even alter the results of the election.
Do you think mail-in ballots should be banned?
Griswold detailed in her article numerous instances of this happening. She showed that during the 2018 and 2020 elections, there were several instances of thousands of mail-in ballots being rejected.
This means that thousands of Americans never had a chance to have their voices heard in these elections, and it may have possibly altered the results.
Now, this is not to claim that the 2020 election was "stolen," but merely to point out that the election was not as secure as many people claim and that there are serious problems with this method of voting.
Advertisement - story continues below
No wonder people are questioning the results of these elections — when millions of votes are rejected through no fault of the voter, but through the fault of the voting system.
The 2022 midterm elections, meanwhile, showed how vulnerable mail-in voting is to voter fraud, as evidenced by the videos that appeared to show ballot harvesting taking place at mail-in voting stations in Arizona.
We need a system in place where ballots are securely and efficiently counted and processed. This clearly cannot be done by mailing in ballots.
Advertisement - story continues below
Mail-in ballots should not be the new norm in our elections. We must require everyone to vote in person and on election day, with exceptions for those who legitimately cannot make it to the polls, such as the physically disabled or active duty military.
If we want to restore trust in our electoral system, we need to ensure that ballots are treated properly. If the USPS handles ballots the same way it does Christmas cards, then we will have serious problems.
Conversation