Commentary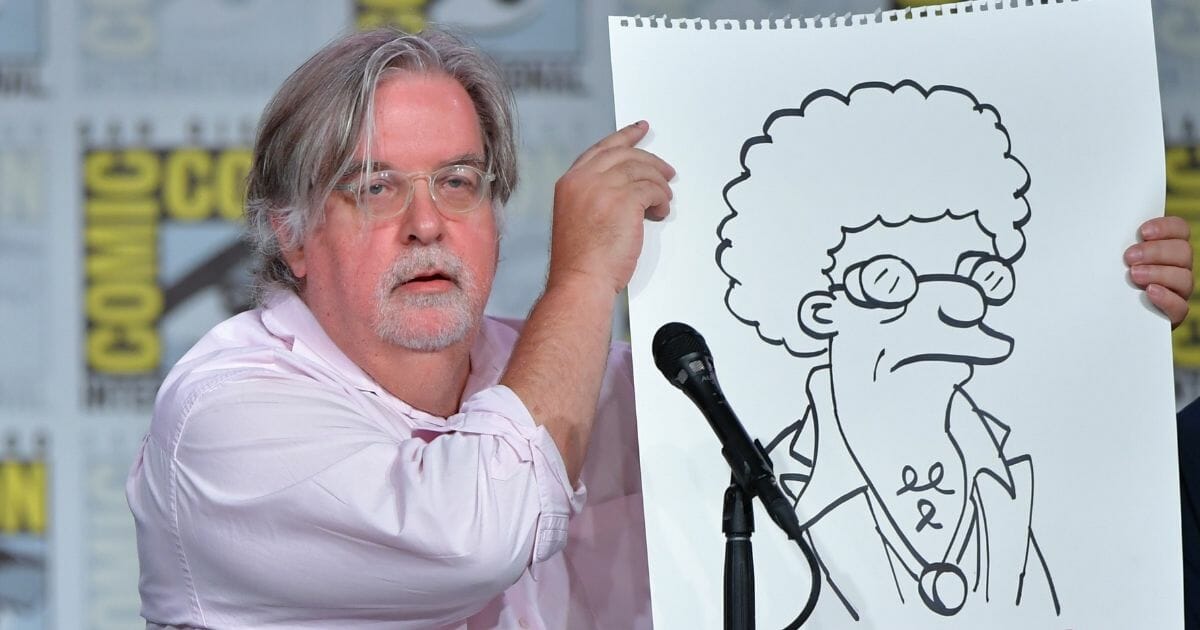 Anti-Trump Simpsons Skit Comes Right After Show Creator's Name Appears in Epstein Docs
A recent skit targeting President Donald Trump on "The Simpsons" went viral earlier this week, but an allegation about show creator Matt Groening could be something he won't be able to joke his way out of.
The skit, an unfunny representation of Trump's ongoing feud with the so-called "squad" of progressive female lawmakers, made headlines when it was released this week.
Apparently out of ideas after 30 seasons, the animated short pokes fun at Trump's hair and paints the president in an incredibly self-centered light.
Advertisement - story continues below
The West Wing Story. #TheSimpsons pic.twitter.com/uWQw9k4RNn

— The Simpsons (@TheSimpsons) August 21, 2019
This comes only a few weeks after a memoir containing damning allegations by one of wealthy financier and convicted sex offender Jeffrey Epstein's alleged victims was unsealed.
Found in a 2,000-page set of court documents compiled regarding Epstein, "The Billionaire Playboys Club" is an unsealed memoir by Virginia Giuffre, an alleged victim of the disgraced financier.
Advertisement - story continues below
And a passage about a flight with Epstein contains a very familiar name.
"We were driven to the private airstrip and took off for Los Angeles. On the plane was an unexpected visitor," Giuffre wrote.
Should Matt Groening give a full and truthful account of what really happened on that flight?
"Matt Groening, the producer of The Simpsons TV show was catching a ride with us."
This in and of itself is nothing unusual.
Elites have a way of rubbing shoulders with each other, and it's not outside the realm of possibility to assume they also hitch rides in each other's private jets.
Advertisement - story continues below
It soon became obvious that this wasn't a millionaire carpool, however.
After introducing herself to Groening, Giuffre says the flight took a gut-wrenching turn.
"I was enjoying our conversation," she wrote, "when Jeffrey insisted that I give Matt a foot massage throughout the duration of the short flight. I never turned down a client but when I saw the shape of his feet, I nearly threw up at the thought of having to touch them."
"He had yellow crusty toenails that even someone with a chainsaw would've had troubles cutting through," she continued, "and then there was the fluffy balls of leftover pieces of sock wedged between the crevices of his sweaty toes, now that was the real icing on the cake for me, no way could I attempt this I thought."
Advertisement - story continues below
After the revolting foot massage, Groening didn't let Giuffre walk away empty-handed, she claims.
"In return for my services," Giuffre wrote, "Matt was kind enough to draw me two quick sketches on blank paper from his briefcase of my two favorite characters, Homer and Bart."
While two "quick sketches" don't exactly make up for the disgusting work (bordering on exploitation) Giuffre says she put in, she was able to laugh off the encounter.
Groening may feel comfortable taking biased and uninspired shots at the president, but this newly released material shows there could be more to this anti-Trumper than just poor humor and bad jokes.
Advertisement - story continues below
A spokesperson for Fox, the network that airs "The Simpsons," declined to provide The Western Journal with a comment on the allegations against Groening.
Conversation