News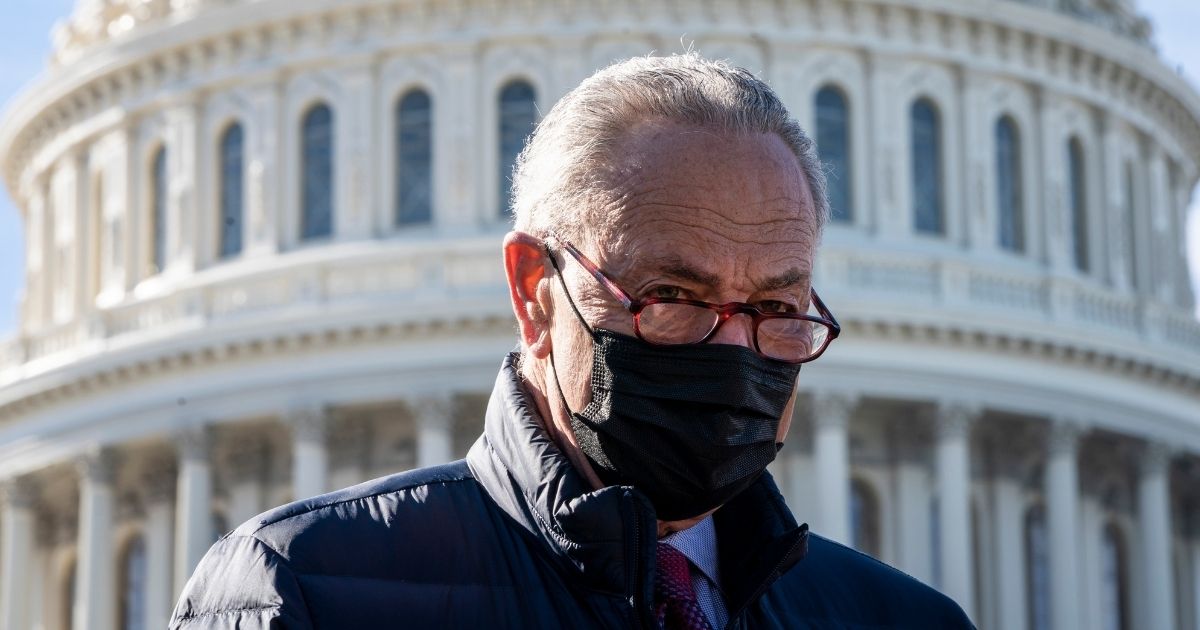 Senate Dems Pave the Way for Biden's $1.9 Trillion COVID Package with Zero GOP Support
Senate Democrats voted on Friday to muscle President Joe Biden's $1.9 trillion coronavirus relief package through the chamber without Republican support, a step toward final approval next month.
"A lot of folks are losing hope," Biden said in a speech at the White House.
"I believe the American people are looking right now to their government for help, to do our job, to not let them down. So I'm going to act. I'm going to act fast. I'd like to be doing it with the support of Republicans … they're just not willing to go as far as I think we have to go."
Advertisement - story continues below
The speech marks an about-face from a president who entered the White House pledging bipartisanship and met on Monday with 10 Republican senators who proposed a $618 billion alternative. But Biden said in his Friday speech that the smaller package would only prolong the economic pain.
His remarks came several hours after the Senate approved a budgetary measure that would let Democrats pass the plan without Republicans. Vice President Kamala Harris cast the tie-breaking vote in the Senate, her first.
Senate Democrats applauded after Harris announced the 51-50 vote at around 5:30 a.m. after a grueling all-night session.
The budget now returns to the House, where it will likely be approved again Friday. The measure can then work its way through committees so that additional relief can be finalized by mid-March, when extra unemployment assistance and other pandemic aid expires.
Advertisement - story continues below
"We have been focused like a laser on getting this done," House Speaker Nancy Pelosi said after Democrats in the House met with Biden on Friday.
"We hope to be able to put vaccines in people's arms, money in people's pockets, children safely in schools and workers in their jobs. That's what we are doing now."
Do you support President Biden's coronavirus package?
Employers added just 49,000 jobs in January after cutting 227,000 in December, the Labor Department said Friday.
"At that rate, it's going to take 10 years until we hit full employment," Biden said at an Oval Office meeting. "That's not hyperbole. That's a fact."
The unemployment rate fell to 6.3 percent from 6.7 percent, but there was a decline in the number of people who were either working or looking for a job. The U.S. economy is 9.9 million jobs shy of its pre-lockdown level.
Advertisement - story continues below
The size of Biden's aid package has been a concern for several Republican lawmakers and economists.
Larry Summers, a former treasury secretary during the Clinton administration, said in a column for The Washington Post that the $1.9 trillion package was three times larger than the projected economic shortfall.
A separate analysis by the Penn Wharton Budget Model found the plan would do little to boost growth relative to its size.
The marathon Senate session brought test votes on several Democratic priorities, including a $15 minimum wage.
Advertisement - story continues below
The Senate adopted an amendment from Republican Sen. Joni Ernst of Iowa which rules out the proposed doubling of the federal minimum wage. Ernst said a wage hike at this time would be "devastating" for small businesses.
The Senate also overwhelmingly passed an amendment that would prevent the $1,400 in direct checks in Biden's proposal from going to "upper-income taxpayers."
The Western Journal has reviewed this Associated Press story and may have altered it prior to publication to ensure that it meets our editorial standards.
Conversation