Commentary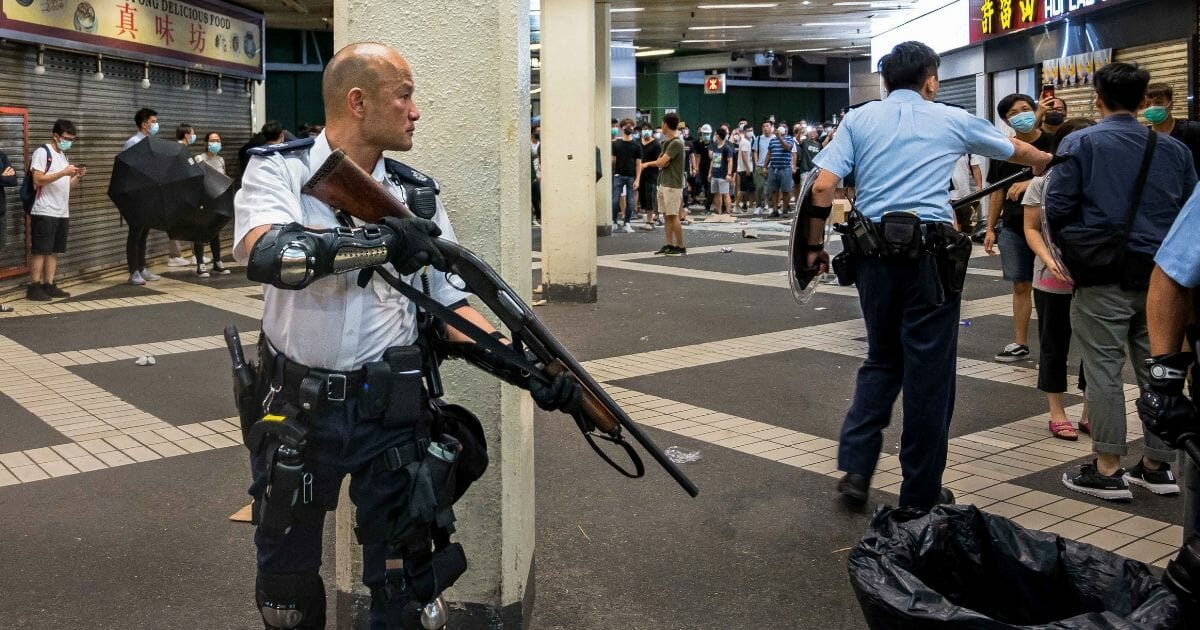 China Masses Force on Border as Hong Kong Situation Escalates
Protests have been sweeping Hong Kong since the forging of an extradition bill between the city's leadership and communist China. Now, a senior White House official has revealed a worrying "congregation" of Chinese forces at the border.
According to the anonymous official cited by Bloomberg, the mass of troops is made up of armed police officers or soldiers. The implications of the latter are serious, especially considering how overwhelmed Hong Kong police are becoming.
An expert cited by Bloomberg downplayed the force, saying it could be a swearing-in ceremony. However, with 19,000 individuals, this would be an extraordinarily large ceremony.
Advertisement - story continues below
Regardless of the reason for the buildup, demonstrators are quickly becoming a major problem for law enforcement in Hong Kong.
Video from the protests shows that police are turning to more aggressive tactics to keep the riots in check. Tear gas is becoming a common tool used against the demonstrators, and some officers are now brandishing shotguns.
The buildup comes as protesters against the extradition bill continue to clash with police after months of unrest. The bill would have given mainland China the ability to extradite fugitives in Hong Kong to wherever the communist government pleased.
Advertisement - story continues below
Hong Kong, which in many ways is still in the midst of a transition from semi-independent British colony to full territory of China, has a rocky history with the communist nation. Residents of the westernized city are often unsatisfied with or even outright hostile to the idea of Chinese rule.
In the course of the protests, rioters are shutting down vital economic hubs such as train and subway stations in their fight for liberty.
The view from inside that Sheung Wan MTR station exit. Protesters have used a firehose to spray at riot police outside, also saying that the water will make the staircase too slippery for police to enter. #HongKong #antiELABhk #HongKongProtests pic.twitter.com/JQShTUXDVe

— Hong Kong Free Press (@HongKongFP) July 28, 2019
China is not backing down from the situation, and its communist leadership insists the protests are a "creation of the U.S."
Advertisement - story continues below
With the other steps China has taken to square off against America, this is not a good development.
China previously referred to Taiwanese independence as a "dead end," and that's a completely different country. With Hong Kong, the chances for self-governance appear to be getting smaller by the minute.
The struggle in Hong Kong is against the constricting monster of communism. President Donald Trump and his administration would do well to keep the bright international port of Hong Kong from falling into a communist dark age.
Conversation