Sports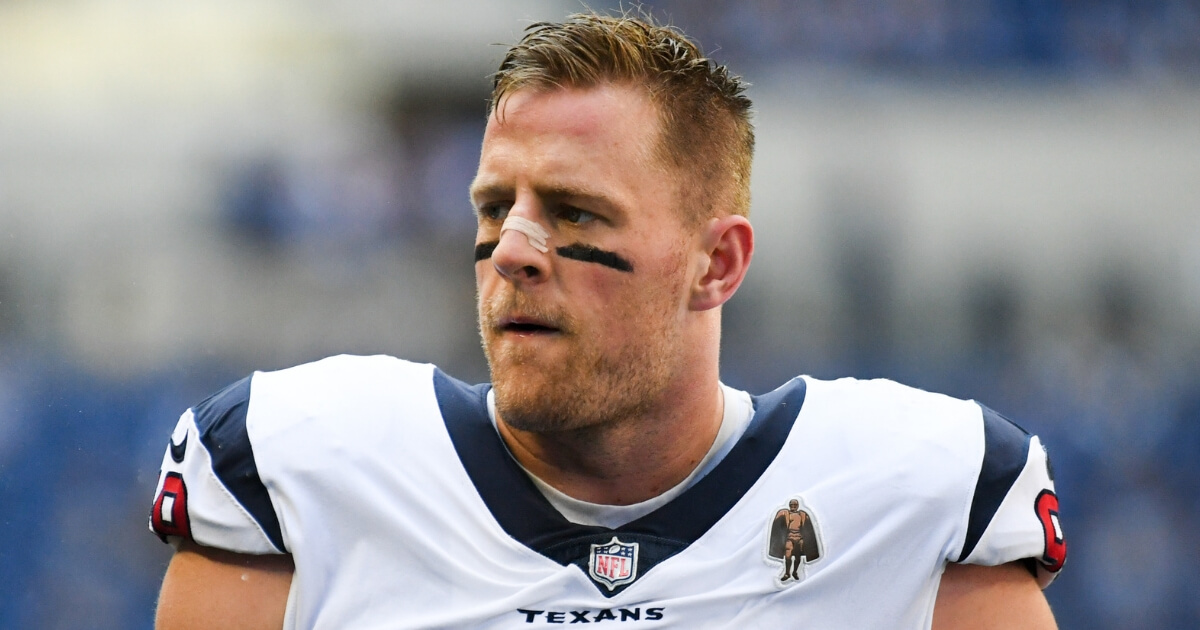 JJ Watt Slams NFL After Younger Brother's $20K Fine
The NFL's Man of the Year has a problem with the NFL.
The Texans' J.J. Watt won the Walter Payton NFL Man of the Year award earlier this year for his philanthropic and charity work in the wake of Hurricane Harvey hitting his adopted hometown of Houston.
However, the NFL managed to upset both J.J. and his younger brother, T.J. Watt of the Pittsburgh Steelers, after they fined T.J. for a hit on the quarterback this week.
Advertisement - story continues below
T.J. was fined $20,054 — on his 24th birthday, no less — for merely grazing the leg of Atlanta Falcons quarterback Matt Ryan in last week's game.
JUST IN: @_TJWatt lost 38% of his paycheck from Sunday for a $20,054 fine that resulted from this "Roughing The Passer." pic.twitter.com/ot7i0SWw1l

— Darren Rovell (@darrenrovell) October 12, 2018
T.J. was whistled for a penalty on the play, and J.J. reacted in real time. Since the Texans were playing on "Sunday Night Football," the elder Watt saw the play live and tweeted, "Would love to hear the explanation on how this was "roughing the passer"
The penalty was one thing, but the fine was another, and Watt again responded on Twitter, calling the fine "insanity" in one post and pointing to the video in another and asking, "$20,000 for this?!?!?!"
Advertisement - story continues below
That is insanity. https://t.co/a9r0gZbNMc

— JJ Watt (@JJWatt) October 12, 2018
One could argue that T.J. was actually pushed into Ryan by the Falcons' right tackle. You could also argue that J.J.'s birthday hug for his little brother had more contact than this penalty.
J.J. has been fined twice in his career for hits on quarterbacks, with the last of those coming in 2014. This was the first fine of T.J.'s career even though he did everything he could to avoid hitting Ryan low.
Do you think T.J. Watt should have been fined over that hit?
"I understand the rules. I'm not a dirty player," the younger Watt said. "I tried to pull off him at the end. Whether the ref saw it or not, I understand why they call it. It was a low hit. But I tried to pull my arms off. … It puts us in a bind because I don't know what else I can do."
Advertisement - story continues below
Steelers coach Mike Tomlin was critical of the officiating as a whole in the Falcons-Steelers game, which his team won 41-17, and he was hit with a $25,000 fine for saying, "Man, these penalties are costing people games and jobs. We gotta get 'em correct. And so I'm pissed about it, to be quite honest with you. But that's all I'm gonna say on it."
Outside of the fine for T.J., things are going well for the Watt brothers as J.J. and T.J. are tied for the lead league with six sacks apiece.
J.J. seems to have regained the form that made him a three-time Defensive Player of the Year winner as a string of injuries limited him to just 1.5 sacks over eight games in the past two seasons.
T.J. is just one sack away from matching his total from his 2017 rookie season.
Advertisement - story continues below
Don't forget about the other Watt brother, Derek. He's a fullback for the Chargers blocking for Melvin Gordon, who ranks in the top 10 in the NFL in rushing yards and rushing touchdowns.
Conversation