Commentary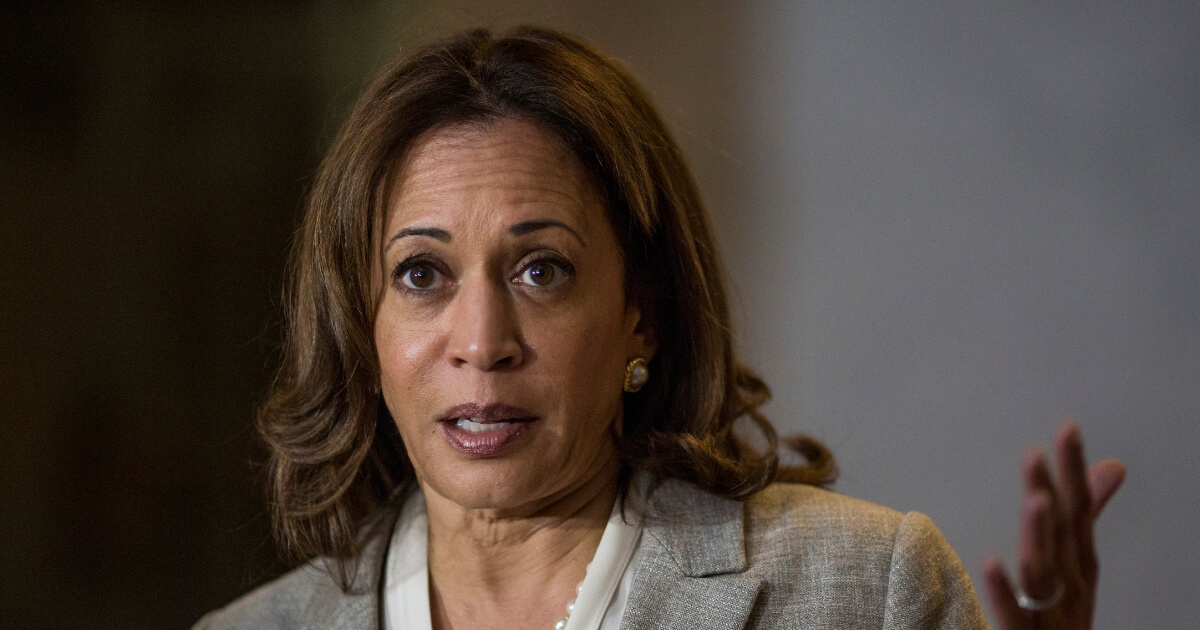 Kamala Harris Dismisses Constitution As Just 'Book' Kavanaugh Keeps in Pocket
In their oath of office, United States senators swear to "support and defend the Constitution of the United States against all enemies, foreign and domestic." An implied reverence comes with the making of that promise.
But when Democratic senator Kamala Harris broached the topic while questioning Supreme Court justice nominee Brett Kavanaugh, there didn't seem to be any reverence. Some might say her comment was pretty flippant regarding it.
Advertisement - story continues below
Harris began asking Kavanaugh about "unenumerated rights." She said, "Unenumerated rights is a phrase that lawyers use, but I want to make clear what we're talking about. It means rights that are protected by the Constitution, even if they're not specifically mentioned in the Constitution."
She continued, "So they're not in that book that you carry" as she pointed to his jacket pocket where a pocket Constitution is kept by Kavanuagh.
Twitter went wild with commentary. Some praised the senator for being hard on Kavanaugh, but many were upset about the way she referred to the Constitution.
A horrible human and anti-american who wants to run for President refers to A Supreme Court nominees pocket Constitution as "that book you carry". @SenKamalaHarris What a repuslive human being. https://t.co/T7llHftsyW

— Curt Schilling (@gehrig38) September 8, 2018
Advertisement - story continues below
It didn't seem to matter their age or gender, either. People across the board hit back at Harris.
Senator Kamala Harris tried to dismiss our Constitution as a "book you carry" when talking to Kavanaugh today.

Yes, Kamala.

That "book" is the same one you supposedly took an oath to support & defend when you were elected as a Senator.

— Educating Liberals (@Education4Libs) September 8, 2018
Some were so upset that name-calling ensued. They were that mad about the way she referenced the document she took an oath to defend.
That would be the Constitution you cow. You know, that pesky thing you swore to uphold?Watch: Kamala Harris Calls Kavanaugh's Pocket Constitution 'That Book You Carry' https://t.co/vgpT7QqGvO

— MrsXoke on Parler #TWEXIT (@Mrs_Xoke) September 8, 2018
Even media outlets got involved in calling her out. One example was The Daily Caller.
Dem. @SenKamalaHarris referred to #SCOTUS nominee Brett Kavanaugh's pocket Constitution as "that book you carry" yesterday.

Seems like a pretty disrespectful way to refer to the document that you swore to support and defend …https://t.co/0tXozpatrF

— Daily Caller (@DailyCaller) September 7, 2018
Advertisement - story continues below
But social media users weren't alone in having something to say about Harris' comment. Kavanaugh also took her to task. He quipped, "The Constitution, it is in the book that I carry, the Constitution protects unenumerated rights, that's what the Supreme Court has said."
Interestingly, Harris has tweeted her concern for the Constitution in regards to Kavanaugh. She wrote, "I am concerned Brett Kavanaugh's loyalty would be to the President who appointed him and not to the Constitution of the United States."
According to Fox News, that was not the first time she'd expressed concern for the Constitution, either. Back in June she said on MSNBC that, "we are looking at the destruction of the Constitution" in regards to President Donald Trump nominating another Supreme Court Justice.
Was Senator Kamala Harris disrespectful to the Constitution?
Advertisement - story continues below
While in both instances she garnered support from her fans, she was also largely mocked on social media by her critics. Some pointed to things such as Kavanaugh's voting record or explanations of how the Supreme Court works in their responses.
Whether Harris actually has reverence for the Constitution or not, she clearly made a big mistake referring to Kavanaugh's pocket Constitution as "that book you carry."
Conversation