Sports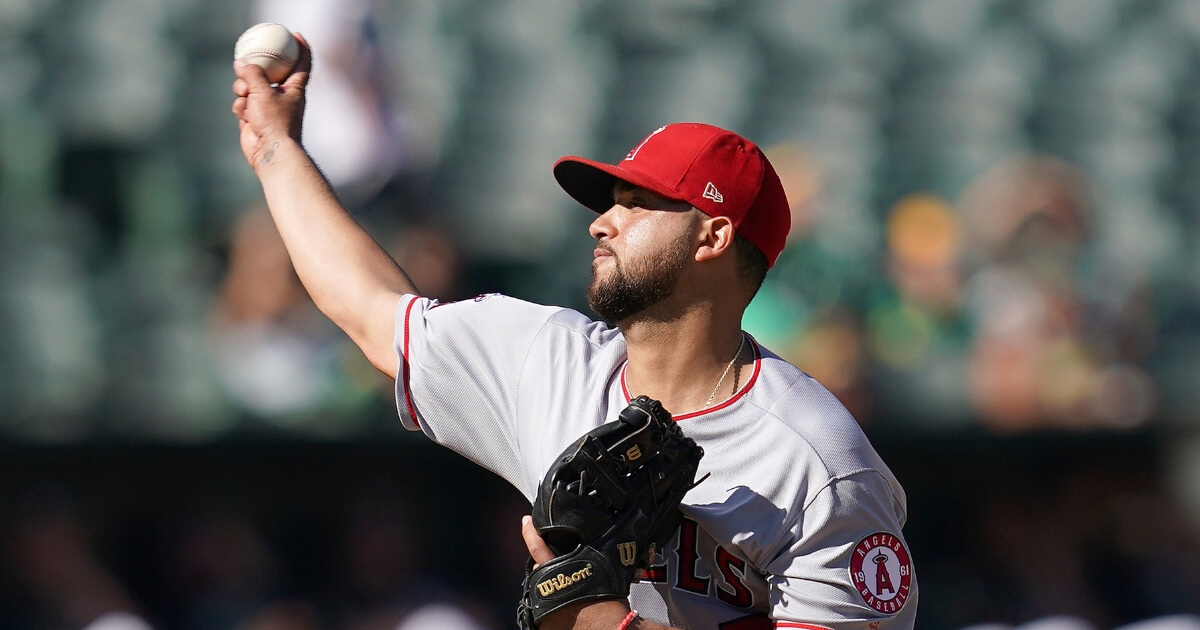 MLB Team Suffers Historic Loss, But Player Still Accomplishes Never-Before-Seen Feat
The Los Angeles Angels gave up three touchdowns against only a field goal Thursday afternoon, losing a baseball game by the unusual score of 21-3.
Now, normally, all there is to take away from a loss like that is the hope that after a few beers and a night's sleep, you can get out there the next day and put the whole sordid episode behind you.
Advertisement - story continues below
But this blowout loss was different, because baseball history was made in the ugly defeat.
Francisco Arcia of the Angels became the first player in MLB history to pitch, catch and deposit a ball on the opposite side of a fence in fair territory in the same game.
In a game that made Anaheim fans want to hurl, Arcia's two-inning outing hurling the ball could've gone a lot worse.
He gave up three runs, all earned, on four hits, but managed to throw 17 of his 24 pitches for strikes.
Advertisement - story continues below
And thanks to the six outs he recorded in those two innings, his ERA was an "at least it's better than Allan Travers" 13.50.
Arcia also caught the first seven innings of the game before he moved to the mound, DH Shohei Ohtani was replaced by Jose Briceno, and the Angels played the last two innings having forfeited the right to use the DH, another curious oddity in this game — at least when it doesn't involve Ohtani and his .935 OPS pitching.
There haven't been a lot of opportunities for players to achieve this feat in major league history. Most position players who pitch an inning are outfielders rather than catchers, for one thing.
Sometimes you get a stunt where a player will play all nine positions in the game (though not at the same time — Bugs Bunny remains the only player ever to have done that). But in all the occasions where that has happened, the player in question didn't smack the dinger required to get into the history books.
The Angels are playing out the string on another lost year, currently 75-78 with nine games left in the season, fully 17 games behind the A's — who hold the second wild-card spot and will face the Yankees once the regular campaign concludes — fielding a lineup that includes Mike Trout, Ohtani, Andrelton Simmons and a Triple-A team.
Advertisement - story continues below
Will the Angels get back to .500 this season?
While Trout is quietly compiling one of the greatest seasons of all time based on wins above replacement (Trout's 9.7 is better than the best seasons of Joe DiMaggio and Hank Aaron and ranks 70th overall in MLB history) even as he's only third in MLB in that stat this year (behind Mookie Betts and Bryce Harper), Angels fans have been relegated to the realm of near-constant disappointment.
So for Arcia to make history in a September ballgame is a little bit of comfort and a reward for the fans who are still watching even as the games cease to mean anything.
The Angels need to go 6-3 the rest of the way to salvage a .500 season, which is the only storyline left to them.
Advertisement - story continues below
And Trout's got nine more chances to pick up the 0.3 WAR he'll need to get to the 10.0 level for the third time in his career.
So heads held high, Angels fans. You got a highlight on a bad day.
Conversation
Notice: Due to threatened de-monetization, we have temporarily removed commenting while we build a long-term commenting solution that allows you to voice your opinion freely and allows us to continue to publish the news fearlessly and cover topics that you care about. If you would like to personally partner with The Western Journal to help us continue publishing while under relentless assault by Big Tech, please visit our
subscription page
here. We encourage you to share this article and discuss with your friends.