Lifestyle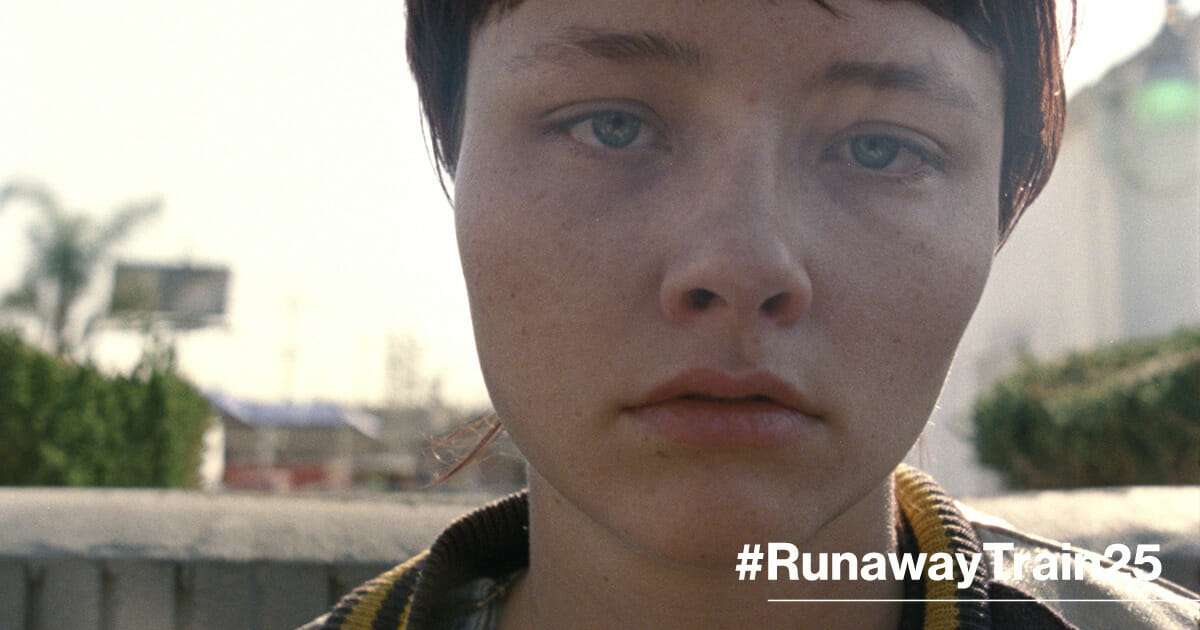 New 'Runaway Train 25' Music Video Will Show You Up to 6 Missing Children in Your Area
In 1993 the band Soul Asylum released a music video for their song "Runaway Train," which famously featured real missing children photos in order to bring awareness to their cases.
Of the 36 children shown across the multiple versions, 21 were recovered after video's release.
The song was originally written about band member's Dave Pirner own despair but director Tony Kaye elevated the message portrayed in the video by reaching out to the National Center for Missing and Exploited Children and asking for footage of real missing children, according to Billboard.
Advertisement - story continues below
The video continued to be MTV's No. 6 music video for the rest of 1993.
Now, on the 25th anniversary of the video's premiere on MTV, an ad agency named M/H VCCP has partnered with NCMEC to revive the song in conjunction with new technologies in order to bring awareness to more children across the country.
M/H VCCP approached NCMEC four years ago with the idea to release an updated version of the song with new artists and new missing children, free of charge. Based on the success of the 1993 video, NCMEC was glad to help in any way.
Advertisement - story continues below
The advertising company coordinated the project, bringing together the artists, the production companies and a unique application of geolocation technologies.
"We had huge names behind this project and everybody donated their time and everybody did this out of the goodness of their heart," Rebecca Kovar, a spokeswoman for NCMEC, told Liftable, a section of The Western Journal.
By using geo-targeting technology, the video pulls from NCMEC's database and shows a viewer children missing from their area. There are six slots available in the video that are auto-generated with pictures and information of those local missing children.
To see the video curated for your specific area, go to runawaytrain25.com.
Advertisement - story continues below
According to NCMEC, 61 percent of recovered children are found in the state from which they are missing. With that in mind, they are hoping that the "Runaway Train 25" video will help even more children to come home.
"This video and this song has taken a topic that can be really scary and overwhelming and we're displaying the pictures in such a way that it doesn't seem so frightening," Kovar said.
The song is also available for download and a portion of the proceeds will come back to NCMEC to help them continue to bring kids home.
Advertisement - story continues below
Along with the video, the Out of Home Advertising Association of America — the national trade association for advertisements on billboards, street furniture and transits — is displaying local missing children on 350 digital billboards across the country. It is the largest donation that Out of Home has ever made.
Proud to support @NationalMissing's #RunawayTrain25 campaign alongside @YourOAAA. 350+ @LamarOOH digital billboards now featuring new music video with faces & names of local missing kids powered by geo-targeting technology. https://t.co/xDXJk1l1tQ #OOH pic.twitter.com/XGwDSIJ3Hw

— Lamar Advertising (@LamarOOH) May 22, 2019
The "Runaway Train 25" campaign was released just four days before National Missing Children's Day, May 25th, which was established by former President Ronald Reagan in 1983.
Advertisement - story continues below
"Our children are the Nation's most valuable and most vulnerable asset," Reagan said at the time.
"They are our link to the future, our hope for a better life. Their protection and safety must be one of our highest priorities."
The National Center for Missing and Exploited Children is a non-profit that operates a 24/7 hotline to help recover missing children, reduce sexual exploitation, and prevent child victimization.
If you have any information about any of the children you saw in "Runaway Train 25" video or another missing child, please call NCMEC's hotline at 1-800-THE-LOST.
Advertisement - story continues below
Liftable, a section of The Western Journal, is sharing unsolved cases of missing children in hopes of keeping these stories alive and encouraging anyone with new information to contact the proper authorities. To read more of our "Unsolved" series, click here.
Conversation