Commentary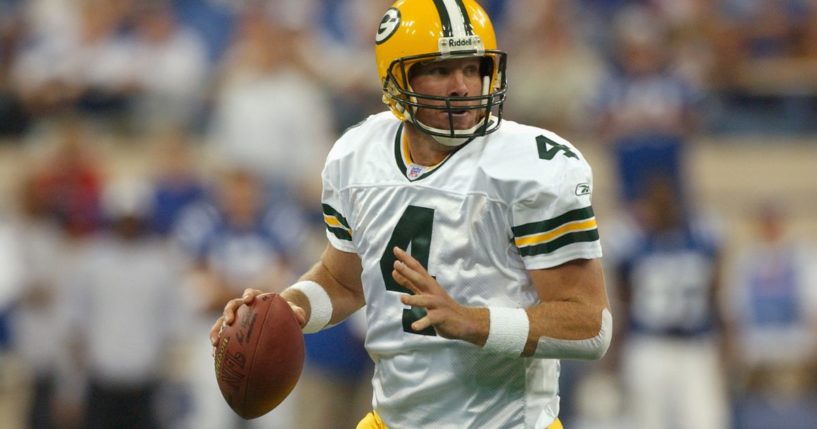 Commentary
NFL Legend and Hall of Famer Makes His Views on Transgenderism Very Clear
One of the defining traits of legendary NFL quarterback and Pro Football Hall of Famer Brett Favre has always been his abject fearlessness.
Where most quarterbacks would see a receiver being triple-teamed as a deterrent, Favre would see an opportunity.
Sometimes those risks would end in a dazzling touchdown, other times in a nightmarish turnover. Either way, Favre never let potential repercussions get in the way of his actions on the football field.
Advertisement - story continues below
Off the field? Favre is just as unafraid to speak his mind — no matter how wildly unpopular his opinions may be to leftists.
Appearing on Tuesday's episode of the "Fearless with Jason Whitlock" podcast, the former Green Bay Packer discussed a wide range of topics with the eponymous host, but his most interesting comments came when the issue of transgenderism came up.
"To think that a young man who identifies as a girl … can go into a girl's bathroom and use the restroom with girls — for us to think that's OK, I think, is wrong," he said. "I just think some things that we're allowing in this country are beyond belief."
The 53-year-old suggested that, whatever faults he may have, it's a far cry from claiming men can become women with a bit of surgery and makeup.
Advertisement - story continues below
"Made a lot of mistakes myself," the NFL's all-time leader in interceptions admitted. "But I think some of the thoughts and beliefs that we're seeing are crazy."

Favre and Whitlock then lamented the lack of athletes speaking out against the inherent absurdity of a man competing against a woman in sports.
"Somebody's got to speak up," Favre said.
Should men be allowed to compete against women in sports?
"I'm shocked that so many athletes can't muster the courage just to say, 'It's not just going to the bathroom, which is clearly bad and bad enough, but if you're a top-flight male athlete, you know damn well as a man you have no business competing against women in sports,'" Whitlock said.
"Absolutely," Favre said in response.
Advertisement - story continues below
"This is fundamental," Whitlock continued. "Every athlete knows this to his core."
Whitlock then astutely pointed out the hypocrisy of athletes speaking out on policing issues (which most know little to nothing about) and not on transgenderism, when those athletes are actually extremely well-versed in the limitations and capabilities of the human body.
So why is that?
"I think maybe the vast majority are afraid of what [speaking out] will do to their career. And it's not affecting them directly — not yet, at least," Favre said.
Advertisement - story continues below
"They got daughters," Whitlock added, alluding to the non-zero chance that a pro athlete's genetically gifted daughter may very well get crushed in athletic competition by Joe the plumber's son down the line.
The entire segment is worth a watch, if only because it's so refreshing to see two public figures unafraid to openly reject nonsensical establishment dogma.
Favre also has no problem pointing out the painfully evident fact that Donald Trump was simply a better president than Joe Biden.
"I think our country was in better shape with him," Favre said, comparing the "non-political" Trump to the swamp creature Biden.
Advertisement - story continues below
"We're all flawed, but I really felt like [Trump] had our country in a better place and really cared about our people and our country."
Conversation