Sports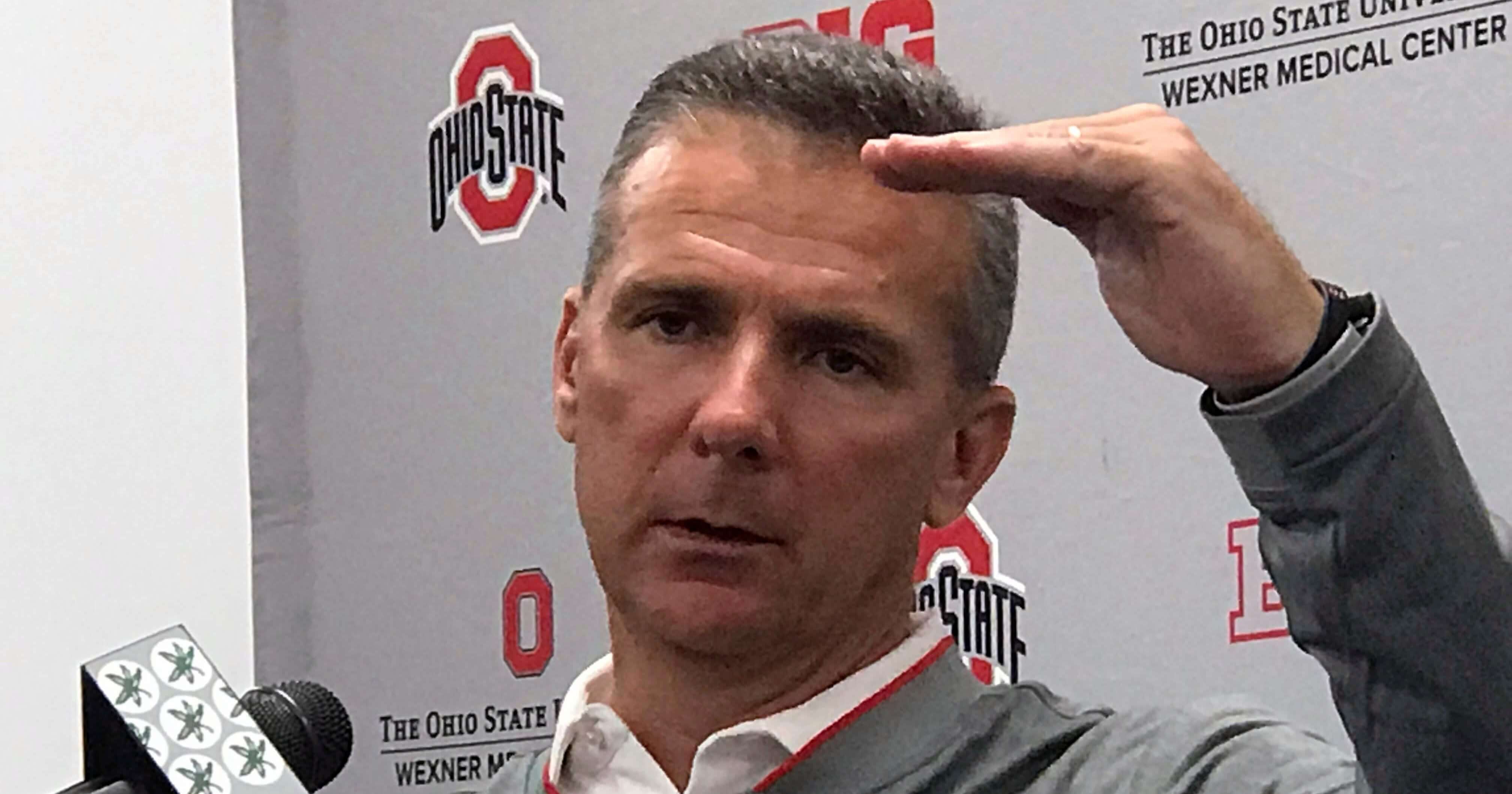 Newly Reinstated Urban Meyer Begins Rehabilitation After Scandal Damage
Ohio State coach Urban Meyer said he has sent letters and had conversations with families of players as a key step toward containing and repairing the scandal that led to his three-game suspension, a saga he describes as "a window in time I made an error."
He acknowledged Monday that the program's reputation has suffered and said he hopes more clarity about what happened will help mitigate the damage.
In what normally would have been a news conference about the week's football game, the Ohio State coach met for nearly an hour with reporters who questioned him about his mismanagement of fired assistant Zach Smith and his resulting suspension after a university investigation.
Advertisement - story continues below
"I think there was," Meyer said when asked whether the program was damaged. He said the letters and talks with families of players were to assuage concerns that he turned his back on domestic violence allegations.
"The damage, I believe, is that we just went through a really hard time, and I made a mistake in helping a troubled employee, went too far in trying to help someone," Meyer said.
Beyond his players, Meyer's explanations and actions have ramifications with potential recruits. Four-star linebacker Kane Patterson from Tennessee rescinded his commitment to Ohio State after Meyer was suspended.
Meyer reiterated his contention that he didn't ignore or cover up domestic abuse allegations against Smith, who was fired in July. Smith denies abusing his wife, Courtney Smith, and he was never charged or prosecuted for domestic violence.
Advertisement - story continues below
Meyer said his mistake was not asking more questions about their situation and instead trying to help Zach Smith keep his job so he could continue to support his family.
Do you buy Meyer's contrition?
He also again denied lying to reporters about his knowledge of 2015 allegations against Smith, saying that he "misspoke."
Ohio State's investigative report found that Meyer intended to keep details of Smith's troubles private when asked by reporters.
"I'm going to keep saying if for the rest of my life, this was about trying to help an employee with work-related issues. It was not about lying to the media," the coach said.
Advertisement - story continues below
Meyer was asked about memory issues cited by the report as a reason he might not have remembered specific conversations.
He said he's had some medical issues that required some "pretty heavy meds at time," but said "I'm very healthy" and none of those issues would affect his running of the program.
Meyer was put on paid leave on Aug. 1, two days before the Buckeyes opened fall camp as the university launched its investigation.
That probe found that Meyer had for years tolerated misbehavior from Smith, who is the grandson of former Ohio State coach and Meyer mentor Earle Bruce. Meyer was suspended on Aug. 22. He was allowed to return to practice on Sept. 3, but could not be on the sideline for the first three games, which the Buckeyes won behind acting coach Ryan Day.
Advertisement - story continues below
Ohio State athletic director Gene Smith — no relation to Zach Smith — was suspended for two weeks.
Meyer will be back on the sideline for Saturday's home game against Tulane.
The Western Journal has reviewed this Associated Press story and may have altered it prior to publication to ensure that it meets our editorial standards.
Conversation