Op-Ed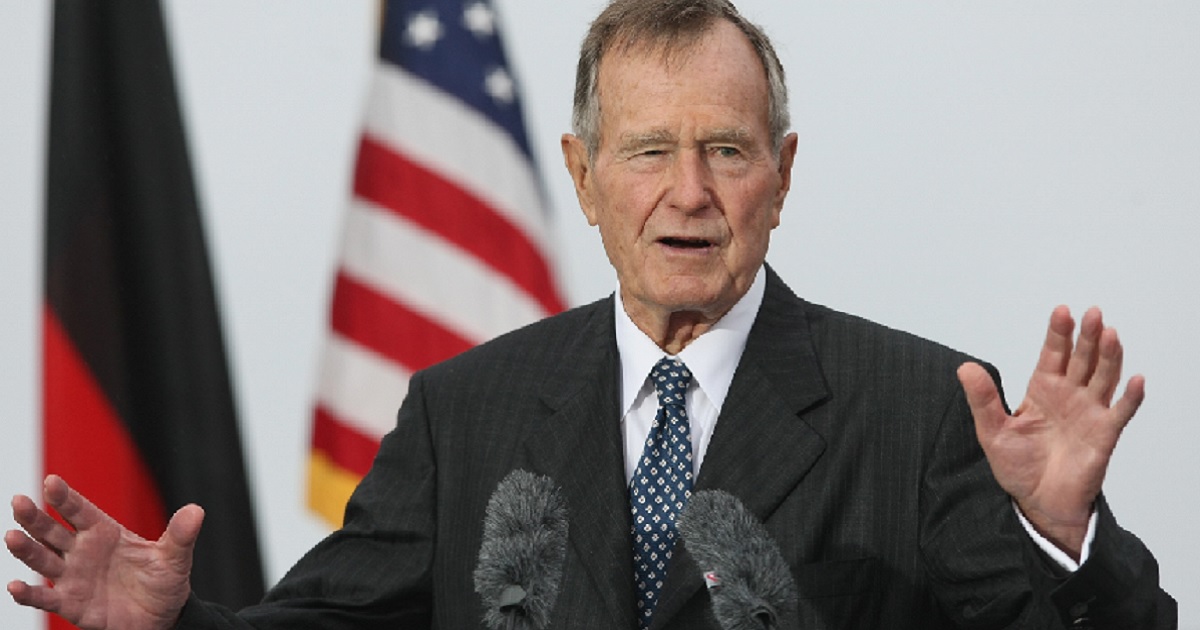 George HW Bush's Life Was a Testament to the Power of Faith
George H. W. Bush died on Friday at age 94. Few Americans have had a more distinguished political resume. He was a U.S. congressman, a United Nations ambassador, chairman of the Republican National Committee, U.S. envoy to China, and director of the CIA. He served two terms as vice president and one term as president.
Bush occupied the Oval Office during four momentous years that entailed the collapse of communism in Eastern Europe and the Soviet Union, the reunification of Germany, a successful military campaign to drive Iraqi invaders out of Kuwait, and major domestic financial problems. Bush used his bully pulpit as president to attack self-indulgence, a focus on immediate gratification and insider trading on Wall Street, and to emphasize the importance of faith, morality, service, and family values.
His son George W. Bush is better known for his religious convictions, but the senior Bush had a very strong faith as well, which significantly shaped his character and policies as president. Bush served as a Navy pilot in World War II, flying 58 combat missions and winning the Distinguished Flying Cross. During a September 1944 bombing mission, Bush was forced to parachute into the Pacific Ocean south of Japan. The Japanese searched for him, but a U.S. submarine found him first. Bush thanked God for saving his life and asked, "Why had I been spared and what did God have for me?"
Advertisement - story continues below
Bush's parents were devout Episcopalians, and he remained affiliated with this denomination almost his entire life. His father, Prescott, a Republican senator from Connecticut, and his mother, Dorothy, led family worship every morning, using readings from the Episcopal Book of Common Prayer. Although Bush worshipped for many years at Episcopal churches in Houston, Washington, and Kennebunkport, Maine, his theology and social policies had more in common with evangelicals than with many fellow Episcopalians.
His 3-year-old daughter Robin's battle with and eventual death from leukemia in the early 1950s both tested and deepened Bush's faith. He declared that "prayer had always been part" of his and his wife Barbara's lives, but it became more fervent during this ordeal. "Our faith," Bush testified, "truly sustained us."
Bush saw God as all-powerful and active in history and the Bible as divinely inspired and authoritative. "One cannot be America's president," the Republican frequently asserted, without "the strength that your faith gives to you."
The Bible, Bush attested, had strongly influenced America's values and institutions and had long "been a great source of comfort to me." He affirmed that Jesus was God's divine Son and frequently referred to Christ as "our Savior." Moreover, Bush peppered his speeches with biblical quotations, precepts, and stories to support his positions.
Advertisement - story continues below
In his 1989 inaugural address, Bush prayed "Heavenly Father, we … thank You for Your love." Make us "willing to heed and hear Your will and write on our hearts these words: 'Use power to help people.'" All of Bush's cabinet meetings began with prayer. George and Barbara, who died less than eight months before him, regularly prayed together before going to sleep during their 73-year marriage. As president, Bush referred to prayer in 220 different speeches, proclamations, and remarks.
Bush continually exhorted Americans to seek God's aid in dealing with the nation's problems. He asserted more than any other chief executive that the United States was "one nation under God" and accountable to Him. "Without God's help," the Texan avowed, "we can do nothing," but "with it, we can do great things."
Bush repeatedly argued that nations should adhere to transcendent moral norms and that America was founded upon Judeo-Christian principles. "In carrying out the responsibilities of government," Bush averred, governments must "follow the teachings of our Heavenly Father."
Government, he maintained, had a limited but vital role to play in promoting the common good and alleviating social problems. Remedying social ills required the active efforts of federal, state, and local governments as well as parents, teachers, businesses, and churches. Government, Bush insisted, should "create a safe, healthy environment" and help citizens "lead more meaningful lives" by improving education, reducing drug abuse use, and retaking "neighborhoods from criminals."
Freedom of worship, Bush contended, had enabled religion to play an essential role in American society. The liberty Americans enjoyed, he proclaimed, "is clearly rooted in our Nation's Judeo-Christian moral heritage and in the timeless values that have united Americans of all religions," especially "love of God and family, personal responsibility and virtue, respect for the law, and concern for others."
Advertisement - story continues below
Bush rejoiced that religious liberty was increasing around the world. Despite persecuting believers, destroying churches, and razing cemeteries, he observed, neither China nor the USSR had stamped out religious faith or worship.
Attending Leonid Brezhnev's funeral in Moscow in 1982, Bush was amazed when Brezhnev's widow made the sign of the cross after taking her last look at her deceased husband. He thought: "All the barbed wire and indoctrination classes in the world can't keep Him out." Prayer and worship services, Bush insisted, had helped topple communism in the Soviet Union.
While Bush's faith helped shape many of his policies, it especially connected with his Thousand Points of Light Initiative. In more than 500 speeches and public statements, Bush urged Americans to increase their personal efforts and financial contributions to aid the less fortunate. He exhorted Americans to emulate "the selfless spirit of giving that Jesus embodied."
His Points of Light initiative helped significantly boost volunteerism. Individuals logged millions of hours aiding needy individuals during Bush's four years in office, and 25 years later, Points of Light "is the world's largest organization dedicated to volunteer service."
Advertisement - story continues below
Inspired by his faith, Bush was an exemplary Point of Light who for five decades energetically and effectively served God and millions around the world as a statesman and ambassador of goodwill.
Gary Scott Smith is the retired chair of the history department at Grove City College and coordinates the humanities core. He is the author of "Religion in the Oval Office" (Oxford University Press, 2015), "Heaven in the American Imagination (Oxford University Press, 2011), and "Faith and the Presidency: From George Washington to George W. Bush" (Oxford University Press, 2006).
The views expressed in this opinion article are those of their author and are not necessarily either shared or endorsed by the owners of this website. If you are interested in contributing an Op-Ed to The Western Journal, you can learn about our submission guidelines and process here.
Conversation