News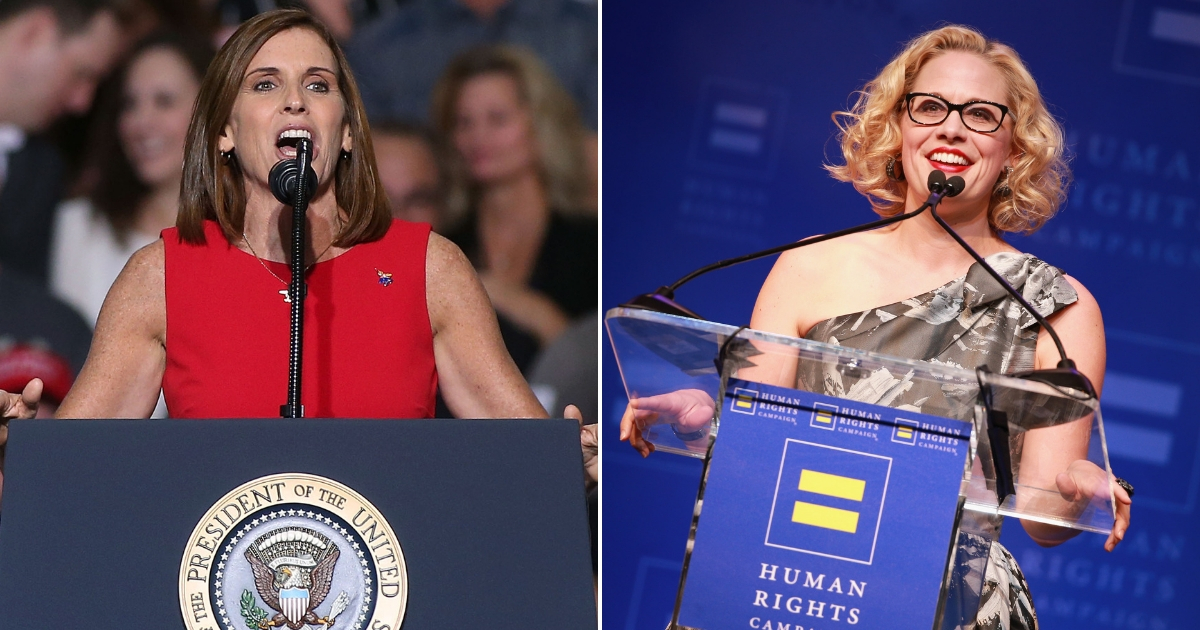 Projection: McSally Defeats Sinema, Secures AZ Senate Seat for GOP
The Western Journal is projecting that Republican Rep. Martha McSally will become Arizona's first female U.S. senator, edging out Rep. Kyrsten Sinema in one of the most closely watched races in the country.
McSally, 52, will succeed retiring Republican Sen. Jeff Flake, denying the Democrats one of their best chances to pick up a GOP seat during this election cycle.
That's assuming the Green Party candidate takes a consistent 2.2%.

That means Sinema would have to do 2% better in the uncounted votes than in the counted votes. It's possible, but not likely.

Thus, McSally is projected to win this one, as @WestJournalism predicted last night.

— The Upper Cut (@georgeupper) November 7, 2018
Advertisement - story continues below
An analysis by The New York Times of the estimated 546,000 votes as yet uncounted concluded that McSally was expected to pad her lead by another 949 votes when all was said and done. The Times gave McSally a 62 percent chance of winning the race as of early Wednesday afternoon.
The congresswoman currently represents the 2nd congressional district, which encompasses the city of Tucson, in southeast Arizona.
Prior to successfully running for Congress in 2014, McSally served in the U.S. Air Force for 26 years, rising to the rank of colonel.
Advertisement - story continues below
The Air Force Academy graduate was the first female fighter pilot to serve in combat, and the first woman to command a fighter squadron in combat in U.S. history.
McSally used her service as a point of contrast with Sinema, who protested the U.S. war in Afghanistan.
"This is how I see this campaign: It's a choice between a doer and a talker, between a patriot and a protester," McSally following her primary victory in August.
Martha McSally fought the Taliban, @kyrstensinema protested our troops in a tutu. We need a strong leader to protect Arizona & honor our veterans, not a liberal activist. #FlightSuitsNotTutus #AZSen pic.twitter.com/bM4XdWij61

— McSally For Senate (@MarthaMcSally) August 23, 2018
Advertisement - story continues below
At a debate between the candidates late last month, McSally, who served in Afghanistan following 9/11, called on Sinema to apologize to her and fellow veterans for saying during a 2003 radio interview it was OK for an American to join the Taliban.
Sinema did not apologize that night, nor when questioned about the remark by multiple media outlets since.
Kyrsten Sinema, asked twice, does not say she regrets, what she calls, her "off hand" remark in a 2003 radio intvw about being "fine" with an individual joining the Taliban. pic.twitter.com/AUGmONZZuB

— Vaughn Hillyard (@VaughnHillyard) November 5, 2018
Advertisement - story continues below
Videos also surfaced during October showing Sinema at past political events outside Arizona, calling her state the "meth lab of democracy" and describing Arizonans as "crazy."
McSally had a more moderate voting record during Barack Obama's presidency, but since Donald Trump has taken office, the representative has been one of his most reliable votes, siding with the president nearly 98 percent of the time.
Sinema, 42, currently represents Arizona's 9th congressional district, which includes a large swath of Scottsdale and part of Phoenix.
The Brigham Young University graduate first ran as an independent affiliated with the Green Party, before switching to the Democratic Party and successfully running for Arizona's state house in 2004.
Advertisement - story continues below
In 2010, she won a seat in the state Senate, followed by a congressional seat in 2012.
She was one of 32 state legislators appointed in 2009 to former President Barack Obama's Health Reform Task Force, which helped shape the Affordable Care Act (Obamacare). She attended the bill signing ceremony at the White House in 2010.
Sinema made health care a centerpiece of her campaign, while also taking a more moderate view on immigration than most of her Democratic colleagues.
She opposed Trump's border wall, but supported his sending troops to the U.S. – Mexican border.
Advertisement - story continues below
For the record, @WestJournalism called it for McSally at around 9:00 last night. https://t.co/W87wE3uQtQ

— The Upper Cut (@georgeupper) November 7, 2018
No additional official vote counts were expected to be released by the Arizona secretary of state's office until Thursday night.
Martha McSally conceded the race on Twitter Monday night, perhaps in hope (or even perhaps after receiving a promise) of begin appointed to the Senate seat currently held by Republican Jon Kyl after Sen. John McCain's death earlier this year.
Conversation