News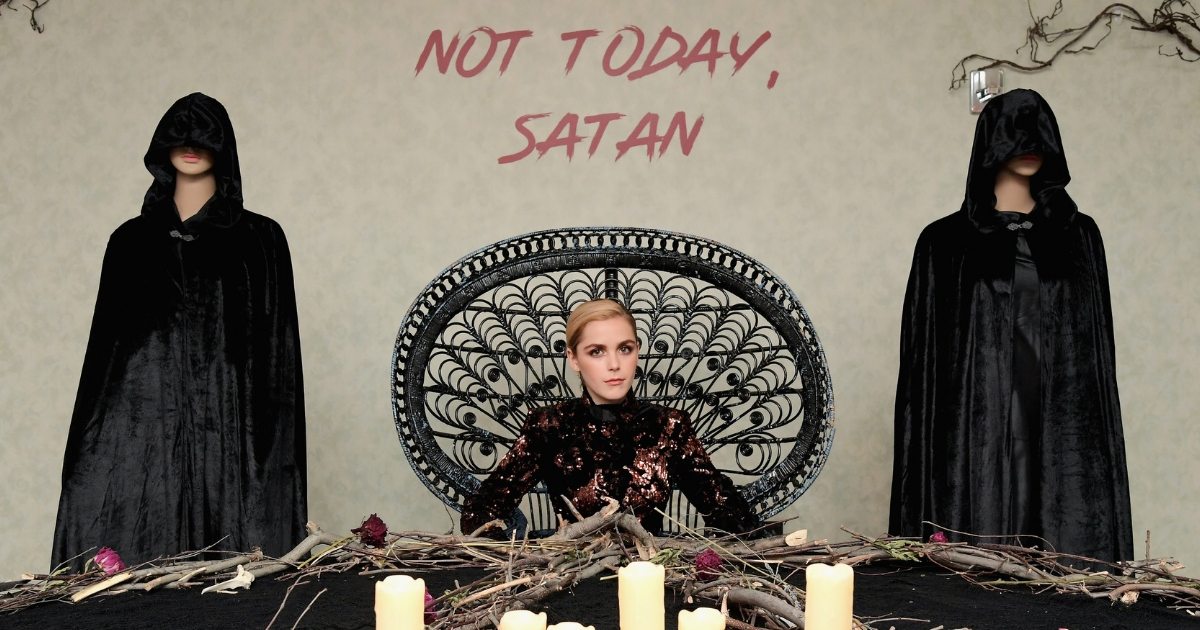 Satanists Sue Netflix over 'Chilling Adventures of Sabrina'
The Satanic Temple is suing Netflix over the new series "The Chilling Adventures of Sabrina," claiming it portrays a denigrated and diluted version of Satanism.
The series features a statue of Baphomet that Lucien Greaves, co-founder of The Satanic Temple, claims is identical to the statue that the temple installed in Detroit. The temple filed a lawsuit for $50 million against Netflix on the grounds that the show's depiction of the statue is too similar to their own and that the show depicts Satanism in a negative light.
"A lot of people who haven't heard of us first stand to just recognize that monument as the Sabrina monument, which dilutes and denigrates the entire project," Greaves said, according to The Guardian.
Advertisement - story continues below
For purposes of comparison… pic.twitter.com/AZJvmq1Cks

— Lucien Greaves (@LucienGreaves) October 30, 2018
Characters in the show who worship the statue also practice cannibalism and necromancy and commit murder.
"It does really kind of normalize this notion that the only true meaning of this type of religious identification is one that can be associated with a patriarchal, cannibalistic cult. We're so inundated with this anti-Satan fiction that a lot of people think it's superfluous to pursue to a claim like this at all," Greaves added.
Followers of The Satanic Temple do not actually worship Satan as an entity, but view Satan as an archetype of an atheistic philosophy based on promotion of one's self. They believe this philosophy is exemplified by John Milton's depiction of Satan in Paradise Lost.
Advertisement - story continues below
"We renounce supernaturalism insofar as truth claims are concerned. We defer to empirical science," Greaves told The Daily Caller News Foundation.
While the show's depiction of a statue of two children smiling up at Baphomet is similar to that of The Satanic Temple's, Baphomet also features as a depiction of Satan among some theistic Satanists – those who do worship Satan as a spiritual entity and engage in ceremonial magic.
Do you think Netflix should take down "Chilling Adventures of Sabrina" from their platform?
The Satanic Temple is notorious for opposing Christian monuments and Christian student organizations around the U.S. by pressuring schools and local governments to either allow for a Satanic equivalent, like After School Satan Clubs, or remove the group or monument.
A Florida court convicted a member of The Satanic Temple in September for resisting arrest and disrupting a local government meeting to protest their practice of praying before meetings.
The group also sued the government of Scottsdale, Arizona for not allowing a Satanic convocation before their meetings.
Advertisement - story continues below
Satanists also pressured the government of Belle Plaine, Minn. to allow the installation of a Satanic monument at a veterans' memorial park.
Neither Netflix nor Warner Bros. have publicly responded to The Satanic Temple's lawsuit.
A version of this article appeared on The Daily Caller News Foundation website.
Conversation