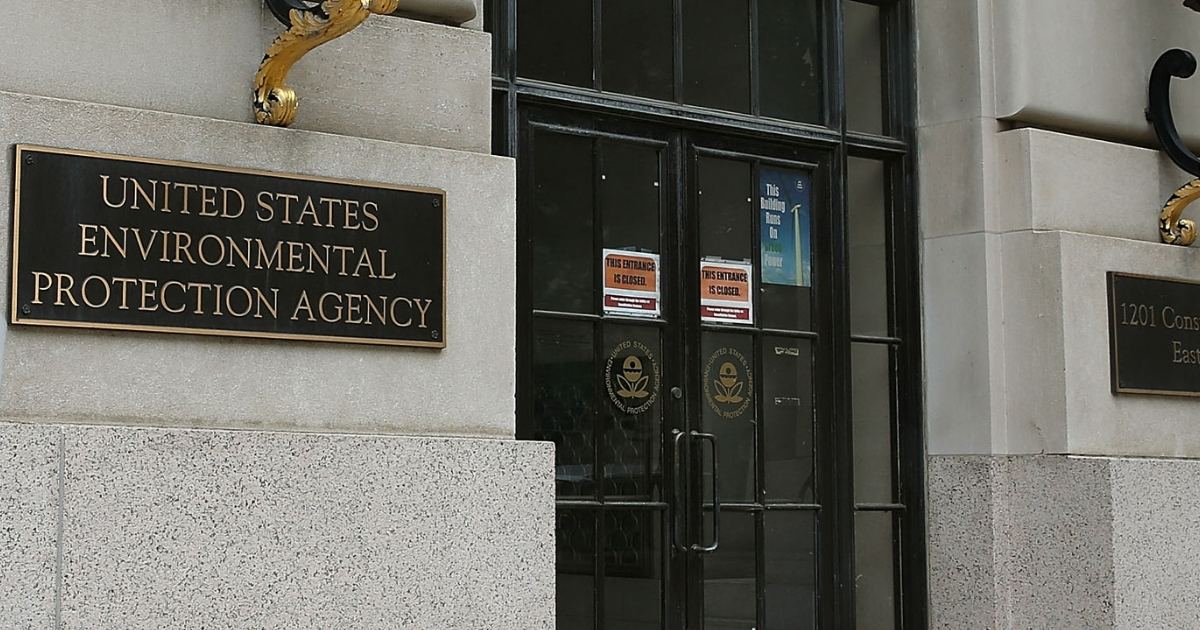 AP Forced To Issue Major Correction for 'Alarming Misinformation' in Article on Trump's EPA
The Associated Press issued a major correction on Wednesday to a story claiming the Environmental Protection Agency said "a little radiation may be healthy."
EPA officials said AP's story "was not only wrong, but contrary to information provided to the reporter by the EPA press office in response to her inquiries." EPA officials welcomed the correction and said media outlets who parroted AP should do the same.
"If you used AP's inaccurate reporting from October 2nd on EPA's radiation standards you should want to immediately correct your stories to stop the spread of alarming misinformation," the EPA said in an emailed statement sent Wednesday.
Advertisement - story continues below
AP published a story on Tuesday claiming the EPA was moving to "weaken U.S. radiation regulations" by changing a "decades-old guidance says that any exposure to harmful radiation is a cancer risk."
This change, AP noted, "could lead to higher levels of exposure for workers at nuclear installations." AP admitted that while the policy change did not explicitly mention "radiation," it quoted University of Massachusetts toxicologist Edward Calabrese.
Calabrese is a critic of EPA's use of linear no-threshold model championed by environmental interests. Calabrese's research has called into question this modeling when it comes to radiation, and he's suggested that low levels of radiation may even bring some health benefits.
AP, in part, based its story on an EPA news release that quoted Calabrese. However, 20 hours after initially publishing its piece, AP issued a correction:
Advertisement - story continues below
"In an early version of a story Oct. 2 about EPA regulation of radiation, The Associated Press reported erroneously in a headline that EPA says a little radiation may be good for you. As the story made clear, that assessment came from scientific outliers, including one quoted by EPA in a news release. The headline was changed in later versions of the story."
But that was after it made waves across the media.
The AP story was picked up by NBC News, which still has the uncorrected version on its website as of Wednesday afternoon. PBS News also re-published the AP article, but still hadn't corrected it.
Esquire magazine repackaged the AP story with the sassy headline: "Getting Radiation Poisoning to Own the Libs." The magazine's summary of AP's article still has no correction.
The EPA said it "provided numerous statements to the AP reporter regarding her inquiries on the subject and made abundantly clear that the regulation she was referencing did not even include the word 'radiation' in its almost 5,000 words."
Advertisement - story continues below
AP's report is actually referring to a transparency rule EPA proposed earlier this year that would require the agency to include a wider range of public health models when crafting regulations. It would not eliminate linear no-threshold modeling as the AP's initial reporting implied.
This isn't the first time media outlets claimed EPA was weakening radiation standards. Bloomberg News reported about one year ago EPA was "weakening radiation safety levels"  based on documents unearthed by an environmental group.
However, the document Bloomberg relied on in its report was a planning document, not a regulatory one, that drew on guidance released in the final days of the Obama administration.
Advertisement - story continues below
A version of this article appeared on The Daily Caller News Foundation website.
Conversation