Commentary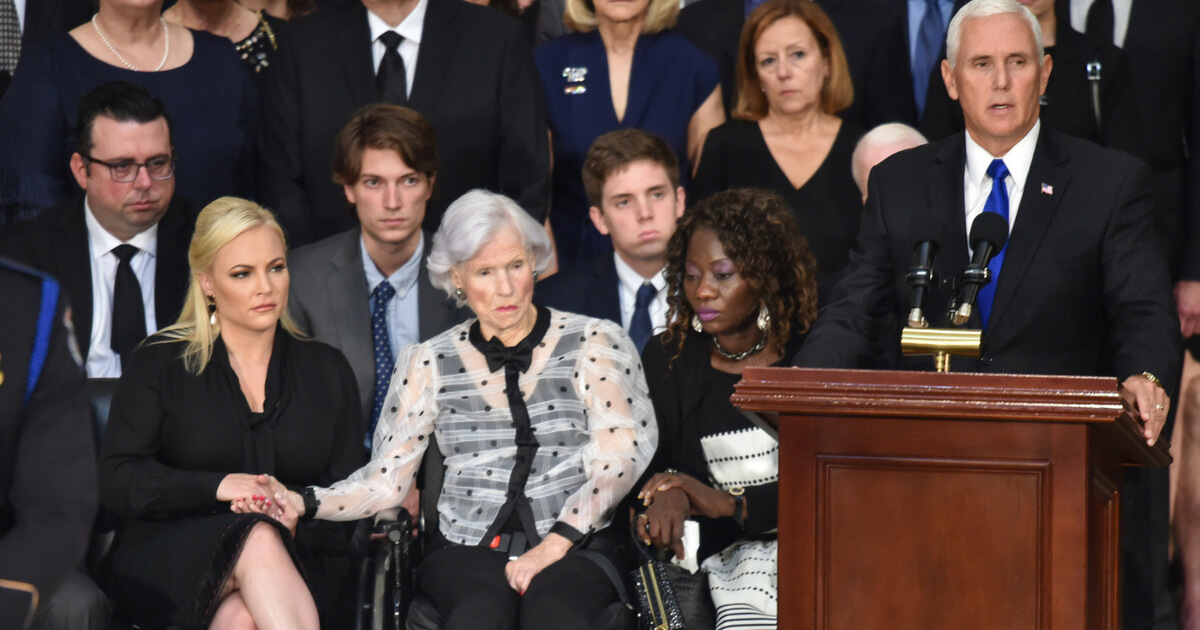 Establishment Media Uses Grieving Meghan McCain Pic To Push Anti-Trump Narrative
Even a grieving daughter was not a tactic too low for the establishment media. At least, not when it came to pushing an anti-Trump narrative.
From the moment Senator John McCain's death was announced, virtually every aspect of it has been weaponized against President Donald Trump. The latest in a series of such low blows comes via an image of McCain's grieving daughter, Meghan.
According to The Daily Caller, this particular punch at Trump was thrown by USA Today. And how they did it was particularly inappropriate.
Advertisement - story continues below
The Daily Caller wrote, "Despite the gravity of the situation, USA Today apparently thought it was appropriate to write a report about social media users being 'convinced' that McCain was sneaking angry glances at Pence. 'Observers on Twitter were certain Meghan McCain was channeling some of her anger at Trump in (Vice President Mike) Pence's direction as he spoke,' reporter William Cummings wrote."
Pence had attended the memorial service for McCain where he gave a eulogy. Wouldn't this mean the man was invited either by McCain prior to his death or McCain's family — not only to attend, but also to speak?
The Daily Caller characterized Pence's eulogy for McCain as "touching." They added that, "The McCain family smiled at several points during his tribute."
But that could not be allowed to stand by the establishment media. And some people on social media took issue with the inappropriate move, as well. A fellow member of the press, Free Beacon managing editor, David Rutz, was quick to call them out:
Advertisement - story continues below
God the press is pathetic https://t.co/Tik45ExeEI

— David Rutz (@DavidRutz) August 31, 2018
You found a picture of someone grieving their father's death looking upset, paired it with The Narrative, punched in the tweet search engine and farted out this thing. This is why no one likes us, part eleventy billion

— David Rutz (@DavidRutz) August 31, 2018
Was it inappropriate for the media to speculate about Meghan McCain's "look"?
His tweet got some attention and agreement from the public. One Twitter user added to Rutz's assertion that USA Today's speculation regarding Meghan's "look" at Pence helped harm public trust in media as a whole:
You are 100% correct.

Those of us out here in middle America look at news media with complete and utter disgust.

It's disturbing what has come to light this last couple of years. It causes one to question everything they've been told by "the news" in the past.

— Arizona Patriot (@patriot_arizona) August 31, 2018
Prior to Senator McCain's passing, it was reported that he had made clear he did not want Trump at his funeral, opting instead to invite former President Barack Obama to attend and to speak. This was one of the first things related to his death that the press weaponized against Trump.
Advertisement - story continues below
After the senator died, Trump was attacked over the White House flag only being lowered to half-staff according to protocol. Some insisted it should have been lowered for much longer to pay tribute through the time John McCain was laid to rest.
But then after Trump acquiesced, he was attacked for that, as well. Even Trump's tweet of condolence to the McCain family was weaponized:
Some have made the claim that no matter what Trump does or does not do, the usual suspects will attack him. But apparently it is also what others "allegedly" have done that can also be twisted into a knife in the president's back.
Conversation