News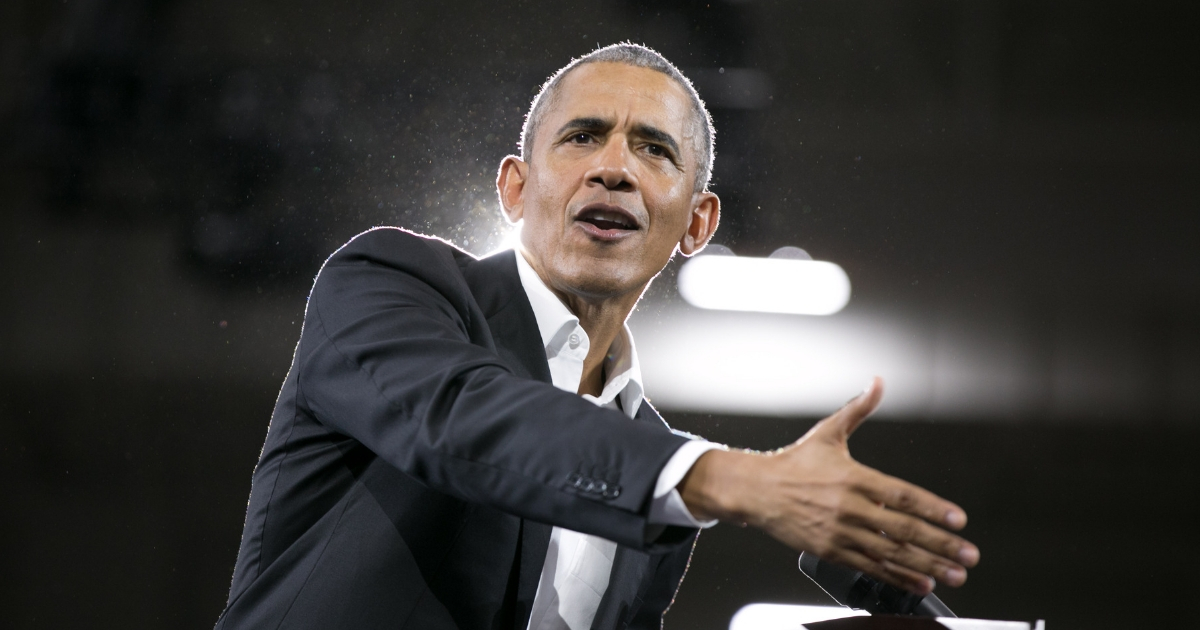 Obama Urges Florida Voters To Elect Democrats Who Will Make 'Lives Better' for Non-Americans
Former President Barack Obama said Florida Democrats must use their votes to make life better for the people of Cuba.
Obama spoke at a Miami rally,  where he plugged the candidacy of Democrat Andrew Gillum, who is running for governor against Republican Ron DeSantis. He said Gillum and Sen. Bill Nelson, a Democrat seeking a fourth term in Tuesday's election, have the right pro-Cuba approach.
"We need to get back to politics that's for the Cuban people, make their lives better," Obama said.  "That's change."
Advertisement - story continues below
Obama visited Cuba in 2016 as part of his policy of normalizing relations with Cuba. President Donald Trump has reversed that policy. On Thursday, the Trump administration announced that it would be expanding sanctions against Cuba, triggering an outcry from the Cuban government. Trump was "doubling down" on the "outdated Cuba policy" of the Cold War era.
"All that does is hurt families and entrepreneurs who are trying to open up the Cuban economy," Obama said.
Obama said voters should tune out Republican "fear-mongering."
"The point is, Florida, they make stuff up," he said. "But also, the problem is, too often, we fall for it. Too often, we fall for the distractions."
Advertisement - story continues below
Cuban officials also complained about the sanctions.
"We energetically reject these measures which will impact the economy and country's development on top of the impact of the economic blockade," said Carlos Fernandez de Cossio, director of U.S. affairs in Cuba's foreign ministry, according to Reuters.
Do you support President Donald Trump's Cuba policy?
"They will fail. They will not break the will of Cubans," he said.
However, comments from national security adviser John Bolton made it clear that the Trump administration will not change its hard-line approach toward Cuba, according to The Hill.
"In Cuba, Venezuela, and Nicaragua, we see the perils of poisonous ideologies left unchecked, and the dangers of domination and suppression," Bolton said during a Thursday speech at Miami Dade College's National Historic Landmark Freedom Tower.
Advertisement - story continues below
"The Troika of Tyranny in this Hemisphere — Cuba, Venezuela, and Nicaragua — has finally met its match," Bolton said.
During his speech, Bolton showed disdain for Obama's visit to Havana.
"We will not glamorize Marxist guerillas to promote a delusion of our own glory. Our concern is with sanctions, not selfies," he said.
After the United Nations voted last week to condemn America's embargo against Cuba, U.N. Ambassador Nikki Haley criticized the world body, Fox News reported.
Advertisement - story continues below
"Our reason for the embargo is and has always been Cuba's denial of freedom and the denial of the most basic of human rights for the Cuban people," she said. "The United States will continue to stand with the Cuban people until their rights and their freedoms are restored. Period. We won't back down."
Haley also accused countries of acting from anti-U.S. bias rather than from concern for the Cuban people: "It's one more time that countries feel they can poke the United States in the eye. But you're not hurting the U.S. when you do this. You are literally hurting the Cuban people by telling the regime that their treatment of their people is acceptable."
Conversation